Noakhali mourns
Dozens of the fire victims from different villages of the district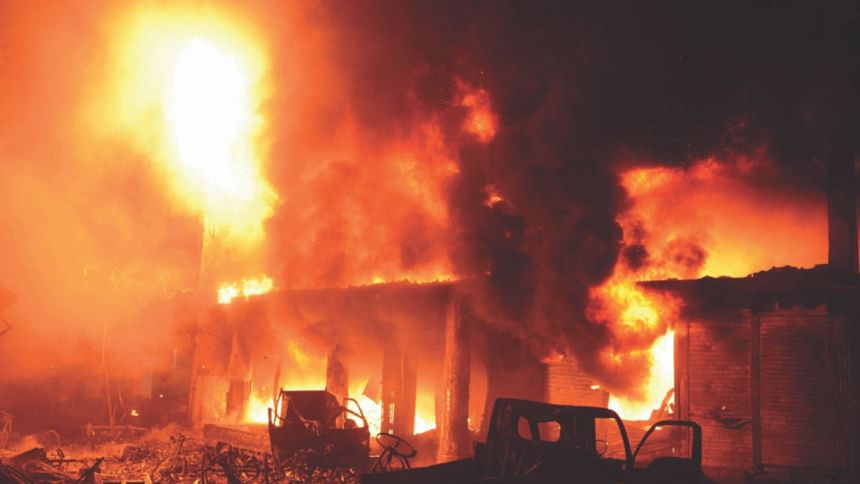 A pall of gloom has descended on many villages of Noakhali as 13 of the 67 victims in Chawkbazar fire already identified hailed from the district.
Locals suspected as many as 34 people of the district's Sonaimuri, Begumganj and Kompaniganj upazilas were killed in the inferno.
The victims' relatives started gathering at local police stations after being informed about the fire. Many of them informed police about their relatives who have been missing since the incident happened.
Tanmay Das, deputy commissioner of Noakhali, confirmed that a total of 13 victims hailed from the district.
They are: Kamal Hossain from Muzahidpur village; Mosharaf Hossain and Hari from Begumganj upazila; Ali Hossain, Helal Hossain, Siddique Ullah, and Nasiruddin from Nateshwar; Anwar Hossain Manju from Daulatpur; Shadatullah Hira from Mirzanagar; Masud Rana from Goshkamta; Mahbubur Rahman and Ayesha Khatun from Changao; Abdur Rahim from Wasekpur; and Zasimuddin from Char Elahi, Companiganj.
Meanwhile, officer-in-charge of Sonaimuri Police Station Abdus Samad said they heard over 30 people killed in the Chawkbazar tragedy hailed from the upazila.
"But so far we received nine identified bodies who hailed from Sonaimuri," he added.
Two other victims were identified from Patuakhali's Mirzaganj upazila.
The two -- Kazi Anamul Haq Ovi and Mojibor Rahman Hawlader -- were buried in the upazila, said Masumur Rahman, officer-in-charge of Mirzaganj Police Station.
Anamul had passed Bachelor of Business Administration from Dhaka City College last year and had been looking for job while Mojibor used to work at a plastic workshop.
Both bodies reached their houses separately by ambulances from Dhaka. Relatives and locals of the victims gathered during their burial.
 [Our Noakhali and Patuakhali correspondents contributed to this report.]