Hasan for looking into BNP's link to fire incident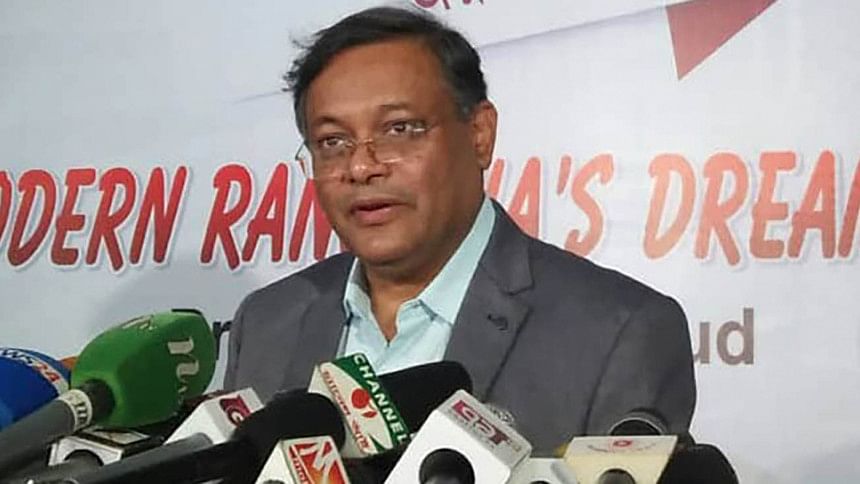 Information Minister Dr Hasan Mahmud today said Mirza Fakhrul Islam Alamgir's statement that 'the Chawlkbazar fire incident occurred due to absence of democracy' prompted to look into whether the BNP perpetrated any act of sabotage concerning the tragic incident.
"It should be looked into the matter to find out if there existed any act of sabotage by BNP behind the devastating fire incident as they killed people by thronging petrol bombs previously and the speech of Mirza Fakhrul is an indication of sabotage," he said while addressing the cover unveiling ceremony of two books of poet Abdur Rouf and Manzil Murad Lablu at his city residence this afternoon.
Hasan said, "My perception about Mirza Fakhrul was high. But of late he is talking irrelevant. How can he say that the fire incident took place as there is no democracy in the country?"
He said they (BNP) killed many people before the 2014's election in the name of democracy. They torched around 3,500 people in the name of establishing democracy, he added.
The minister said "the fire incident of Chawkbazar is very pathetic. The whole country is in deep shock. People are praying for the deceased and the injured. BNP should show national unity at this time. But BNP is doing politics" he added.
Hasan, also the publicity and publication secretary of the ruling party, said many development works have taken place in Chattogram along with other places of the country after the government of Prime Minister Sheikh Hasina assumed office in 2009.
About the usage of mobile phones, the minister said the use of smart phone forced the people to quit the habit of reading books in the library.
He said nowadays the students are facing lack of inclination to go to the library.
Hasan said Bill Gates did not hand over smart phones to his children before age of 16 years urging the guardians to be aware of the abuse of smart phone.
Presided over by journalist Azad Talukder, the unveiling ceremony was addressed, among others, by former general secretary of Chattogram University Teachers Association Professor Sekander Chowdhury and former Principal of Agrabad Mohila College Dr Anowara Alam.
The minister said poetry is a powerful medium of revealing the mind and thought.
"Poetry speaks about one's mind and the society and it also helps the society to establish justice, harmony and equality," the minister said.
Hasan urged the guardians to inspire their children to go through the books saying there is no alternative to reading books for building up true Bengali nation.