All that is good for your heart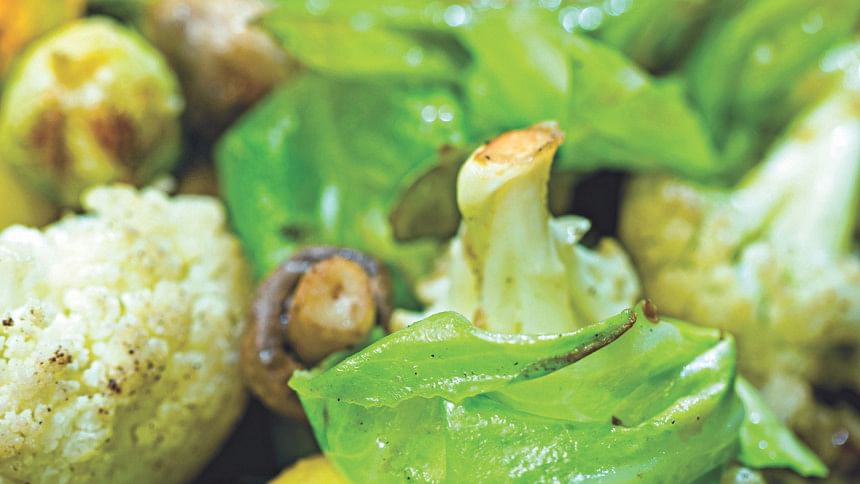 Heart disease accounts for nearly one-third of all deaths worldwide. You could say that this disease is the king of the silent killers. Diet plays a major role in heart health, and can impact our risk of heart disease. In fact, certain types of food can influence blood pressure, such as triglycerides, cholesterol levels, and inflammation, and are risk factors for heart disease.
Once we know more of which food to eat more of and which food to limit, we'll be on our way toward a heart-healthy diet. And so, in the spirit of World Heart Day, observed on 29 September, let's go through a list of all types of food you should include in your daily diet.
• Leafy green vegetables are high in vitamin K and nitrates, which can help reduce blood pressure and improve arterial function. Green vegetables are high in carotenoids, which act as antioxidants, and free your body of potentially harmful compounds. They're also high in fibre and contain tons of vitamins and minerals.
• Eating whole grains is associated with lowering cholesterol (LDL, the bad one) and systolic blood pressure, as well as a lower risk of heart disease. Common types of whole grains include whole wheat, brown rice, oats, rye, barley, buckwheat, and quinoa.
• Berries (strawberries, jam, blackberries) are rich in antioxidants. Studies show that eating them can reduce multiple risk factors for heart disease.
• Fatty sea fish (Hilsa, Tuna, Rupchanda, Salmon, Koral), and fish oil are both high in omega-3 fatty acids, and help reduce risk factors for heart disease, including blood pressure, triglycerides, and cholesterol.
• Beans are high in resistant starch, and have been shown to reduce levels of cholesterol and triglycerides, lower blood pressure, and decrease inflammation.
• Tomatoes are rich in lycopene, and have been associated with a lower risk of heart disease and stroke, as well as an increase in "good" HDL cholesterol.
• Nuts such as almonds, walnuts, pistachios, peanuts and macadamia nuts contain fibres which are good for the heart. They also contain vitamin E, which helps lower bad cholesterol. And some, like walnuts, are high in omega-3 fatty acids
• Eating seeds like chia seeds, flaxseeds, sweet pumpkin seed etc. may improve several risk factors for heart disease, including inflammation, blood pressure, cholesterol, and triglycerides.
• Garlic and its components have been shown to help reduce blood pressure and cholesterol. They may also help inhibit blood clot formation. Be sure to consume garlic raw, or crush it and let it sit for a few minutes before cooking. This maximises its potential health benefits
• Olive oil is high in antioxidants and monounsaturated fats. It has been associated with lower blood pressure and lowers risk of heart disease. But if it is cooked for too long, all its good health benefits will be diminished. So it's preferable to add olive oil 10 minutes before wrapping up cooking.
• Green tea is high in polyphenols and catechins. It has been associated with lowering cholesterol, triglycerides and blood pressure.
• You may find this hard to believe, but chilli actually protects the heart and body from diabetes, with its ability to spike up the natural insulin levels in the body.
• Coffee can keep away Type 2 diabetes.
• Limiting saturated and trans fats we eat is an important step in reducing our blood cholesterol and lower our risk of coronary artery disease. A high blood cholesterol level can lead to a build-up of plaques in our arteries, called atherosclerosis, which can increase our risk of heart attacks and strokes. So keeping track of the amount of oil consumed is very important.
• Eating a lot of sodium can contribute to high blood pressure, a risk factor for cardiovascular disease. Reducing sodium is an important part of a heart-healthy diet. Many condiments are available in reduced-sodium versions, and salt substitutes can add flavour to your food with less sodium.
• Pomegranates contain numerous antioxidants, including heart-promoting polyphenols, and anthocyanins, which may help stave off hardening of the arteries.
• Oranges contain cholesterol-fighting pectin. The fruit is also rich in potassium, which helps control blood pressure. The antioxidant hesperidin present also helps lower blood pressure.
• Carrots, though sweet, are good for controlling diabetes, which increases risk of heart attacks. They also help fight bad cholesterol.
• Sweet potatoes are rich in vitamin A, fibre and lycopene, making them a healthy substitute for their white brethren.
How much we eat is just as important as what we eat. Overloading our plate, going for seconds, and eating until we feel stuffed can lead to eating more calories than we should. So, it is important to keep a keen eye on portion size.
It's clear that healthy eating and living (like exercising more!) can make a huge difference. With planning and a few simple substitutions, we can eat without having to worry our hearts.
Photo: LS Archive/Sazzad Ibne Sayed