JCI Bangladesh hosts Women of Inspiration Awards, 2022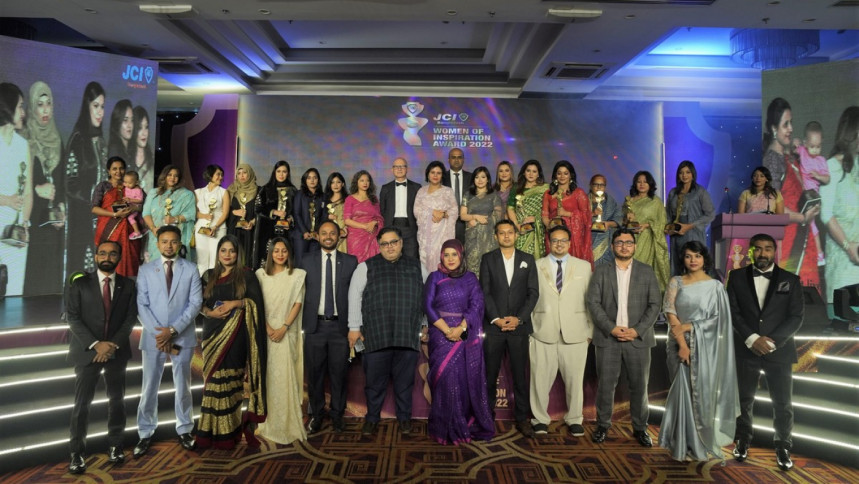 Junior Chamber International Bangladesh is a nonprofit global organisation that empowers and encourages the youth of the nation to take an active part in helping fellow entrepreneurs and professionals of their own communities to thrive and be successful.
Based on this concept, JCI recognised the achievements and efforts of fourteen inspiring women with the 'Women of Inspiration 2022' award. The signature event was held at Radisson Blu Water Garden on a Friday evening, hosted by Niaz Morshed Elite, national president of JCI Bangladesh. 
The award was presented to honour the extraordinary women who led by example, and inspired others to be equally brave and break barriers. The concept of the award was aligned with the 2022 International Women's Day Theme: Break the Bias which tells us to imagine a gender-equal world - a world free of bias, stereotypes, and discrimination.
In 2022, they awarded women leaders from diverse industries such as IT, public service, sports, media, etc. across Bangladesh. The recipients of this year's honours included Samira Zuberi Himika (Women in IT/Tech), Shomi Kaiser ( Women in Leadership), Azmeri Haque Badhon (Women in Media & Entertainment), Tawhida Shiropa (Women in Personal Accomplishment), Sylvana Quader Sinha (Women in Entrepreneurship), Nadia Sarker (Women in Social Work), Sabrina Rahman (Women in Health & Fitness), Mariam Javed Juhi (Women in Financial Sector), Nigar Sultana Joty (Women in Sports), Suranjana Saha (Women in Public Service), Khodeja Farhad Ruhi (Women in Business Excellence), Roksana Rahman (Women in Business Diversification), Doyal Akter (Women in Publishing), and Kazi Rufaida Islam ( Aspiring Women Leader).
The honourable speaker of the Bangladesh Parliament, Dr. Shirin Sharmin Chaudhury virtually joined the event as chief guest.
In attendance, were other distinguished guests, Dr. Rubana Huq, Vice-Chancellor of Asian University for Women, and H.E. Mustafa Osman Turan, Ambassador of Turkey to Bangladesh.
Among others, JCI Bangladesh's national officers, local presidents, members, business leaders, diplomats and other dignitaries were also present at the event.