Shamim A Mridha's Eco-Network wins the Diana Award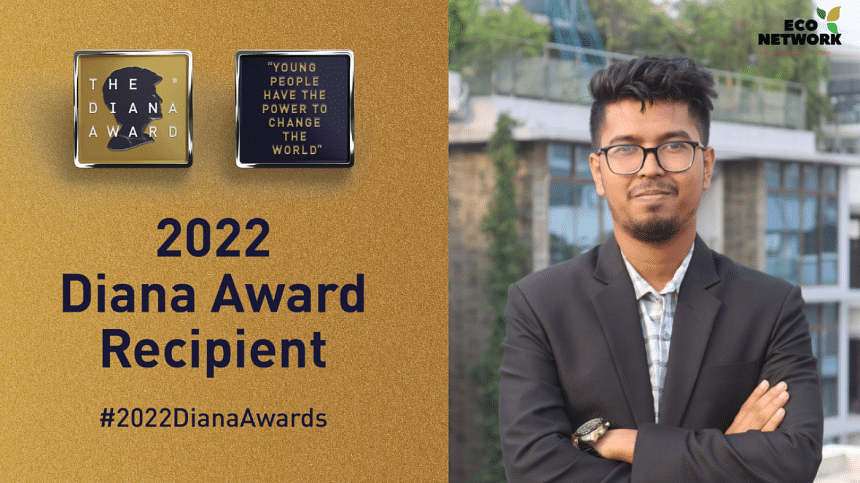 Every so often there comes a generation where youngsters strive to go above and beyond, fuelled by nothing but their perseverance and goodwill. Shamim Ahmed Mridha is one such young and motivated individual whose network of environmentally aware people has won him The Diana Award.
The award is presented by the Diana Award Org, which according to their website, honours a cohort of "20 outstanding young leaders, visionaries and role models from across the world who have demonstrated their ability to inspire and mobilise new generations to service their communities, as Princess Diana believed they could."  
Shamim received the honour for founding Eco-Network in 2018. It is a youth-led global organization working to ensure environmental sustainability everywhere in the world. In just a few years Shamim's Eco-Network has spread through teams in 35 universities in Bangladesh and 23 countries in Asia and Africa.
Open to anyone who wants to join the cause to protect mother nature itself, the organization works to achieve Sustainable Development Goals with projects focused on Climate Action (SDG 13), Clean & Renewable energy (SDG 7), Life on Land (SDG 15), and Clean Water & Sanitation (SDG 6).
Shamim is also a former Regional Ambassador of Tunza Eco Generation, which is affiliated with the United Nations Environment Programme (UNEP), he continues to work on environment protection keeps him going forward.