Tackling the learning deficit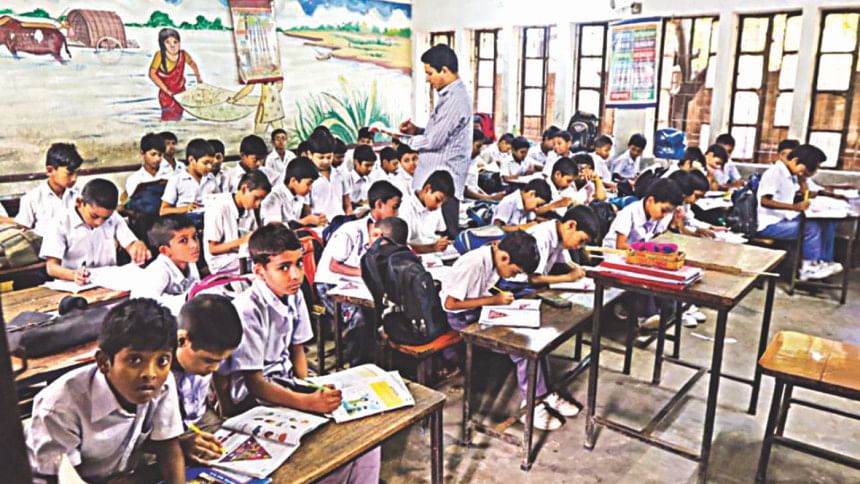 In a recent report published by the UNESCO Institute for Statistics, researchers have warned policymakers about the ever-growing "learning crisis" in global academia. A staggering 617 million children across the world are being unable to achieve minimum proficiency levels in reading and mathematics, amongst other subjects, signalling mounting concerns for the states in their efforts to achieve the targets set forth in the UN Sustainable Development Goals (SDGs). The report further says that countries like Bangladesh have for far too long preferred quantity to quality, rather than simultaneously investing in resources to modernise flawed academic structures. 
UNESCO defines learning as the process by which people acquire knowledge, skills and attitudes. Quality learning, on the other hand, incorporates processes through which individuals can acquire the breadth and depth of knowledge, skills and attitudes necessary to: 1) fully engage in their communities, 2) express their ideas and talents, and 3) contribute positively to their societies.
As such, a learning crisis, according to UNESCO, is the prevailing situation in global academia, particularly in primary and secondary education, whereby publicly-funded schools are being unable to contribute towards the necessary innovation needed to tackle the ever-growing threats of radicalism, climate change, inequality and poverty. To put it in numbers, 56 percent of children in the primary school age category and 61 percent of adolescents in lower secondary school age group are severely unprepared to achieve minimum proficiency levels in reading and math. 
While we can boast about the growing success of Central and Southern Asia, of which Bangladesh is a prominent member, a staggering 81 percent of our students are not learning per se; rather they are going through the mechanical process of finishing compulsory schooling. Surprisingly, globally, two-thirds of the children facing the problems of learning crisis are actually in school. This is where we get an idea of why Bangladesh often fails to produce competent professionals. 
Since the 1990s, all governments of Bangladesh have prioritised investments in the education sector. It is heartening to witness the rising budgetary allocation aimed at ensuring access to education for all across the country. Yet accessibility is far from enough when it comes to producing future leaders who will drive the economy forward. Despite that, strides made in the education sector, especially in the ever-increasing net enrolment figures, make Bangladesh hopeful of achieving middle income status by 2021 and also the UN-proposed SDGs. 
But the biggest problem with quantifying education, as has been the case in Bangladesh, is the creation of a gaping skills hole. Students are being unable to match their abilities with jobs, resulting in occupational immobility and youth unemployment.
It is normal for parents to be proud of the rise in the elusive 5.0 GPA numbers across the SSC and HSC examinations. Yet, one may ask, what is the point of having such performance ratings when the numbers are only leading to a stagnation of the learning process and contributing to the so-called learning crisis? Our society has quantified the education process so enthusiastically that we have forgotten to consider the risks of the regressive models of rote memorisation and lack of conceptualisation across almost all subjects being taught at public schools. 
The case is not very different for private English-medium schools. We have failed to create a platform for increasing the capacity of students to innovate, create and contribute to society. For far too long has Bangladesh, along with many other countries, prioritised a system of testing that emphasises physical accessibility, rather than the ability of students to nurture themselves in an environment of constant learning. 
Twenty-five percent of the 15-29 age group in Bangladesh remain unemployed or out of school. That refers to an estimated one million Bangladeshis, who are certainly expected to take on the responsibility of building the idealistic Sonar Bangla. So, there is little room for satisfaction. A sustainable Bangladesh demands a human capital-based approach to education where the students can thrive academically and at the same time learn skills and values—which will then allow them to create and innovate and grow to be thought leaders. 
Forcing a student to memorise the answers to 20 math questions, and spewing out those answers during SSC/HSC exams and subsequently getting GPA 5.0 will neither benefit the students nor the society. It looks good on paper, yes, but reports such as the one produced by UNESCO shed light on the hypocrisy in celebrating something that does not exist. So, let us accept that our education system is fundamentally flawed, and only then will we be able to fix it. We want our leaders to be educated, enlightened individuals, not simply businessmen. We want our entrepreneurs to introduce new products and services to boost our economy. 
Cultivating and nurturing the minds of the students through active learning and a newer approach to education will surely go a long way in eradicating the learning crisis in Bangladesh and indeed the world. If we do not tackle this problem by focusing on building a knowledge-based economy, we will be unable to produce the kind of leaders that we need to tackle the culture of political infighting, a corrupt institutional architecture and ingrained negativities in our society. 
---
Mir Aftabuddin Ahmed is a student of economics and international relations at the University of Toronto, Canada. 

Email: [email protected]
---
Follow

The Daily Star Opinion

on Facebook for the latest opinions, commentaries and analyses by experts and professionals.
To contribute your article or letter to The Daily Star Opinion, see our

guidelines for submission

.
---