EATING OUT
New additions in the BBQ MENU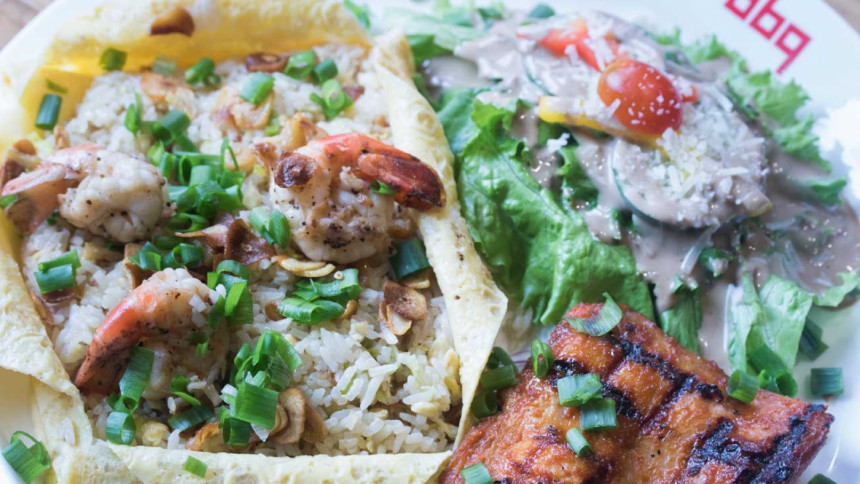 The Korean franchise in Bangladesh had recently celebrated its one-year anniversary in the country. The journey of bbq started at Seoul, Korea in 1995. Today, it is present in more than 50 countries with approximately 4000 outlets. 
And one of the things that contribute to bbq's enormous success is their strong research and  development segment. "Every product that makes it to the menu goes through rigorous study and scrutiny before it is introduced to our guests," says Rashedul Alam, Manager, Training and Development, bbq Bangladesh.
The new items bbq Bangladesh has introduced in the past few months or so are no exceptions to that rule. 
Their Gochujang Chicken with Shrimp Fried Rice is a generous platter. The garlic rice, topped with large sized shrimps, comes on a 'bowl' of omelette: the rice is not stuffed inside, rather, the omelette is shaped like a dish, so as to serve the rice. 
The platter serves a boneless whole-leg meat, Gochujang chicken, a Korean delicacy, which is very spicy, due to the traditional Korean red pepper sauce. Along with that, there is an exquisite salad with creamy balsamic dressing. 
If you want to have just the Gochujang chicken, you can do that too. 
Meanwhile, another item that you may want to try out is their Garlic Fried Rice with Shrimp. Unlike the other rice item, this one has numerous small shrimps, so much so that you will be able to savour them on almost every morsel.  
If you are a burger fan, bbq's Sous-vide Chicken Burger is a must-have. Other than its sheer deliciousness, Alam also claims that it is a healthy one too. "We cook it in low temperature, for a long time, in a special way and using a lot of herbs. Most of the fat gets removed in the process," he informs.
Indeed, the burger comes with cheese; but if you want to avoid it, just ask the waiter to serve without it. 
On the other hand, you may also try out their Original Barbeque -- the most tender and succulent chicken you will probably ever have. The platter comes with grilled vegetables. 
To wrap up your meal, have Red Bean Ice Flakes, a scrumptious Korean dessert of ice cream and kidney beans.  
bbq Bangladesh donates one percent of their sales revenue to help malnourished, needy people. 
Do you know what bbq stands for? No, it is not barbeque. It actually stands for 'best of the best quality.' And this is what bbq aims to give you -- with delicious food and great ambience. So, go bbq to savour in their new delights. bbq Bangladesh is a concern of Eon Group of Industries.
Location: 175/A Gulshan Avenue, Gulshan 2, Dhaka. Contact number: 9858869. Facebook page: bbq Bangladesh. Website: www.bbq.com.bd.  
Photo: Sazzad Ibne Sayed
Special thanks to bbq for preparing the food for the photo shoot