The perfect dynamic duos for your Eid table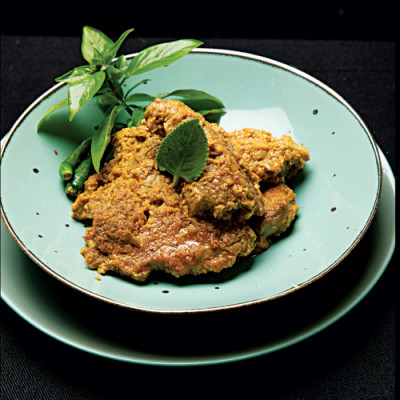 BIHARI DUM GOSHT
Ingredients
½ kg beef fillet
¼ cup fried crushed onions
2 tbsp chopped onions
2 tbsp ginger-garlic paste
4 tbsp mustard oil
½ tsp turmeric powder
1 tbsp crushed red chilli powder
5 almonds
2 tsp desiccated coconut
½ tbsp sesame seeds
½ tsp garam masala powder
1 tsp cumin seeds
2 tbsp yoghurt
2 tbsp papaya paste
Salt to taste
Oil for fry
Charcoal for smoke
Method
In a spice mixture, add sesame seeds, almonds, fried onions and coconut; grind well and set aside.
In a bowl, add beef fillet, yoghurt, salt, papaya paste, ginger-garlic paste, grounded mixture, coriander powder, red chilli powder, cumin powder, garam masala powder, and turmeric powder; mix well and marinate for 4-5 hours or overnight.
Heat oil in a pan. Add onions and fry until golden brown. Now add marinated beef, mix well and cook on high flame for 5 minutes. Add water and mix, cover and cook on low flame for 1 hour or until meat is tender and oil floats over it. Place a foil paper in the middle with hot coal and butter and cover it for a while to get that smoked aroma. Garnish with fresh coriander and serve.
BAKED MUTTON
Ingredients
1 small mutton leg
2 chopped onions, 3 tomatoes
2 tbsp lemon juice
2 capsicums
2 tbsp ginger-garlic paste
4-5 chopped green chillies
4 tbsp papaya paste
1 tsp all-spice powder
1 tbsp chilli powder
1 tbsp crushed black pepper
Aluminium foil as required
4 tbsp oil
Salt to taste
Method
Debone the mutton leg (or you can leave it bone in). Now beat with a steak hammer to flatten. Marinate well with 4 tablespoons of papaya paste. Keep it aside.
In a bowl, mix together ginger and garlic paste, green chillies, all-spice powder, chilli powder, lemon juice, and salt. Mix well.
Now marinate the mutton leg with the mixture. Wrap the leg in aluminium foil, sprinkle chopped onions, chopped tomatoes, and chopped capsicum on top. Lastly, bake in a preheated oven on 180° C for 30-35 minutes. Now remove from oven, dish it out and serve hot.
Photo: Sazzad Ibne Sayed
Food and Styling: RBR