Taking up nursing as a profession: Here's All You Need to Know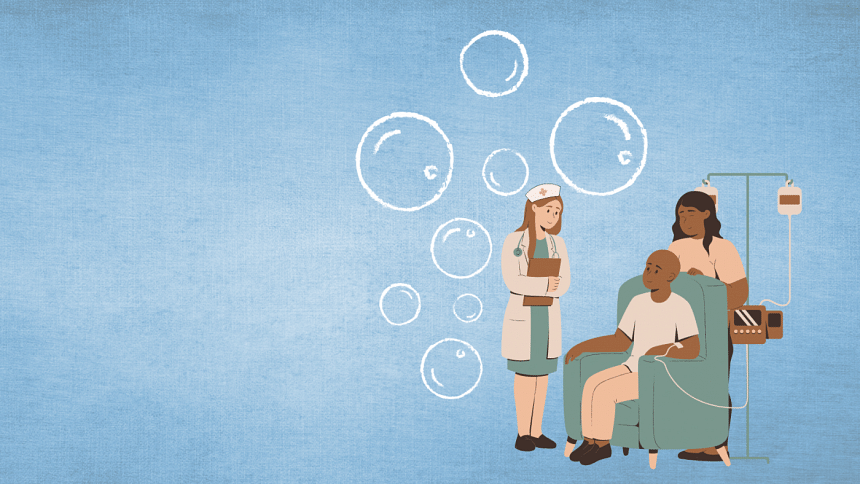 Nurses are professionals who act as a constant support system in treating the ill, elderly, and injured with an unbelievable amount of kindness, compassion, and respect. Often referred to as the heart of the healthcare system, nursing is among the very few professions in the world that work round the clock and all around the year.
Despite its challenging nature, the field of nursing holds immense potential. Today, nurses represent a community of researchers, health advocates, and educators who have evolved and expanded well beyond the simpleton definition we are familiar with. Bangladesh is no exception to this change and it is indeed high time to bring this line of work to the forefront.
Bangladesh currently offers two types of nursing courses — B.Sc in Nursing is conducted under the University of Dhaka and affiliated with the Bangladesh Nursing & Midwifery Council. Students from the Science discipline with a combined GPA of 7.0 from Secondary and Higher Secondary examinations can easily apply to this Bachelor's programme. Like any other undergraduate programme offered in the country, B.Sc in Nursing is a 4-year course but with a monthly cost of only Tk 2,500 to Tk 3,000. Depending on the institution you choose, this cost can be a one-time payment or divided over a period of four years.
The Diploma in Nursing and Midwifery is conducted directly under the Bangladesh Nursing & Midwifery Council. Students of any discipline with a combined GPA of 6.0 from their Secondary and Higher Secondary examinations are eligible to study this course with a monthly payment of only Tk 2,000 to Tk 2,500.
The significant difference in the expenses of these courses to other mainstream lines of study can make one question their quality, right?
In search of this answer, we spoke to Dr Ashik Ur Rahman, Program Director of Japan Bangladesh Friendship Nursing College (JBFNC) who had some interesting facts to share. In addition to his career as a physician, Dr. Ashik Ur Rahman has dedicated thirteen years of his life to promoting and advocating the importance of the nursing profession among all ranks of society. 
"The diploma course has an employment ratio of over 90 percent upon completion while for graduates of B.Sc in Nursing, this percentage rises to an unbelievable 95 percent," says Dr. Rahman. Although he admits that the social stigma surrounding nurses has reduced significantly in recent years, Dr. Rahman says that we as a country still have a long way to go in recognising their true potential.
"We faced an unprecedented shortage of nurses during the COVID-19 pandemic where we had only 17 thousand certified nurses," he says, "This was indeed a wakeup call for everyone, and with collaborative efforts from both government and private institutions to promote this profession, we were able to train over 15 thousand students in nursing in the last three years."
On the topic of potential abroad, Dr. Rahman stated that Japan Bangladesh Friendship Nursing College has recently sent sixteen nurses to Japan who are currently earning over Tk 2.45 lakhs each per month. Not only is this helping them become financially strong, but also the money sent back home in the form of remittances is also helping Bangladesh economically.
This International Nurses Day, perhaps the biggest challenge for us as a nation is to let go of the outdated ideas that do not let us realise the full potential of this beautiful profession. Medical professionals all over the world acknowledge nurses for all their efforts and hard work, and it is high time for us to do the same. With the right guidance our youth will also understand that nursing is not just another source of high income. This noble profession gives one the chance to meaningfully impact society and make a real difference in people's lives.