Dip in remittance: Hundi at play again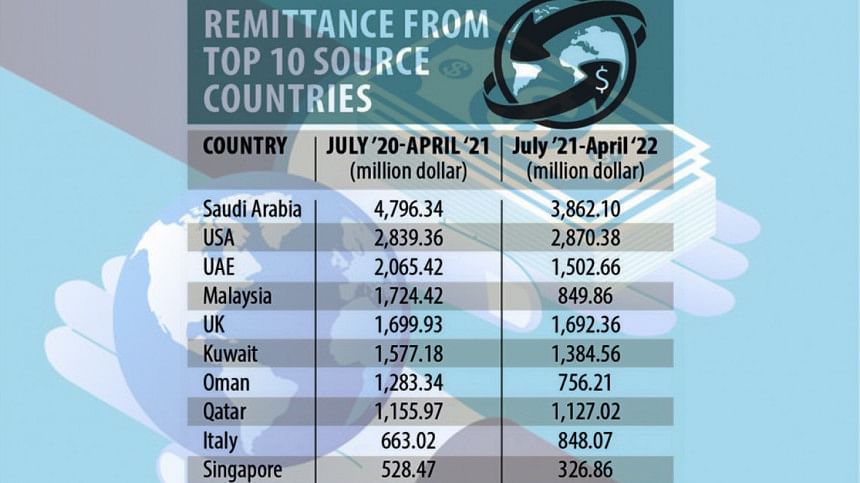 Remittance inflow fell in 11 months of the current fiscal year mainly because a large number of migrants switched to informal channels like hundi from formal ones for sending money, say experts.
Bangladesh received $19.19 billion in remittance from July 2021 to May 2022, which was $22.83 billion during the same period in fiscal 2020-21 -- a drop by $3.64 billion, shows Bangladesh Bank data.
Experts observe that many migrants are preferring informal channels as hundi activities returned to normalcy following improvement in Covid situation. Besides, a significant gap between the official exchange rate of US dollar and that in the kerb market is also a key reason.
They also pointed out that fiscal 2020-21 saw a boost in inward remittance as many returnee migrants, who lost jobs due to the pandemic, brought home their savings.
A report of Refugee and Migratory Movements Research Unit said 4.08 lakh migrant workers returned home from April 1 to December 31, 2020.
According to BB data, the country received $18.2 billion in remittance in fiscal 2019-2020, $16.4 billion in fiscal 2018-2019 and $14.9 billion in fiscal 2017-2018.
The country-wise data available for 10 months till April of FY21-22 shows inward remittance saw the biggest decline from Saudi Arabia hosting more than 2.2 million Bangladeshis. 
Remittance from Saudi Arabia, the largest labour market for Bangladesh, dropped to $3.8 billion in 10 months of FY21-22 from $4.7 billion during the same period in FY20-21, shows data of the central bank and Bureau of Manpower Employment and Training (BMET).
Bangladesh saw the second-biggest fall in remittance from Malaysia with remitters sending home $849.86 million in 10 months of FY21-22 compared to 1.7 billion in FY20-21.
During the period, remittance inflow from six other countries -- the UAE, Oman, Singapore, Kuwait, Qatar and the United Kingdom -- also dropped considerably.
Talking to this newspaper, several economists said banks are losing fast the advantage they enjoyed at the height of the pandemic when the informal channels mostly remained closed. But as the Covid situation improved, remitters switched to informal channels again.
Prof Mustafizur Rahman, distinguished fellow at the Centre for Policy Dialogue, said exchange rate management is crucial in encouraging remitters to use the formal channels.
Pointing to the recent volatility in the forex market, he said there was a difference of Tk 6-7 between the kerb market rate and the official exchange rate of the dollar.
Such a gap should not be more than Tk 2-3, he said, adding that the persistence of a gap bigger than this raises concern over remitters opting for informal channels.
Yesterday, the central bank depreciated the exchange rate of the greenback to Tk 92 per dollar, the 12th depreciation this year, in an effort to stabilise the forex market.
Earlier on June 2, the BB decided to allow the exchange rates of the taka to float against the US dollar for the first time in a decade.
On the central bank move, Mustafizur said, "This will significantly reduce the tendency for remitters to switch to informal channels from the formal ones."
He, however, said the country is seeing a growth in inward remittance in the current fiscal year compared to the pre-Covid period (FY19-20), maintaining the "historical trend".
The BMET data shows Bangladesh saw annual growth in inward remittance for five consecutive years since 2017.
Mustafizur also said the recent outflow of a high number of fresh migrant workers is likely to boost inward remittance within a year, but there is a need for enhanced monitoring and a robust campaign highlighting the risk of sending remittance through informal channels.
With a robust campaign targeting fresh migrants, inward remittance in the next fiscal year could even touch $24.7 billion received in 2020-2021, he hoped.
According to government data, 7.99 lakh fresh migrant workers went to different countries in 10 months of this fiscal year.
Zahid Hussain, former lead economist at the World Bank's Dhaka office, said the increase in inward remittance in fiscal 2020-2021 was mainly due to the remitters switching to formal channels from informal ones amid the pandemic.
Besides, many returnee migrants brought all their savings home, boosting inward remittance, he noted.
As the Covid situation improved and activities in informal channels got back to normal, many switched back to the informal channels for sending money, he said.
Zahid further said "visa trade" is also another reason for which remittance is sent through unauthorised channels.
"There is a 'grey area' in such visa trade," he said, adding that host countries have to come forward to stop such malpractices since Bangladesh cannot stop it alone.
The economist suggested that the National Board of Revenue improve its intelligence capabilities to detect under-invoicing -- an act of showing the price of an item on an invoice lower than the actual one.
Through under-invoicing, many importers try to evade tax by making a part of payment through informal channels, he said.
Md Serajul Islam, executive director and spokesperson for Bangladesh Bank, said migrants sent their earnings through proper channels at the height of the pandemic as their mobility was restricted at that time. Besides, many migrants had to return home permanently.
He further said the government has been trying to fuel growth in inward remittance by giving cash incentives.
The cash incentive for remitting through the banking channel has been raised to 2.5 percent from 2 percent, Serajul pointed out.
The central bank has recommended a further increase in the incentive, he said without elaborating.