Shailan Probeen Nibash: A home for the twilight years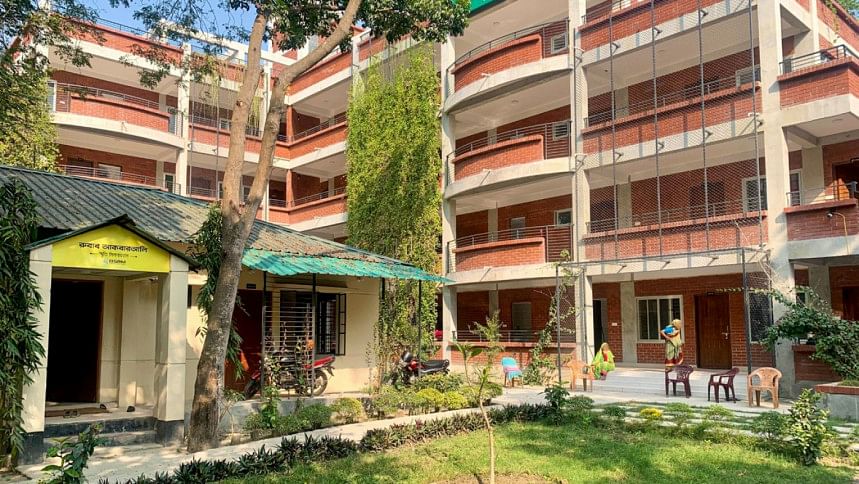 From 2009 to 2010, I volunteered at an old age home in St Cloud, Minnesota. Watching first-hand the plight of senior citizens in the world's most affluent country was an eye-opener; till today, the experience is a constant reminder of how vulnerable and forlorn people can become in the autumn of their lives.
Fast forward to December 2022, I was standing in front of Shailan Probeen Nibash (SPN), which is located about 45 km from Dhaka off the Dhaka-Aricha highway, in an idyllic village called Shailan in Dhamrai upazila. At first sight, the old age home's newly built exposed red brick four-storey building with its long balconies and a courtyard garden might make you mistake it for a vacation resort. The home has a capacity to house 80 men and women free of charge, although at the time of my visit, only 17 men and women were residing at SPN.
Muhammad Wahidur Rahman, a retired Master Warrant Officer of the Bangladesh Army and the superintendent of SPN, showed us around the facility. I walked around the senior care home and met with some of its residents. Every time I greeted one of the seniors, a lump formed in my throat. It was difficult to carry out a conversation, even for a conversationalist like me, with someone who I know has been abandoned by their family or has no one to live with. I am not unfamiliar with this feeling of tightness in my throat, though; I used to feel similar strong emotions when I worked around the residents of Talahi Senior Campus in Minnesota.
Old age itself is cruel. What is even more cruel, however, is living a life without one's family around. While some senior citizens resort to old age homes because they were brutally abandoned by their families, others come to such facilities because their children live in faraway cities or countries. While senior citizens with financial means can pay for senior housing, it is not an option for those who are destitute. As a result, many underprivileged older men and women in our society lead miserable lives, lonely and neglected.
With life expectancy on the rise, there will be more and more senior citizens who will live past 70; the current life expectancy at birth in Bangladesh is 72. The reality is that as life expectancy of people increases, there will be an increased demand for assisted living facilities or retirement homes in the country.
Demographic changes, such as the rise of nuclear families, more women joining the workforce, and more and more Bangladeshis going abroad for study and work mean that our elderly population will be left without anyone to take care of them at home. In the future, Bangladesh might even see upscale old age homes being established for its financially solvent senior citizens. However, an important question to ask here is: what will happen to the senior population that is not financially secure? Can we as society simply overlook the existence of these vulnerable citizens?
Shailan Probeen Nibash is the answer to the questions I asked above. SPN strives to provide home to older men and women without the financial means to support themselves. The old age home provides free housing, food, clothing, toiletries, and medicine to its residents. The residents are also offered regular health exams with the assistance of Gonoshasthaya Kendra.
As I toured the airy-spacious red brick building, it did not seem like a free-of-charge old age home to me; the phrases 'free of charge' and 'old age home' instantly draw a dismal picture in the mind. The place was green, sunny, and well taken care of. Some of the residents were sitting in the courtyard, basking in the morning December sun. In the kitchen, the cook was busy preparing rui fish bhorta, rui fish curry with winter vegetables, and daal for lunch. Two female residents were seen assisting the cook.
The residents of SPN can go outside, if needed, and their friends and family can visit them, too. During my visit, a female resident's sister-in-law came to see her. The resident's face lit up at the sight of her family member.
As I walked on the building's rooftop, which was boasting a seasonal vegetable garden and mounted electricity-generating solar panels, I gazed into the distance; the tall minaret of the local mosque was glistening under the winter sun. The mounted solar panels fulfil part of SPN's electricity demand.
While taking a tour of the courtyard garden, where gourds, papayas, green chilies, eggplants, etc., as well as flowers of different varieties added to the beauty of the SPN premises, I asked the superintendent why such a full-fledged senior care home does not have enough residents. Wahidur Rahman said, "People just find it hard to believe that everything here is provided at no cost. To most people, it just sounds too good to be true."
"There is also a taboo around living in an old age home in our society. Even children who cannot afford food and medical care for their old parents do not want to send them to senior housing," he added.
Living in an old age home is very much a taboo in our society. In the twilight years of their lives, people want to be surrounded by their loved ones, their children and grandchildren. Surely, children have a duty towards their parents; our parents took care of us when we were young and vulnerable, so it's now our turn to take care of them in the autumn of their lives. However, when affording food, housing, clothing, and medical care for a senior citizen is a genuine concern, isn't it better to allow the senior citizen live a better life in a senior care facility among people his age?
An undertaking of Monowara Islam-Tajul Islam Welfare Trust, Shailan Probeen Nibash can be home to senior citizens who have been left behind by their families or whose families cannot afford to bear their expenses. If you know a senior citizen, with little or no financial means, looking for a home, email at [email protected] or call 01717-410975 for details