Better retirement homes a must for industrialised Bangladesh
Under the social welfare ministry, there are currently six old homes.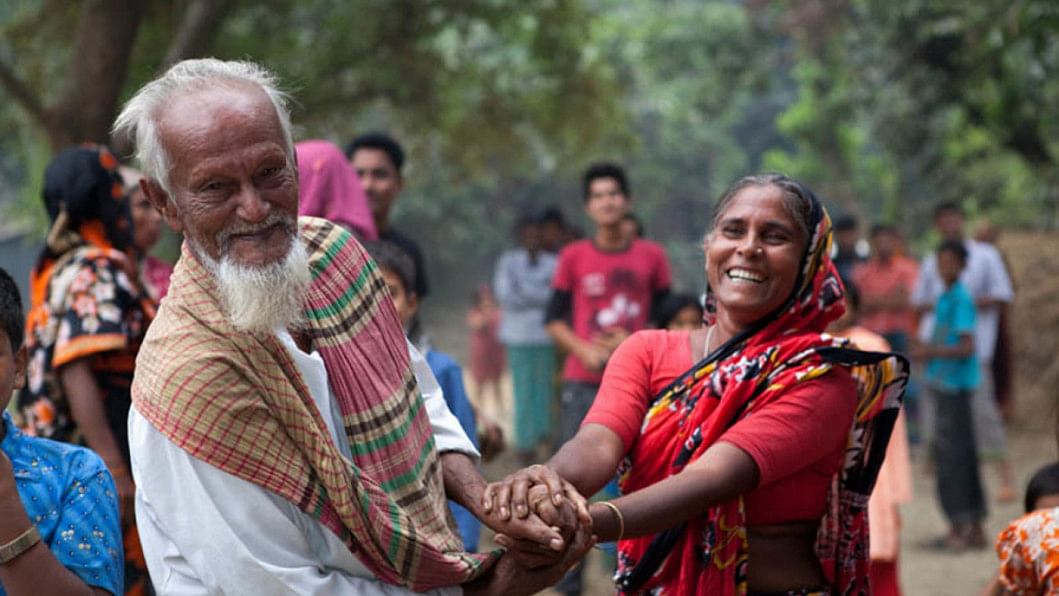 In Bangladesh, the current average life expectancy is 73 years, and the number of people who are aged 60 and above is expected to double by 2050, according to research by ARC Centre of Excellence. With the rise in the elderly population, the demand for holistic care for senior citizens tends to grow. At present, the population of Bangladesh is 171.68 million, which will rise to 216.46 million by 2051. In 2020, the elderly population of Bangladesh was 14 million as per projected survey, and it is expected that the elderly population aged 65-plus will rise to 30.04 million by 2051.
In the current year, the dependency ratio of the age groups 0-14 and 65-plus is 0.469 percent, which will rise to 0.524 percent by 2051, whereas the labour force ratio of the age group 15-59 is now 0.651 percent, which will drop to 0.604 percent by 2051 (BBS population projection 2011-2061 and BBS elderly population in Bangladesh Vol-4). Bangladesh is going to enter the intermediate stage of ageing. In addition, the number of nuclear families is rising. In that regard, there are many older people with savings and good experience in different sectors who have the potential to be an asset to society. But there still remains a huge gap when it comes to providing them with the necessary support facilities that might enable them to lead the rest of their lives peacefully and productively.
Not every senior citizen has the same care needs. Therefore, a balanced and holistic care system should be designed to help seniors focus on healthy lifestyle habits such as eating nutritious foods, exercising regularly, and maintaining strong social ties.
Bangladesh is a land of culture and tradition, and the elderly are an integral part of our society. As the country shifts its focus from agriculture to industries, traditional culture and family structure are also changing – thus, the joint family system is gradually losing its importance. Industrialisation has created more job opportunities than before, and it is anticipated that in the days to come, there will be hardly any house helps available. On the other hand, the number of children per household has also come down to one or two and many children are going out of the country for education or employment; some may also choose to work in a different region within the county. Thus, it is becoming almost impossible for the children to look after their parents physically or to keep their parents with them without any domestic help. As such, the next logical step is to shift the elderly parent to a care centre where they can have good company, and stay engaged and active. But the crux of the matter is, there are hardly any good care centres available in Bangladesh.
Senior citizens are considered as the pillars of society for their contributions and their experience. To provide the elderly with the required support/facilities, different organisations or industrialists may come forward to establish care centres for them. There could be three different types of care centres, namely, Premier Living, which can target higher income elderly people; Seniors Living for the middle-income elderly people, and Retired Living for the lower-income elderly people. This could be a cost-effective, self-sustainable model, where the Retired Living group may pay a nominal charge and the Seniors Living group may pay for the actual cost, while the Premier Living group will pay a premium charge for all premium services that they will enjoy, and their surplus amount may be utilised as subsidy for the Retired Living group.
Due to the social stigma surrounding old homes, in the beginning, the challenging task may be to find people to accommodate in the care centre – as the concept is not yet adapted in our society. This challenge can be mitigated by active online and offline campaigning, by emphasising on the importance of elderly care and how care facilities can provide a safe space for them.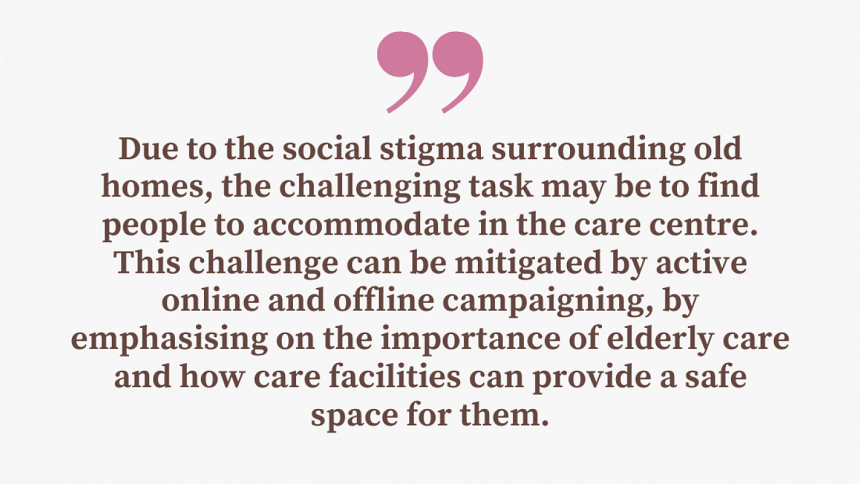 The socioeconomic consequences of having an ageing population are emerging issues in Bangladesh. So, coming up with new policies and increasing awareness in this regard is now a necessity. Integrated, assisted-living facilities need to cover the needs of the increasing number of elderly people. About 77 percent of elderly people do not have enough income to meet their basic needs and 71.4 percent are dependent on siblings for financial assistance. Most of the poor families cannot ensure separate living spaces for their senior members, as they live in one or two room houses consisting of more than five family members.
Under the social welfare ministry, there are currently six old homes. Several shelters and traditional old homes are also run by private institutions. If organisations and wealthy individuals step up and establish standard care centres, they will not only provide the elderly population with necessary healthcare and space, but also inadvertently preserve a wealth of unmatched experience that the elderly people will offer to society. Thus, if need and good intention are at the core, there will come a day when such elderly services will be normalised, and not frowned upon.
Our senior citizens have given a lot to society through their lives and their careers. Now, it is upto society to pay it forward and provide them with the space to flourish.
M Makbul Hossain is a retired rear admiral of the Bangladesh Navy.