International Day for Older Persons 2022
Who will take care of us in our old age?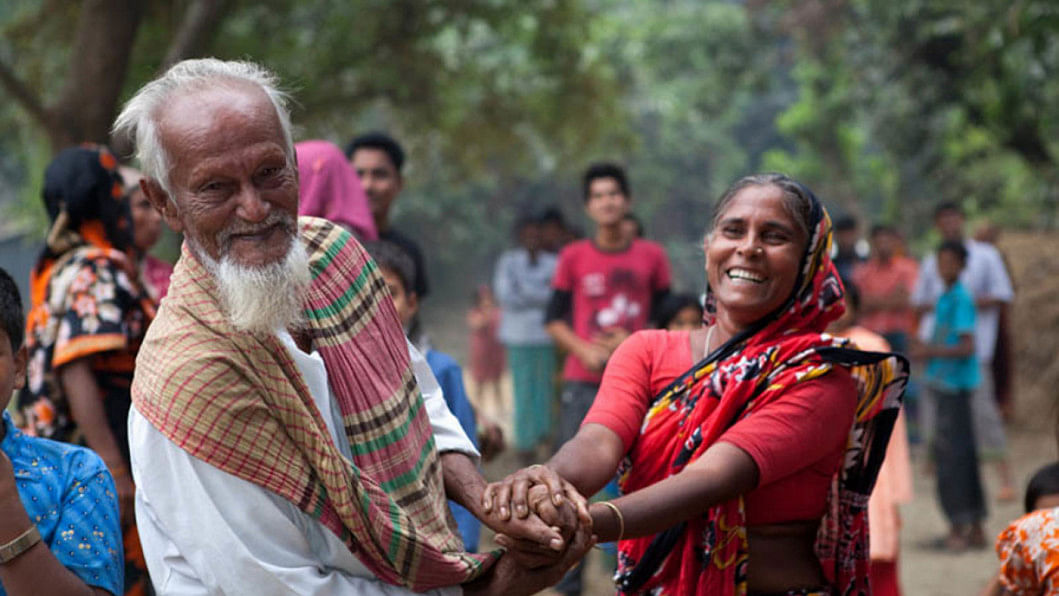 Ageing is a major concern in most countries. An additional 780 million people will join the ranks of the elderly (60+ years) around the world by 2050. And Bangladesh will have an additional 20 million elderly people in 2050.
In spite of the concerns, declarations, and programmes – such as observing the International Day of Older Persons on October 1 to raise awareness about "senescence," and the Madrid International Plan of Action (MIPAA) – the care facilities for the elderly people fall far short of what is needed.
In Bangladesh, too, elderly care remains unsatisfactory. The country initiated an Old Age Allowance Programme (cash handouts to the elderly), adopted the Parents' Care Act, 2013, and finalised the Probin Unnayan Foundation Act 2017 to monitor and execute decisions made by the government. Yet, the elderly care system remains inadequate, narrow in focus, and rather disjointed. The civil society is stepping in, but they also have to go a long way to address the complex array of social, psychological, and health needs of the elderly.
The rather disjointed and uncoordinated response reflects the difficulties to accommodate the diverse elements of care for the growing number of elderly people. Elderly care is expensive, estimated to be six times more than that for the young. More than two-thirds of workers in developing countries are engaged in the informal sector without pension or health insurance facilities. At old age, they remain without healthcare coverage. The increasing demand for care can easily overwhelm a developing country's exchequer.
Developed countries are much better placed, with about four percent of their national income allocated for elderly care. But they, too, are facing increasing pressure on this count.
Atul Gawande, doctor and author based in the US, notes in his book Being Mortal that government funding for geriatric care in the US has been declining in recent years. Curative treatments are highly expensive, outcomes are often not rewarding, and there are shortages of geriatric care staff.
Given the inevitability of the outcomes of old-age ailments, it seems reasonable to refocus old age care to ensuring "a good life for the elderly people" rather than on "prolonging their lives." This may sound cruel, but it is a more realistic and achievable objective. The statement also points to the direction of care for the elderly in poor countries.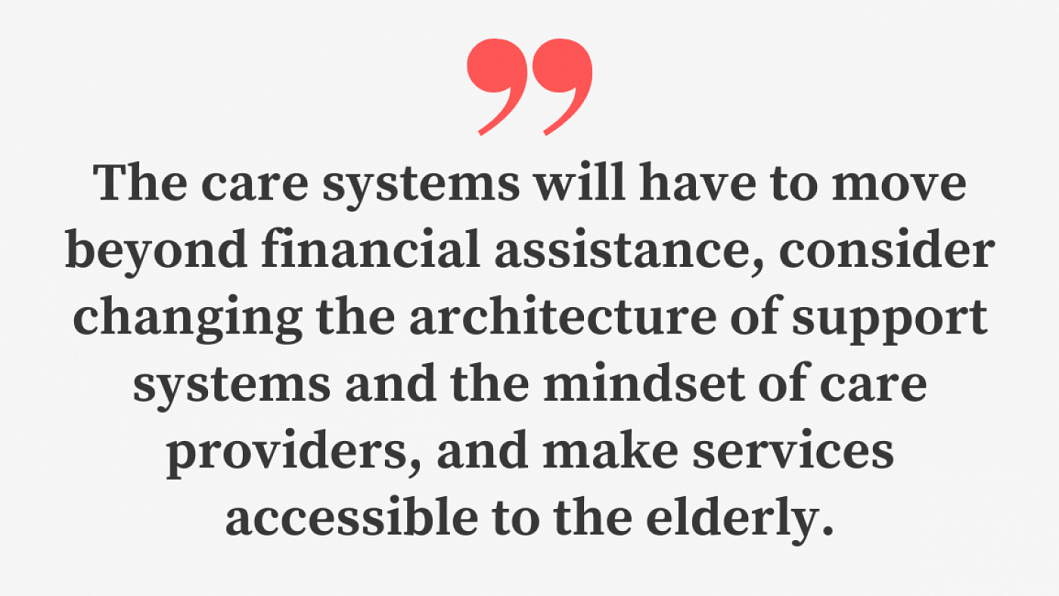 The care systems will have to move beyond financial assistance, consider changing the architecture of support systems and the mindset of care providers, and make services accessible to the elderly. It should go beyond the provision of medicines only, and try to improve the quality of life, assure a sense of belonging, protect the elderly against cruelties, and restore their dignity. This will require re-engineering of the care infrastructure. It cannot be achieved overnight; it will require patient and continuing efforts for meaningful change, and their acceptability in society.
As a starting point, one can consider the following steps in rebuilding the care infrastructure for the elderly in low-income countries.
Keep focus on family-based care systems: This is still visible in Bangladesh. Gradually build the infrastructure of care around it, such as providing financial help, state oversight, and societal care. Create facilities for the elderly for accessing public facilities.
Motivate younger generations to care for the elderly: The awareness-building will have to focus on young people – those in schools – by making it mandatory for them to devote a specified time every year to take care of the elderly in geriatric care institutions (in old-age homes, hospitals or other social institutions). This will be part of their academic curriculum, add to their grades, and be a "must" for advancing to the next grade.
Organise local support system and community action: The government could develop guidelines and back them by financial support to set up local community support systems. Not-so-elderly members of a local community, including local social workers, and senior students with prior training could be induced to register as social workers for elderly support with the local authorities and form a support system in their neighbourhood. They will visit the elderly on a regular basis, inquire about their health conditions, and mobilise support as needed. They will be empowered by local authorities and backed up by law enforcers if needed. A mobile phone app could connect them with each other, the elderly people and their families, care providers, and other support services.
A preliminary menu of support services: The support services could cover a wide range of activities, but it must be introduced gradually after assessment of their acceptability. The menu could include (i) collecting and updating healthcare data on a regular basis, and storing them in databases set up in the bureau of statistics; (ii) connecting the elderly with healthcare providers in case of emergencies, and on a limited basis initiating a "red button" alert system for emergency healthcare; (iii) providing the elderly with moral and legal support for any dispute settlement, and connecting them with such service providers; (iv) creating local facilities for excursions of the elderly, and arrange excursions to local parks, exhibitions, and local and national events; (v) arranging events where people of all generations get together by hosting fun and free activities for older people; and (vi) promoting fund-raising through government and voluntary contributions for setting up more old-age care homes.
The list sounds ambitious, and it is so. The facility creation is just the initial step; overcoming taboos and ensuring good living for the elderly is the tougher task. But the elders of our country deserve it.
Dr Atiqur Rahman is an economist, former adjunct professor at John Cabot University in Italy, and former lead strategist at IFAD.