5 times actor Ranveer Singh made jaws drop with his fashion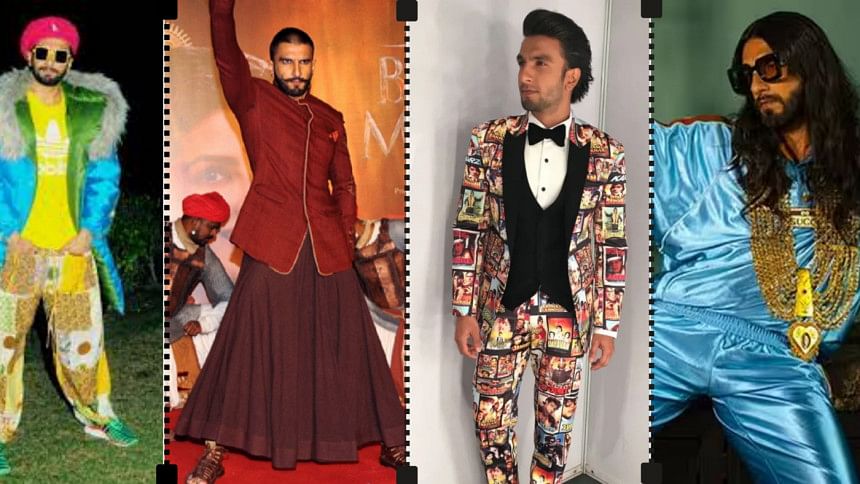 There are a few things that come to mind when you think of the name, Ranveer Singh; his acting, his lively personality, and his maximalist wardrobe. Singh's outfits are the perfect mix of craziness, like a rollercoaster of bright colours, patterns, and over-the-top accessories.
The actor has pretty much single-handedly redefined the limits of fashion for Bollywood, so much so that now whenever he is seen in anything other than loud and exaggerated, we really wonder if he is feeling alright.
Expressing himself through his clothes, Singh is known to make the unimaginable look like high fashion. And although too many to count, here are 5 of Ranveer Singh's most flamboyant fashion moments that surprised his fans and critics alike!
The Maxi Skirt
Never forget the time Ranveer Singh showed up to the promotions of Bajirao Mastani in a maroon prince coat and a dark brown maxi skirt. With a pair of sandals, no less!
Some thought it was only a part of the promotion for his movie character, some trolled him mercilessly, but none of it deterred Singh from wearing the skirt on several more occasions. And while originally dubbed as absurd, Singh's unabashed confidence in pairing a black button-up shirt or even a blazer with it definitely forced everyone to admit he looked pretty damn handsome in a skirt.
The Foil Wrap
Singh sported a range of colourful outfits throughout the promotions of Gully Boy. From pairing yellow puffer jacket with purple hoodies, to accessorising with bright bandanas, dangling chains, and graphic sunglasses, he personified a rap singer and songwriter.
However, one ensemble that made everyone lose their minds was when he showed up in a burnt-orange high shine foil overcoat with matching baggy trousers, a pair of huge goggles, and a furry bucket hat. The baffled public and fashion enthusiasts watched in shock while entertainment tablets lost their minds over it.  
The Filmy Formals
From his starting days, Ranveer Singh has repeatedly said that he has been a huge Bollywood fan growing up. Well, he chose a unique way of showing his love when he decided to wear Bollywood blazer suit with legendary movie posters printed on it.
A black vest and a bow tie were a tricky touch of perfection, making the actor look rather handsome and sleek.
The Prints over Prints
When wearing a printed top or bottoms you must always pair it with something subtle making sure it's not 'too much' to look at. Or at least that's what we thought. Ranveer Singh however proved that subtle was not really his thing, with printed overalls or co-ords consisting of all the colours of the rainbow in it.
One of his finest moments of dressing beyond imagination was when he donned a black and white polka-dotted shirt with a matching tennis hat. And elaborated ribbons of the hat tied at the back of his head and descending down his shoulders was not even the quirkiest bit! Singh had combined it with magenta and golden striped silk bottoms and baby pink shoes.
Posing before a rosy pink backdrop, this outfit was what could only be described as an organised chaos.
The Gucci
Luxury brands and celebrity wardrobes go hand in hand and it should not come as a surprise when Ranveer also dons a Gucci. Or should it?
Singh turned heads for the umpteenth time when he flexed his neon blue Gucci tracksuit with a statement purse and multi-layered gold chain. With a brown Gucci overcoat and a red hat, his long hair and squared sunglasses completed the whole look. Though this look was for a photo shoot, it would be difficult to find someone other than Ranveer daring enough to pull it off.
Safe to say that with his larger-than-life personality and eccentric style, Ranveer Singh would be a popular name in the world of fashion even if he were not an actor. And while this flamboyance is not everyone's cup of tea, his unapologetic attitude for being unique is what we would love to see more of in the coming years.