5 facts you (probably) didn't know about Mbappé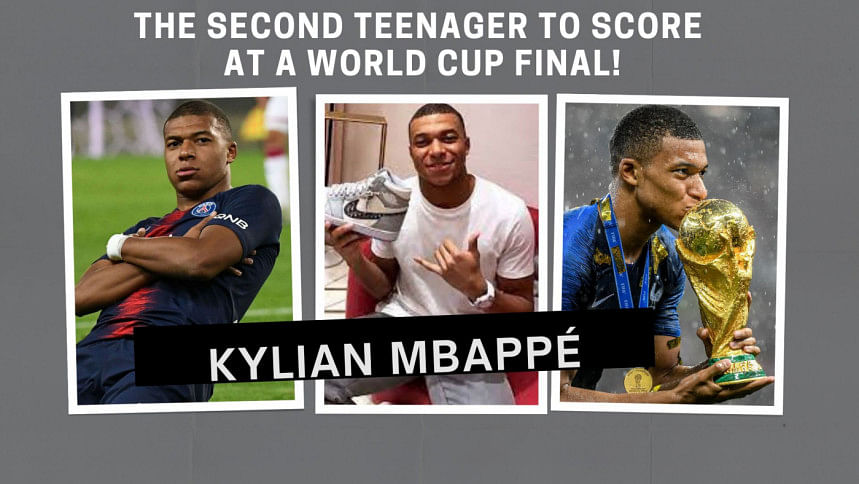 Kylian Mbappé is one of the most popular athletes on the planet. Only 23 years old, he is already one of the most recognised French footballers and a world champion. Still very young and already the second most expensive player in football, Mbappé has already bagged a number of trophies that many players hunt for their entire life. When Messi and Ronaldo are gone, we will be focused on Mbappé that is for sure.
Here are 5 facts that you probably did not know about Kylian Mbappé.
He could have played for another country
Mbappé was born and raised in France, but his mother is of Algerian origin and his father is from Cameroon. Therefore, Mbappé could have easily played for either Algeria or Cameroon if he wanted to but instead, he chose to play for Les Bleus. It turned out great for him since he won the U19 UEFA European Championships with France in 2016 shortly followed by the World Cup in 2018.  
The second teenager to score at the World Cup final
In the history of the World Cup, Mbappé is only the second teenager to score at the final of the World Cup. Only one other person has done it before him and he is none other than the legend Pelé himself. This says a lot about the type of future one can expect from Mbappé.
Pelé jokingly said, "If Kylian keeps equalling my records like this I may have to dust my boots off again", in a tweet following Mbappé's World Cup win in 2018.
Godfather to pandas
In 2021, Mbappé became the godfather to two pandas at a special naming ceremony at Beauval Zoo, France. Initially, the baby pandas were named "Cotton Flower" and "Little Snow" but later they were renamed "Huanlili" and "Yuandudu" in the ceremony.
Mbappé's role as the godfather is to mainly create publicity and awareness for pandas. According to WWF, there are less than 2000 pandas living in the wild right now so the awareness programme is imperative and as Mbappé said, he was honoured to become the godfather of the pandas.
Loves Sneakers
Different people have different obsessions. For Mbappé, he has a very conspicuous fondness of sneakers. In his own words, he becomes "kid with a new toy" whenever he is given a new pair of sneakers. Presently, the Frenchman has a sponsorship deal with Nike and has his own section on their website named, "Boutique De Mbappé." It shows you his choices of boots. Even though he has about hundreds of those, he still keeps adding more to his collection.
Is an avid gamer
Mbappé has been a gamer for quite a while and when he's not on the pitch training or scoring amazing goals, he's probably at his home, playing a match of FIFA. From being a fanboy to being on the cover of FIFA 21 and FIFA 22, it was a dream come true for Mbappé. But then again, just like at times we get frustrated playing games, Mbappé got frustrated with FIFA FUT (FIFA Ultimate Team) and took a break from playing the FUT mode, which he admitted in an interview.