Simple rules to quit smoking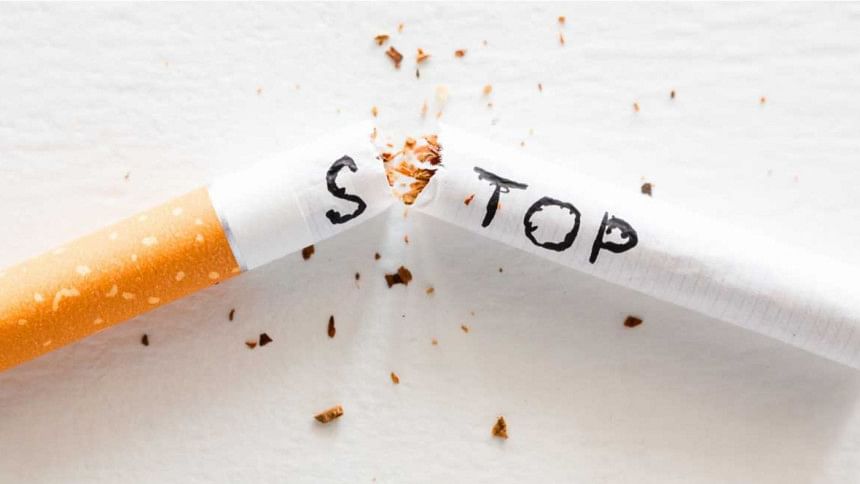 It is said and heard a thousand times that smoking is injurious to health. But despite knowing full well that smoking poisons the body, why don't smokers quit smoking? And even if some people want to quit smoking, why can't they easily give up this injurious habit? The answer is: nicotine addiction is both physical and psychological. Though quitting smoking can be tough, with the right habits and strategies you can give up smoking for good. 
People don't smoke merely out of habit, there are many other reasons deeply intertwined with this harmful practice. Numerous factors such as social contexts, peer pressure, anxiety or loneliness can largely influence a person's smoking behaviour. But we need to realise that tobacco is such a drug that only steals from us — our money, health, and well-being.
Many people try to quit smoking; however, they fail because of a lack of motivation. Hence, find the motivation. Maybe you have started the process of smoking cessation to protect your family from second-hand smoking, or you want to stay healthy and lower your chances of getting lung cancer, or you want to save money and improve the quality of your life — choose the reason that outweighs the urge to smoke.
You can try stimulation control and eliminate all sorts of triggers that compel you to smoke—coffee, ashtrays, alcohol, etc. Be determined and persistent in your efforts. And if at some point you run out of motivation, remind yourself why you have chosen to quit smoking.
You should try reducing the intake of daily cigarettes progressively. Moreover, if you can manage, endeavour to delay the act of smoking—for example: perhaps, you feel the need to smoke as soon as you wake up in the morning. So, why not try delaying for at least half an hour? Learn to tolerate the impulse and anxiety and you will see avoiding it is not as difficult as you thought.
Moreover, mindfulness is an effective way to manage anxiety and stress related to smoking. According to a research study, deep breathing exercise brings fruitful outcomes to anyone, including smokers as it is such a relaxation technique that helps all to get through moments of anxiety.
Breathing from the diaphragm is the best option in this regard as it is sort of similar to the way anyone breathes when s/he smokes. Keep your breath slow and deep, and then, exhale slowly—this technique will help you to keep your heart rate steady.
Quitting smoking is a strenuous process. However, you can make this process easier and more successful by using the gifts of modern technology such as smartphone apps. You can explore and make use of the apps namely Flamy, Quit Tracker, and Smoke Free—these all are free and user-friendly.
Flamy is a valuable app that will help you to quit smoking within a short period of time by offering you a "fourteen-day challenge" to terminate this habit from your life. Moreover, this app provides you with well-informed content such as an approximate calculation about how much money you have saved by not smoking, analyses your cravings and provides you with motivational cards as additional encouragement.
As nicotine is an addictive drug, you may experience bodily discomforts—headaches, mood swings, fatigue—by its withdrawal. So, you can try nicotine gums, lozenges, and patches as a replacement. Moreover, exercising helps to curb nicotine cravings and ease withdrawal symptoms. Thus, when you get the urge to smoke, put on your jogging shoes and go out for a run or try some mild exercise.  
Remember, we all have our distinctive stories, circumstances, and sufferings, and the best treatment will be the one that caters to your own particular needs. Therefore, never hesitate to consult a psychiatrist if needed.
Whenever the desire to smoke arrives, keep reminding yourself: you don't need cigarettes, your life will be better without it—with time, a greater desire to stop harming your body will emerge.