Tasty and healthy noodles for Ramadan
In the month of Ramadan, prepping food for iftar or sehri is a challenge on its own. Especially when you have to keep in mind that you are preparing food that promotes a healthy diet for children. Why go for intricate and complex recipes when Instant noodles are the answer for adults and children alike? An easy, tasty, and healthy snack which can be prepared for all age groups. Free of tasting salt (MSG), Chopstick Instant Noodles of Square Food and Beverage Limited comes in three varieties — Yummy Masala, Deshi Masala, and Masala Delight, which is their latest addition. 
These instant noodles are best for children as the seasoning packs are full of healthy ingredients making it perfect to have during iftar or sehri!
A variety of food can be prepared using noodles. They are often easy to cook and saves time. The following are some recipes that uses Chopstick Instant Noodles.
CHEESY NOODLES NUGGETS
Ingredients
1 cup boiled Chopstick Instant Noodles (Masala Delight)
½ cup grated processed cheese
½ cup boiled and coarsely crushed sweet corn kernels
¼ cup finely chopped spring onions
¼ cup finely chopped onions
2 tsp finely chopped green chilli
¼ tsp freshly ground black pepper
Salt to taste
Bread crumbs, for rolling
Oil for deep frying
Method
Combine all the ingredients in a deep bowl and mix well. Divide the mixture into 10 equal portions and shape each portion into a flat round nugget. Roll each nugget in bread crumbs until it is evenly coated from all the sides. Heat oil in a pan, deep fry a few nuggets at a time until they turn golden brown in colour from all the sides. Drain on an absorbent paper. Serve hot with sauce.
CHICKEN NOODLE SOUP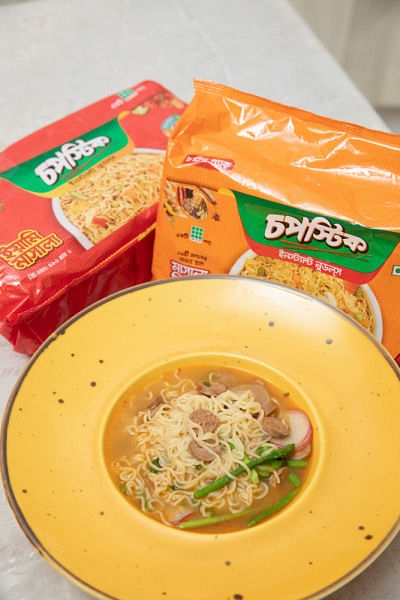 Ingredients
250g chicken breast
800ml chicken stock
1 cup Chopstick Instant Noodles (Masala Delight)
1 tsp chopped fresh ginger
1 garlic clove, finely chopped
2 tbsp sweet corn
2-3 mushrooms, thinly sliced
2 spring onions, shredded
2 tsp soy sauce, plus extra for serving
Mint or basil leaves and a little shredded chilli, to serve
½ tsp kosher salt
10 whole black pepper corn
Method
Pour the stock into a pan and add chicken, ginger, garlic, and pepper corn. Bring to the boil, then reduce the heat, partly cover and simmer for 20 minutes until the chicken is tender. Remove the chicken to a board and shred into bite-size pieces using a couple of forks. Return the chicken to the stock with the noodles, corn, mushrooms, kosher salt, half the spring onions, and soy sauce. Simmer for 3-4 minutes until the noodles are tender. Ladle into two bowls and scatter over the remaining spring onions, herbs, and chilli shreds if using. Serve with extra soy sauce for sprinkling.
SHRIMP WRAPPED IN NOODLES
Ingredients
5 king shrimps
¼ cup lemon juice
2 clove garlic mashed
¼ finely chopped onions
Some coriander leaves, chopped
A pinch of salt
Red chilli powder, according to taste 
A pinch of pepper
For the sauce —
¼ cup lime juice
2 tsp fish sauce
½ tsp garlic
1 tsp chopped coriander
½ tsp chilli
¼ tsp pepper
Salt and sugar to taste
For wrapping —
1 packet Chopstick Instant Noodles (Masala Delight), boiled
Satay sticks
Oil for frying
Method
Marinate the shrimps in lemon juice, red chilli, salt, pepper, coriander, onions, and garlic. Let it marinate for a couple of minutes. Now, make the sauce, mixing all the sauce ingredients. Dip the boiled noodles into the sauces. Pierce the shrimps with the satay sticks through the back of its tail. Wrap these with the noodle strands. Heat oil in a pan, deep fry them until brown.
Food & Styling: RBR