Fabulous fish recipes for your table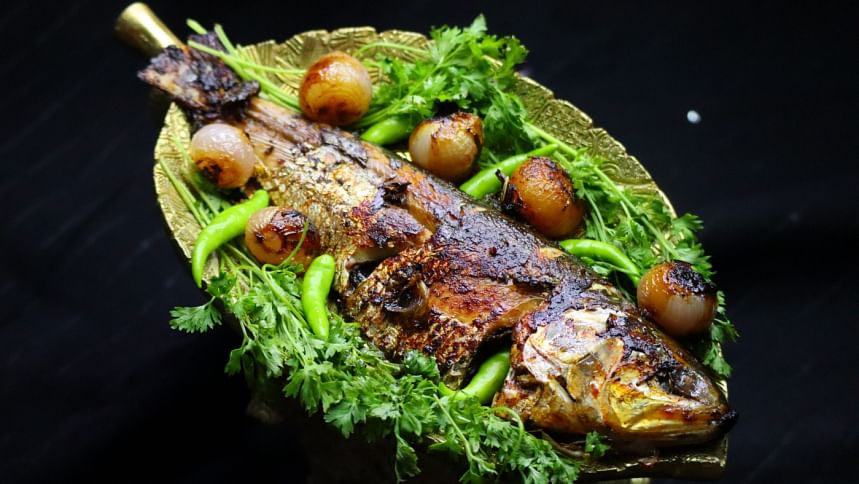 Fish is considered one of the most heart-healthy foods one can eat. Fish has several benefits that make it a desirable part of a healthy diet. It is also a source of protein with omega fatty acids that can be consumed as a relatively efficient meat replacer. Consuming fish instead of meat is the higher intake of essential fatty acids can aid the body in a multitude of ways — from boosting the immune system to improving cognitive function.
Fish recipes are key to getting fresh, delicious meals on the table quickly and easily. There are many ways to cook fish — grilled, baked, fried or stewed. This list of fish recipes is simple and easy to make with full of global flavours will delight fish lovers and definitely improve the dinner table game.
PAN ROASTED HILSA
Ingredients
500-800g whole hilsa fish
6-8 pieces shallots
2 tbsp Worcestershire sauce
1 tbsp light soya sauce
1 tbsp lemon juice
1 tsp sugar
¼ cup water
5-8 black pepper, crushed
1 tsp red chilli flakes
¼ cup oil
1-2 cups water
Salt to taste
Method
In a large tray, place the fish and add all sauces, salt, lemon juice, sugar, pepper, water and chilli flakes. Rub both sides of the fish with all ingredients and keep the fish marinated for at least 2 hours.
Heat a roasting pan with oil in low-medium flame. Put shallots and shallow fry until the skin colour changes. Add the fish with all the marinated ingredients and water, cover the pan. Let one side cook for few minutes then flip and cook the other side in medium-low flame. Check if both sides are cooked equally and once water gets dry and oil comes out then roast both sides again in oil.
Transfer into a serving dish and garnish with your favourite herbs.
ASIAN STYLE CRISPY FISH SALAD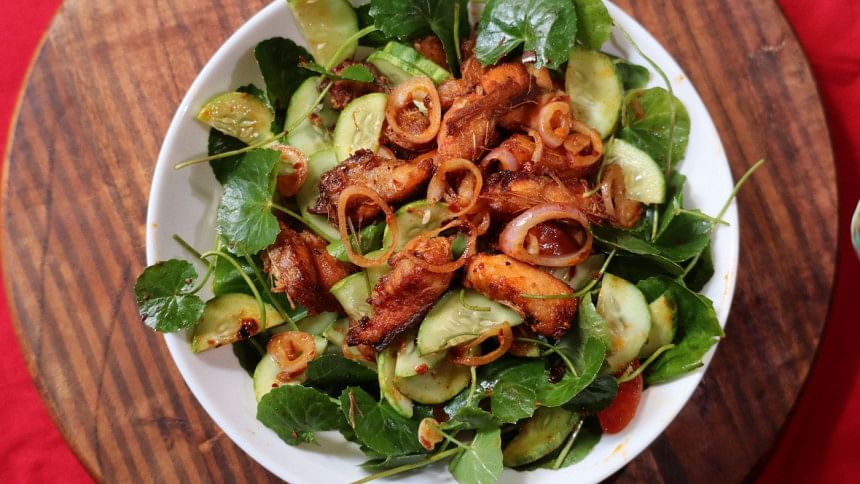 Ingredients
200g boneless fish fillet (thinly sliced)
2-3 cloves garlic
2-3 sticks lemongrass
3-4 green chillies
2-3 sticks coriander roots
Salt to taste
2 tsp fish sauce (optional)
¼ cup corn flour
2 medium onions, sliced
1 tomato
1 cucumber
30g pennywort leaves
Chilli oil sauce
Oil (for frying)
Method
Make a coarse paste of cloves, lemongrass sticks, green chillies, coriander roots together, transfer into a bowl. Add sliced fish fillet, salt, fish sauce and marinate for few minutes. Add corn flour, mix well and deep fry. Transfer into a bowl and set aside.
Take a large mixing bowl, add sliced tomato, cucumber, pennywort leaves, onion or any other garden fresh vegetables as per taste. Add fried fillet and chilli oil sauce, mix oil and serve.
GARDEN FISH CAKE
Ingredients
200g salmon, tuna meat or any boneless fish (canned, drained)
1 big potato (boiled, smashed)
¼ cup carrot, diced
¼ cup bell pepper, diced
Mint leaves (a dash), chopped
½ cup bread crumbs
1 big onion chopped
1 tsp garlic powder
Salt to taste
1-2 green chilli, diced (optional)
1 tsp freshly ground black pepper
2 tbsp melted butter
Parsley (a dash), chopped
1 egg
¼ cup cream or evaporated milk
Method
Flake the fish meat and combine with crumbs, smashed potato, bell pepper, carrot and any vegetables as per taste.
In another separate bowl, whisk the egg, butter cream/milk.
Combine the wet ingredients with the fish meat mixture and stir in with chopped onions, parsley, mint, chillies, salt, pepper and garlic powder.
Transfer into a greased pan and bake uncovered for 45-60 minutes or until cooked through.
MALAI FISH CURRY
Ingredients
300g fish fillet
2 tsp onion paste
½ tsp garlic paste
¼ cup poppy seed paste
¼ cup malai or cream
¼ cup mustard oil
1 tsp green chilli paste
¼ tsp turmeric powder (optional)
½ cup water
1 tsp lemon juice
Salt to taste
Method
In a large mixing bowl add fish fillet, lemon juice and salt and mix thoroughly. Add onion, garlic, chilli, poppy seeds paste and cream. Mix gently and keep marinated at least for 30 minutes to 1 hour.
Heat a cooking pan to medium-low heat with mustard oil. Add marinated fish fillet, stir gently. Put water for gravy and cook slowly for 5-10 minutes in low heat. Adjust the amount of salt and gravy. Serve hot with rice or roti. 
Food and Photo: Chiangmi Lena Talukder