Styling flared pants: Rules that work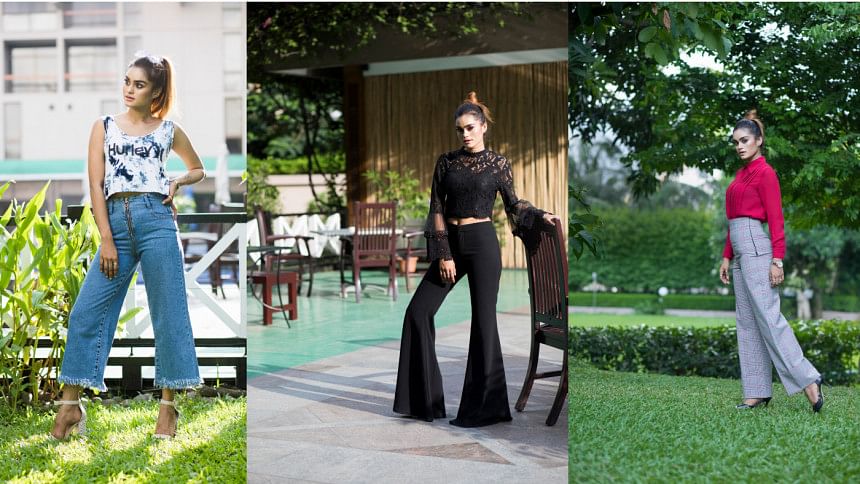 Popular supermodel Kate Moss once famously remarked that nothing tastes as good as skinny feels. Suffice to say, the backlash she received was legendary! While being skinny and feeling good may be a personal choice, one thing is certain, skinny jeans do not always make one feel great. Notoriously tight and extremely uncomfortable they have also been touted as a health hazard owing to their constricting nature.
Flared pants are all that your heart (and sometimes waistline!) hopes and wishes for! Known more widely as bell-bottom pants, pretty much all of our parents flaunted these for the greater part of the '70s. It has two varieties, the classic bell-bottoms were tapered at the top, around the hips, and spread out like a bell (hence the moniker) at the ankle. Flared pants are loose from the top, and flare out like a hand fan at the bottom. Both are equally stylish. Relaxed and very comfortable, these pants are your best friend, especially now that fashion has become forgiving and generous compared to the past.
Now how does one style it? With oomph of course!
A crop top is a good idea. As these pants tend to be high-waisted a crop top balances out the entire silhouette nicely. A chic blouse that is mid-length is also another option, perfect for brunches and other such leisurely pursuits.
Colours such as cream, beige, fawn, and caramel are great for the daytime. Perfect for work, a solid-coloured blouse or a printed top will do very well for the office or workplace. For a night out a pleated chiffon blouse with navy or black pants will look fabulous. A sleeveless animal print top with slinky yet stylish bell-bottom pants will turn heads and how! However, you choose to style these pants keep certain rules in mind —
Pair with low or mid-length heels to bring a touch of polish to the outfit.
Keep the top slightly short to avoid looking stocky.
Avoid flats and sandals when wearing flared pants.
It is all about the fit so make sure your pants are hanging in the right places and not too big or too loose.
Getting pants custom—tailored is a good idea.