From classic to contemporary: Hairstyle trends for Pahela Baishakh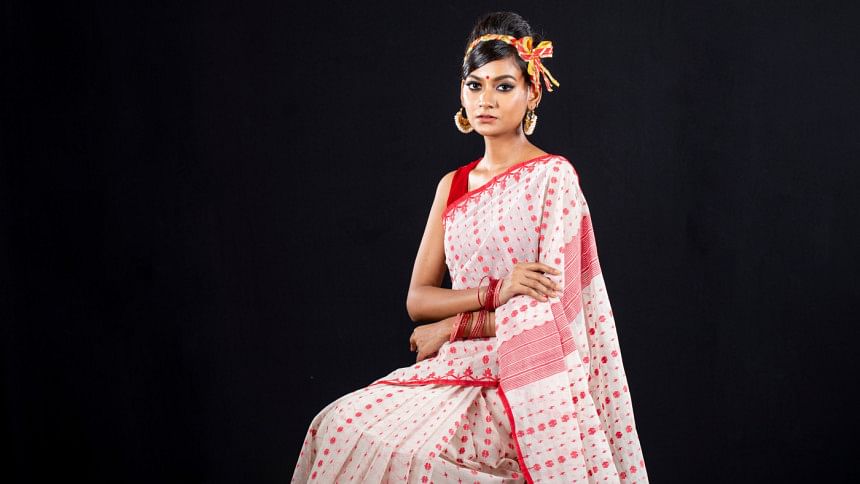 Barely halfway into the year and 2023 is already setting some major fashion trends in terms of outfits, makeup, and hairstyles. Although 14 April, the day of Pahela Baishakh, will undoubtedly feel like the hottest day of the year, this time, we are ready with bands, laces, and ornaments to save our hair from looking sad in a ponytail or suffocating in a twisted bun.
A touch of the right accessories and your braid can become a vital part of your outfit this Baishakh. Braids are easily among the most elegant and timeless hairstyles there are. They come in all kinds of different shapes and most importantly, help to move the hair away from your face on a hot and humid day. Braids have been a popular hairstyle for centuries, and they have been incorporated into Pahela Baishakh celebrations to create a more free-spirited vibe.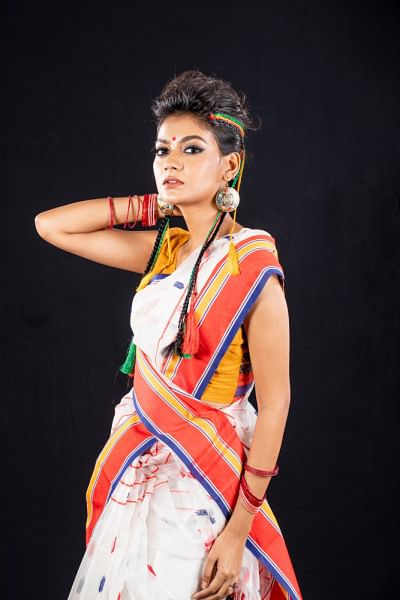 Fashion is evolving and it is really time to think outside the box to adorn your hair for Baishakh. The trend of wearing vintage tassels interweaved with silk threads of glimmering gold and gota patti woven into braids, is one that will take your Baishakhi look up a notch by its sheer gorgeousness. These playful strands of fabric add a touch of bohemian flair to any hairstyle. Whether you opt for colourful or monochrome tassels, they are sure to make a statement.
Another option is ribbons which seem to be an eternal favourite among hair accessories for Pahela Baishakh. This year, we are seeing a surge in satin and velvet ribbons that add a luxurious touch to your hair. Tie them in a bow to your ponytail, weave them into a fishtail braid, or wrap them around a low bun; the choice is all yours.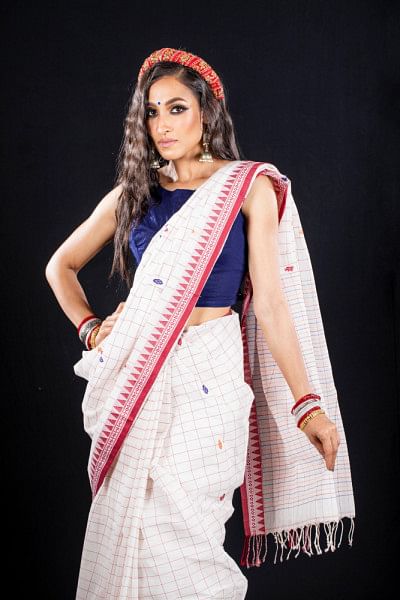 The celebration is Nabo Barsha and you are at full liberty of adding a natural, earthy element to the hairdo with some fresh flowers, feathers, or gajra. If you are feeling confident enough, this is your time to experiment with natural, loose waves or a simple blow-dry, and pin these flowers to one side behind your ear. This will give your hair a laid-back, effortless look, and make you feel almost cinematic.
Floral clips are a must-have for any celebration, and Pahela Baishakh is no exception. If you are unsure of the fresh flowers the artificial blooms can more than make up for it. Not only will they look festive, but they will add romance to your hairdo like none other. Wear them as a single statement piece or cluster them together for a whimsical look.
The next hair accessory we must mention is headbands and chains. These are more like modern counterparts of the traditional matha patti that we so adore but cannot pair up with casual outfits. From delicate chains to chunky bands, they can be worn across the forehead, on the crown as a headband, or even wrapped around a bun adding a touch of glam to your Baishakhi outfit. The trick here is to pair it up with simple and relatively small earrings, making sure that your headpiece is the highlight.
Taking on some all-time Baishakhi favourites, we have the half-up, half-down hairstyle. This look is perfect for those who want to show off their gorgeous locks while still keeping their hair off their face. Add a touch of glam with a statement headband or hairpin that complements your outfit. This style pairs well with a flowy sari or kameez for a modern look.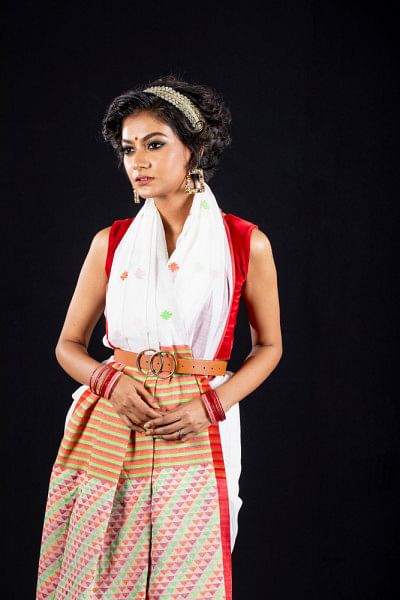 If head jewellery or flowers are not your cup of tea, the ever-popular braided crown hairstyle might just be. This boho-chic style is perfect for outdoor celebrations, especially on the hot summer days of April. Not only does it pair well with pretty much any outfit but also makes a perfect blend of tradition and trend and adds a touch of whimsy, giving a stunning edge to your whole look.
Whether you are looking for fusion flair or sophisticated glam, there's a hairstyle for everyone this Baishakh. Don't shy away from experimenting with different styles and accessories, and expressing your individuality. Embrace the festive spirit and elevate your fashion game!
Shubho Nabo Barsho!
Model: Tarin, Suhi
Styling: Sonia Yeasmin Isha
Makeup: Piyash
Wardrobe: Tangail Saree Kutir