HC wants to know govt's decision on Suhrawardy Udyan's old trees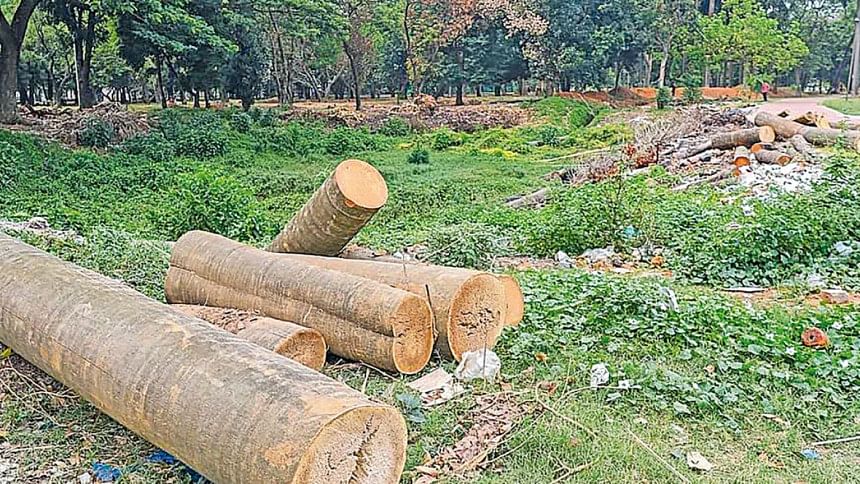 The High Court today wanted to know the government's decision about the old trees at the capital's Suhrawardy Udyan, a historical place related to the republic's Liberation War.
The court sought for the resolution of a meeting organised by the liberation war affairs ministry on this issue on June 24 with its Minister AKM Mozammel Haque in the chair.
The HC bench of Justice Farah Mahbub and Justice SM Maniruzzaman asked Deputy Attorney General (DAG) Samarendra Nath Biswas to collect the resolution from the ministry and to submit it to this court in two weeks.
The bench passed the order during hearing on a writ petition filed to seek its directive upon the government not to cut trees and damage the environment and characteristics of Suhrawardy Udyan.
It fixed July 15 for further hearing on the petition.
DAG Samarendra Nath Biswas told the HC that the government has suspended the process of cutting trees at Suhrawardy Udyan.
Liberation Minister AKM Mozammel Haque held a meeting on June 24 on this issue, but the resolution of the meeting was yet to be finalised, he said, adding that he will submit the resolution to the court once he receives it.
Lawyer Syeda Rizwana Hasan appeared for the writ petitioners during the virtual hearing of the petition today.
Read More: Tree-felling at Suhrawardy Udyan: HC hopes problems will be resolved through discussion