Tree-felling at Suhrawardy Udyan: HC hopes problems will be resolved through discussion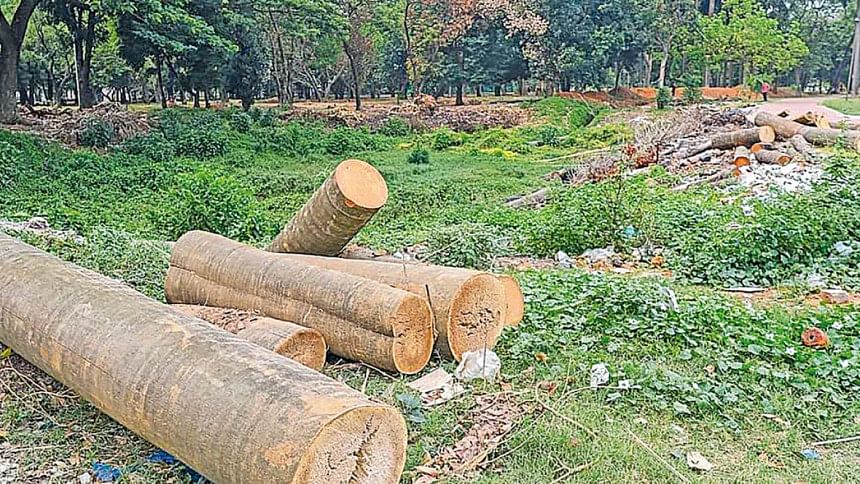 A High Court bench today expressed hope that the problems regarding tree felling at Suhrawardy Udyan will be resolved amicably through discussions between the government and environmentalists.
"We do not want to interfere with this issue at this moment. We hope that all the issues regarding Suhrawardy Udyan will be settled keeping a balance -- in a beautiful way -- as the government will take necessary decisions after consulting with the environmentalists including the writ petitioners," the HC bench of Justice Farah Mahbub and Justice SM Maniruzaaman said.
The bench said this while hearing on a writ petition filed seeking its directive on the government not to cut trees and not to damage environment at Suhrawardy Udyan in the capital.
The court adjourned the hearing of the petition for four weeks, saying that it will pass necessary order later on after being conveyed about the government steps over Suhrawardy Udyan.
At the beginning of the hearing today (Thursday), Attorney General AM Amin Uddin told the HC bench that he talked to the Liberation War Affairs minister about protecting original and natural historical shape of Suhrawardy Udyan and the minister assured that he will talk to environmentalists and then will take necessary decisions.
The attorney general also said the process for felling trees at Suhrawardy Udyan has been suspended.
Lawyers Fida M Kamal and Syeda Rizwana Hasan appeared for the writ petitioners, while Additional Attorney Generals Mohammad Mehedi Hasan Chowdhury and SK Md Morshed represented the state during the virtual hearing on the petition.
Six rights bodies -- Bangladesh Environmental Lawyers Association (Bela), Association for Land Reforms and Development (ALRD), Nijera Kori (NK), Bangladesh Legal Aid and Services Trust (BLAST), Bangladesh Paribesh Andolon (BAPA) and Ain O Salish Kendra (ASK) -- and architect Mubasshir Hossain submitted the petition as a public interest litigation to the office concerned of the HC.