Dr Kamal wants CEC replaced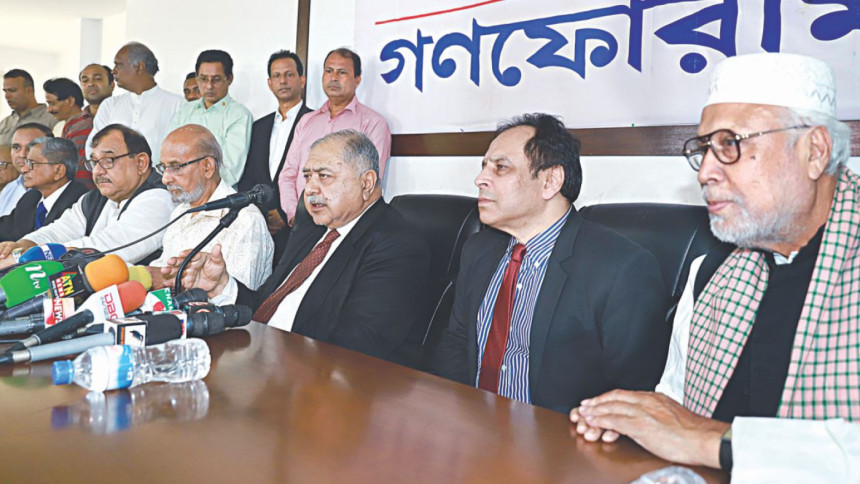 Gonoforum President Dr Kamal Hossain yesterday demanded the replacement of Chief Election Commissioner KM Nurul Huda with a credible person for holding a free and fair national election.
"We couldn't be happy after talking to the CEC. We demand that he be replaced with a credible person," Dr Kamal said while briefing journalists about the country's overall political situation and election atmosphere at the Jatiya Press Club.
He further said, "He [Huda] should be replaced not removed. I would like to tell the CEC again we're not happy with you. We may change our opinion reviewing your activities. We want you to work neutrally from today, no matter what you did in the past."
As per the constitution, the Gonoforum chief said the CEC should work neutrally and independently without being directed by anyone. "But, we're forced to say you've so far failed to demonstrate your impartiality."
"I sincerely request the CEC to ask his conscience whether he is working spontaneously as per his own understanding or at the behest of anybody. The CEC acting as per the directives of somebody is not only a crime, but also a violation of the constitution. If you continue to do that you'll be considered as a violator of the Constitution in history," he added.
Referring to the CEC's comment that all the arrests are being made as per his directives, Dr Kamal asked Nurul Huda to explain with documents as to why he is issuing orders to arrest people. "Your explanation will help us examine whether your actions are justified or you're doing those as an abettor of the government."
He also warned that they may move the court seeking remedy if the Commission does not change its current attitude towards opposition.
The Gonoforum chief said the wholesale arrest of leaders and activists of opposition parties is still going on which is not conducive to creating a congenial election atmosphere. "This wholesale arrest should be stopped."
Dr Kamal said, "Police are the force of the state...they aren't the government force. Police have to work for creating a proper election atmosphere. They must provide legal protection to opposition parties."
The eminent jurist urged the CEC to tell the police to help create a proper election atmosphere so that all candidates can reach out to their supporters and carry out their election campaigns with equal opportunities.
He said the government is making it impossible to hold a neutral and credible election with its "undemocratic" activities and "wholesale" arrest of opposition leaders and activists.
Dr Kamal said they are waiting with eagerness to witness a fair and acceptable election where people, the country's owners, will get a chance to exercise their right to franchise freely.
Showing a photograph, he strongly criticised the police for the way they arrested BNP nomination hopeful Monirul Haque Chowdhury.
The Gonoforum president called upon media to neutrally play their role and depict the real scenario of the country as it will help create a healthy atmosphere for a fair election.
He also opposed the EC's decision to use EVMs in six constituencies and said most parties are against it.
Replying to a question on seat sharing with BNP, Kamal said there is a possibility of both creating a distance and reaching a consensus over the issue. "We forged the unity for uniting people, and we all parties will field the candidates who will be acceptable to people, responsible and can play a good role in restoring democracy."
He said they will finalise the candidates of their alliance by two or three days.
Earlier, in a written speech, Gonoforum Executive President Subrata Chowdhury alleged that the Gono Bhaban, the ministers' residences and government offices are being used for political activities by violating the electoral code of conduct. "But the Election Commission is playing a silent role."
At the beginning of the press meet, Dr Kamal introduced slain former Awami League Finance Minister Shah AMS Kibria's son Reza Kibria and former Kurigram Awami League leader Maj Gen (retd) AMSA Amin who recently joined the Gonoforum.  
At the end of the press conference, private TV Channel ETV's ex-chairman Abuds Salam joined the Gonoforum.
Krishak Sramik Janata League President Abdul Kader Siddiqui, Gonoforum General Secretary Mostafa Mohsin Montu and Jatiya Oikya Prokriya leader Sultan Mansur were, among others, present.