Take to the streets to oust govt: Dr Kamal Hossain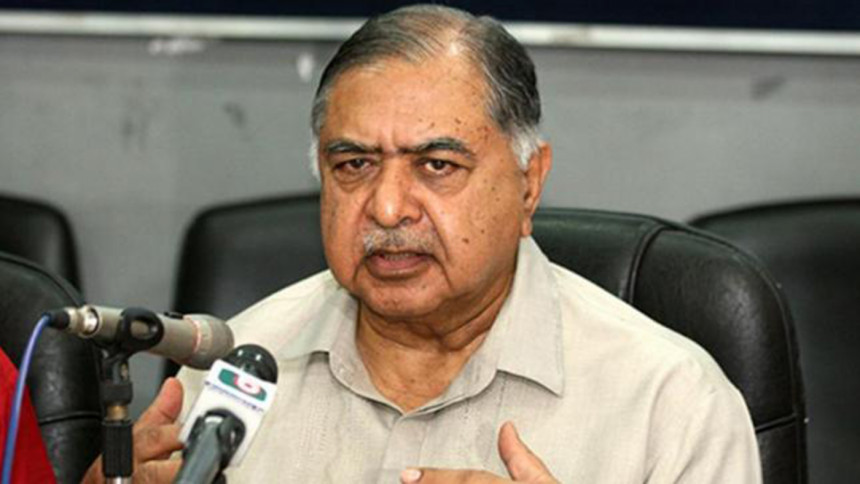 Dr Kamal Hossain today called upon all to take to the streets to bring down the government instead of just holding indoor meetings.
"No more indoor meetings. We will unite and take to the streets to keep the movement going," said Dr Kamal Hossain, Jatiya Oikyafront convener, while speaking at a meeting demanding BNP Chairperson Khaleda Zia's release on the occasion of the second anniversary of her imprisonment.
The meeting was organised by Oikyafront at Dhaka Reporters Unity.
Khaleda was sent to jail after a lower court sentenced her to five years' imprisonment in the Zia Orphanage Trust graft case on February 8, 2018.
He said they are tolerating a farce in the name of election. "Unelected people usurped power and are ruling the country. People will not accept that," said Dr Kamal, also president of Gonoforum.
"A government should be formed through a free and fair election. A party that secures majority [votes] in a real election should form the government. Raising demands of resignation are not enough. Rather the government should be brought down. People who are owners of the country should act as true owners," Dr Kamal said.
The Jatiya Oikyafront top leader said that if people are deprived of freedom they become victims of corruption and looting. "None can give autocracy an institutional shape. People who had tried faced dire consequences," he added.
He said that celebrating 50 years of independence, while depriving people of their rights, is nothing but a farce.
Speaking about Khaleda Zia, Dr Kamal Hossain said, "The term political prisoner sounds strange 48 years after independence. It is unimaginable that demand of release of Khaleda Zia need to be placed and meetings are held for that."
BNP standing committee member Abdul Moyeen Khan urged all to unite and wage a movement to oust the government.
Jatiya Samajtantrik Dal President ASM Abdur Rab at the programme cautioned the government that if they want to leave power peacefully, they have to release Khaleda Zia.
Oikyafront leader and Gonoshasthaya Kendra trustee Zafrullah Chowdhury opined that it would not be wise to take part in the any elections without the release of Khaleda Zia.
Among others, Nagorik Oikya convenor Mahmudur Rahman Manna, Gonoforum executive president Subrata Chowdhury and Bikalpadhara president Nurul Amin also spoke at the programme.