Lack of governance to blame for traffic anarchy: Dr Kamal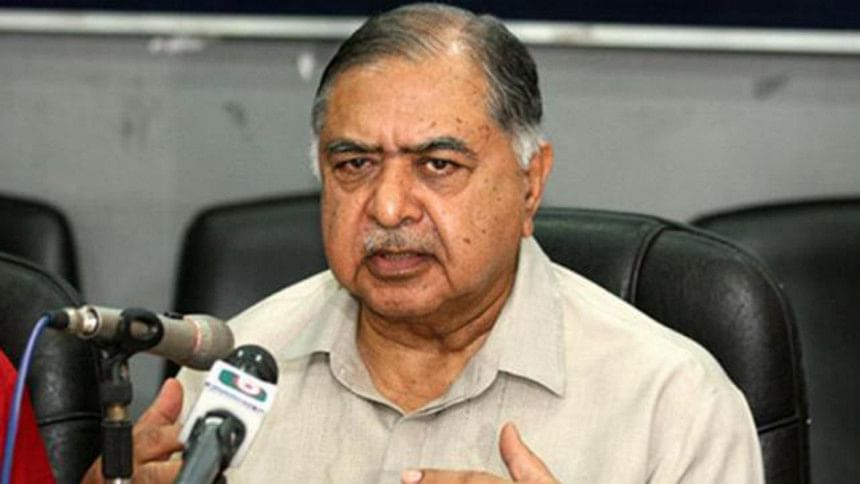 Gono Forum, led by Dr Kamal Hossain, yesterday demanded that steps be taken to free the transport sector from political influence and laws be properly enforced to restore discipline in the sector.
The party came up with the demand at a press conference at Jatiya Press Club in Dhaka.
"Political influence not only helps corruption spread but also make people indifferent to law. Ultimately, the rule of law is hampered. It is applicable for all sectors, including transport," said Dr Kamal Hossain.
The main reason behind the prevailing anarchy in the transport sector is lack of good governance, said the eminent jurist. "It's necessary to ensure impartial and effective enforcement of laws to ensure good governance."
Dr Kamal, also the convener of Jatiya Oikyafront, said police must enforce laws so that the goal for which these are framed can be achieved. But if the police are influenced by anybody then they become weaker, and deviate from the rule of law.
Gono Forum will form a human chain in the capital on April 1, to push for its 14-point demand to ensure safe roads, and restoration of discipline in the transport sector.
The programme, which will be held in front of Jatiya Press Club, is also meant for registering the party's protest against the government's move to hike gas tariffs.
Gono Forum general secretary Mostafa Mohsin Montu announced the programme at the press conference.
"We took to the streets demanding safe roads earlier when students waged a movement to this end. We're also going to form a human chain from 3pm to 5pm in front of Jatiya Press Club on April 1 with the same demand in line with the students and youths," he said.
Through the programme, Montu said, they will also protest the fresh proposal for raising gas tariffs.
He urged the people of all walks of life, including students, to participate in the programme.
The party also demanded security on the roads in front of public and private hospitals, installation of footbridges and speed-breakers on roads in front of educational institutions, a stop to extortion in the transport sector, creating a fund supervised by a regulatory body for victims of road accidents, and taking suggestions from experts and giving priority to people's interests in constructing roads and bridges and working out transport strategies.