Will pre-election politics remain peaceful or become violent?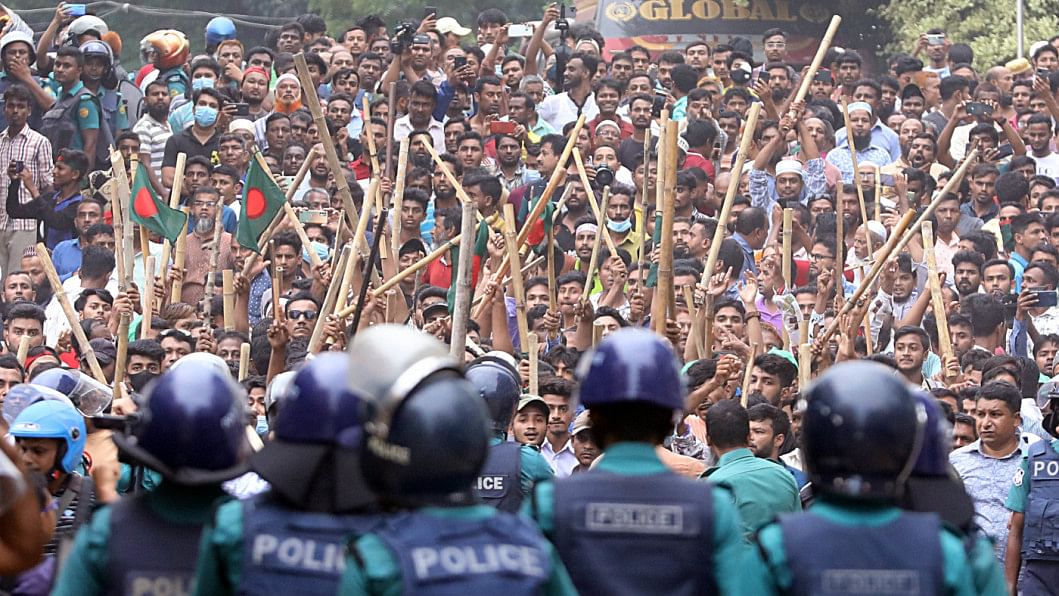 As we enter 2023, there remains palpable anxiety and nervousness about the national political landscape. It is expected that the 12th parliamentary election will be held at the end of this year or early next year, thereby making everything in politics revolve around the issue of the national election. In a way, the ruling Awami League has already kicked off its campaign, as the prime minister, in her last three public meetings – in Chattogram, Cox's Bazar, and Jashore – sought votes for "the boat" in the next parliamentary elections. Another such meeting is scheduled to be held in Rajshahi in the first week of February.
Steps have been taken to revive the almost dormant 14-party alliance by allocating them two parliamentary seats for the upcoming by-elections in six constituencies, which fell vacant due to the resignations of BNP members.
The resignations by those handful of BNP MPs were also a tactic of mounting pressure on the government to agree to the opposition's demand of reintroducing a non-partisan, poll-time caretaker government. The BNP and most other political parties have long been accusing the AL government of capturing all state institutions, including the Election Commission (EC), the police, and public administration by employing partisan officials in such a way that a fair election would not be possible as long as the incumbent government remains in office.
Though ironic, the AL, which had imported and ditched the caretaker system is now facing the toughest challenge over its reluctance to bring it back. Almost all other political parties, except those who are in alliance with the AL and the Jatiya Party (JP) – who had fought the last election under a seat-sharing deal – have already indicated that they wouldn't join any election under the current government.
Though the ministers have ruled out any deviation from the current form of the constitution in order to make the next election an inclusive exercise, it is hard to imagine a scenario where a repetition of either of the two previous elections would be acceptable to anyone both within the country and abroad.
In 2014, the AL had used the argument of constitutional continuity in governance to counter criticisms of uncontested renewal of office. But, in 2018, it realised that the same logic would not work again and made a strategic move to make the election inclusive. In February 2018, PM Sheikh Hasina even offered to form an all-party poll-time government and engaged in dialogue with opposition parties, including the BNP. It still remains a mystery why the BNP and its allies went on to participate in that election without replacing the partisan government with an all-party interim administration. As a result, the 2018 election, despite all its massive irregularities, including ballot stuffing the night before, became an inclusive election.
It is, therefore, expected that new tactics will be deployed by the AL in the next election. If the offer for an all-party government in 2018 was meant to produce a participatory election, would it be unreasonable to expect another new proposal from the government ahead of the upcoming general election? Such a proposal can change the course of political dynamics, after all.
The recent resurgence of BNP's organisational strength and support worries many political observers about the possibility of intense agitation and political violence throughout 2023. Despite such possibilities, there are signs that the BNP has learnt its lessons and has concluded that they are no match in political violence against the ruling party as long as police and the administration have not been neutralised.
Besides, the BNP has also lost hope in the current judicial system of getting any protection or relief from harassment and persecution. It explains why the party has taken a very cautious approach in maintaining peace and abiding by rules in holding protest rallies. Keeping protests peaceful despite losing 15 of its comrades in the ongoing movement, according to party members' claims, is rare in our political history.
Whether the BNP and other opposition parties will be able to maintain this policy of avoiding confrontation would be one of the telltale signs of what is to come in the rest of the year.
This policy, so far, has helped the BNP hugely. Its mobilisation power, after 16 years out of government and continuous persecution for over a decade, has drawn everyone's attention. The ruling party has realised it, too. But, instead of making any attempt to negotiate the issues in contention, it appears that the AL has taken a provocative stance. It has been employing aggressive and confrontational programmes like organising parallel rallies and resorting to so-called peace enforcing activities, including searching mobile phones and surveilling opposition activists. Such anti-democratic provocations may result in violence if the opposition forces act in self-defence.
Pressures for negotiating a political solution over the issue of a free, fair, and credible election have been mounting from various stakeholders and others, too. Even the new chief election commissioner (CEC) has insisted that a consensus among political parties is essential for holding a good election.
CEC Kazi Habibul Awal first mentioned the need for a consensus on February 28, 2022, immediately after taking his oath, and since then has voiced this opinion several times. Though the BNP has refused to accept the current EC as a neutral referee, it doesn't nullify his plea for a consensus.
Similarly, foreign governments – Western ones, in particular – have been calling for a free, fair, and inclusive election which will meet international standards. More importantly, their definition of a free and fair election includes ensuring a level playing field for all potential contenders, full freedoms of speech and organisation, freedom of press, and respect of human rights.
Political observers have cited the exclusion of Bangladesh from President Biden's first Democracy Summit as a message to the current government that there's too much deficiency in democratic norms and practices, which need to be addressed. If such exclusion continues in the second Democracy Summit (scheduled for March 29-30), what impact will it have on the next national election?
Kamal Ahmed is an independent journalist. His Twitter handle is @ahmedka1