RAHETID: a hospital for education and training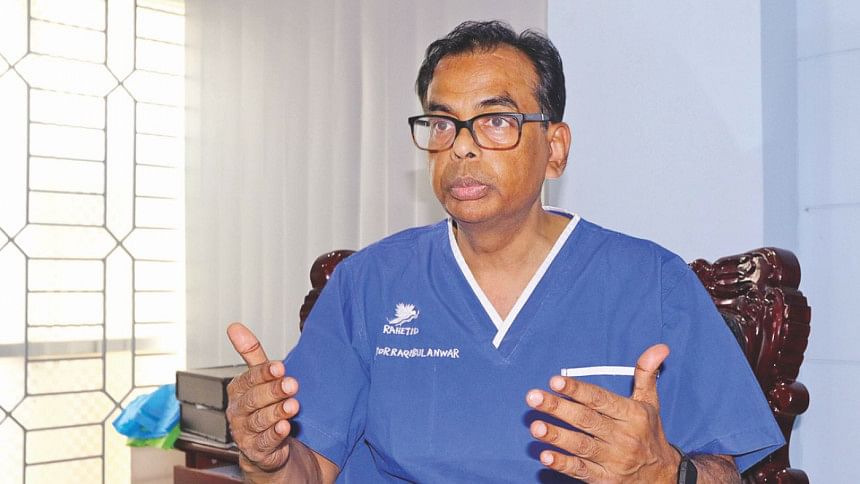 When there is much to worry about the country's health sector, surgeon and cancer specialist Prof Raqibul Anwar took the onus on himself to improve healthcare here, at least partially, by devoting knowledge and experience that he gathered in the US, UK and Switzerland over the last three decades.
A thought of making contributions in his home country led him to establish RA Hospital Education and Training Institute Dhaka (RAHETID) that provide tertiary medical education and healthcare in partnership with the Royal College of Surgeons (RCS) of England.
RAHETID began its operation in early 2016 and is now providing services related to colorectal and general surgery. It has a plan to train 8,000 surgeons and 30,000 nurses in the next ten to fifteen years, said the CEO and president of RAHETID, a 34-bed hospital and institute having capacity to train 20 doctors now.
 According to Prof Raqibul, Bangladesh has performed well in the primary healthcare, but cancer, diabetes, heart diseases and road accidents are major concerns now.
A huge shortage of healthcare personnel is another issue. According to the World Health Organisation, Bangladesh has 0.66 healthcare personnel per 1,000 people against a minimum requirement of 2.28 doctors, nurses and midwives to serve as many people in a country. The threshold for achieving Sustainable Development Goals is 4.45 healthcare personnel per 1,000 people.
While every year 8,000-9,000 medical students graduate in Bangladesh, the government gives only some 2,000 the opportunity for postgraduate training. Already 40,000 of the country's 60,000 doctors don't have any postgraduate degrees, Prof Raqibul said. Against this backdrop, hundreds of thousands of Bangladeshis seek treatment abroad.
At RAHETID, Prof Raqibul said, MBBS doctors undergo training for a year after internship, and then go to England for the second year of training. They will spend the third and fourth years again in RAHETID and then go back to England for another two years' training. The trainees will get payment for their services in England.
In six years, they complete MRCS and MSc in any surgical subjects before sitting for FRCS, a professional qualification needed to practise as a senior surgeon.
Explaining MRCS or FRCS exams, he said these have three components, knowledge, skills and attributes, all equally important. Attributes mean how to communicate with patients, how to work in a team for providing best care, besides manners. Nurses too are receiving training, especially in critical or acute care, said Prof Raqibul.
The world needs to train two million surgeons to conduct some 150 million more operations annually. This is a huge global problem and RAHETID is working to address part of it.
The writer is a staff reporter of The Daily Star. E-mail: [email protected]