Coronavirus infection in children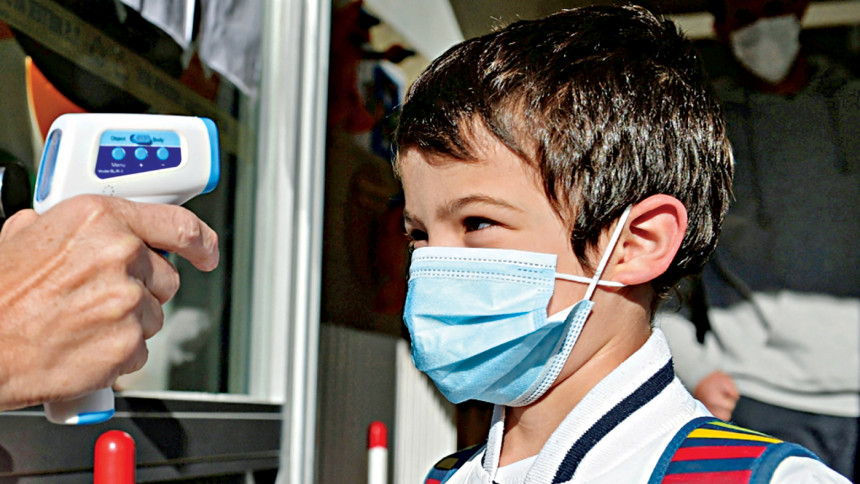 The coronavirus outbreak has become a global problem, creating panic and concern all over the world. The pandemic has restricted movement, paralysed business and affected the economy in many countries including Bangladesh. The World Health Organisation (WHO) has declared it as a pandemic and global emergency.
Coronavirus is a large family of viruses that cause illness ranging from the common cold to severe respiratory distress. The novel coronavirus disease (COVID-19) is a very contagious disease and has claimed the lives of about half a million people worldwide.  COVID-19 started its journey from Wuhan, China and now has spread over 195 countries of the world. Bangladesh has recorded more than 60,000 confirmed cases and around 900 deaths so far.
The novel coronavirus can affect anybody, from neonates to adults. Fortunately, children are being less affected by it and their signs and symptoms are not exaggerated. Why are the children less affected is not so clearly known. The reasons might be that they might be exposed less, their receptor for viruses are less or they might have better immunity than adults and develop better antibodies.
Based on available evidence, children do not appear to be at high risk for COVID-19. Elderly people with comorbidity is more at risk. China conducted a research on 2,143 paediatric patients, among which two-third were suspected cases and the rest were laboratory-confirmed COVID-19 cases. About 4% of them were asymptomatic, 51% had mild illness and 39% had moderate illness. Boys and girls were equally affected. About 6% had severe illness compared to 18.5% of adults. They also found infants develop more critical manifestation then older children.
As it is a new virus we must wait for more information and explanation regarding children's infection. Whatever may be the seriousness we have to prevent it and the steps of prevention are the same for everyone.
Frequent hand washing for at least 20 seconds with soap, using alcohol based sanitisers, maintaining social distancing, staying at home and avoiding touching the nose, mouth and eyes with unclean hands are imperative.
Having lukewarm water often and increased intake of vitamin C is also important. The use of proper masks while going out and proper disposal of used tissue papers after coughing or sneezing are important. It is better to avoid the consumption of raw or uncooked food.
By any means we must prevent/lower the community transmission and the best way to do that is to keep yourself at home. Do not come out of your home until it is very much essential. Social, religious or political gatherings must be halted and avoided. Public transportation should also be avoided.
It is important to not panic. Be cautious, be safe and make others safe by staying at home.
The author is a Professor of Paediatrics at Community Based Medical College, Mymensingh.

E-mail mmukkhan@gmail.com