Total disorder
Unlicensed, unskilled drivers and unregistered, unfit vehicles rule transport system putting lives of passengers, pedestrians at risk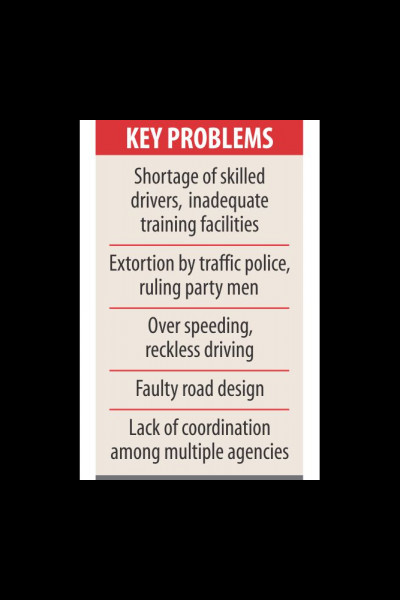 It's anarchy of an incredible scale.
Consider this: There are some 35.36 lakh registered vehicles in the country. So far, the BRTA, a transport regulator, has issued 26.39 lakh driving licences. This means, around 9 lakh vehicles are in the hands of drivers who do not have licences.
There is no data, but many of these "drivers" are children as young as 14 or 15.   
Add to this around 20 lakh unregistered vehicles that hit the road across the country with blessings from politicians and government officials, creating chaos and indiscipline in the sector, sector people have said.
Many of these unregistered vehicles are slow-moving and so off-limits to highways. Still, they continue to ply the highways, defying High Court orders.
The authorities cannot punish their owners and drivers because of their patrons, who consider transport workers their vote bank.
The issue of road safety came to the forefront in the wake of the ongoing student protest demanding road safety. 
Thousands of school, college and university students have been staging street protests since Sunday, after two college students were killed in rash driving at Kurmitola in the capital.
A race for passengers between three buses led to the accident, initial police investigation found. None of the three drivers, all of whom have been arrested since, had professional driving licences, police said.
One of the buses of Jabal-e-Noor Paribahan did not even have the route permit, while the route permit and fitness of another expired months ago.
Talking to The Daily Star, people involved in transport sector highlighted a host of problems that contribute to the traffic chaos and accidents -- shortage of skilled drivers and training facilities, extortion by traffic police and ruling party men, over-speeding and faulty road designs.
Also, the sector is under multiple authorities with little coordination between them to ensure road safety. As a result, clearing the mess proves to be very difficult, they added.
Accident rates are high in Bangladesh. Police data show some 3,000 people die in road crashes across the country every year. 
However, according to Bangladesh Jatri Kalyan Samity, at least 7,397 people were killed and more than 16,000 injured in nearly 5,000 road accidents last year.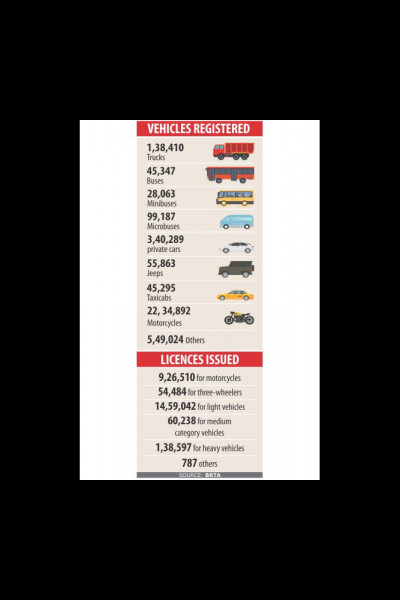 DRIVERS WITH NO LICENCE
More than 2 lakh heavy vehicles -- bus, truck and minibus -- ply streets across the country. So far, the BRTA has issued some 1.38 lakh driving licences for such vehicles, meaning 70,000 heavy vehicles drivers do not have driving licences.
A driver needs at least six years' experience before he could get one such licence.
For driving public service vehicles (PSV) like bus and minibus, a person has to take a special permission. So far, some 11,000 people have received such permit, Sitanghsu Shekhar Biswas, director (operation) of BRTA, told The Daily Star on Wednesday.
There are about 80,000 PSVs in the country.
"It is the duty of the owners of such vehicles to check if a driver has the permission before hiring him," Sitanghsu added.
As for skills training, there are only 123 driving schools registered under the BRTA with only 176 registered driving instructors across the country, he said.
It is impossible for them to train required number of drivers for the growing transport sector, leaving plenty of room for untrained and unprofessional drivers to fill in the gap. 
Following a series of road accidents, Prime Minister Sheikh Hasina on June 25 issued several directives, including driving time limitations on drivers and keeping reserved drivers of long-route vehicles to prevent accidents.
Osman Ali, general secretary of Bangladesh Sarak Paribahan Shramik Federation, admitted that there was indeed a shortage of skilled drivers even to meet the current demand. He suggested the government provide free training to create more skilled drivers.  
The Bangladesh Road Transport Corporation (BRTC) has 23 training centers for drivers, but only 14 of them are functional, he added.
Asked to comment on the sector, Khandaker Enayetullah, secretary general of Bangladesh Road Transport Owners' Association, said he would not characterise the situation as "anarchy".
He claimed there was anarchy in the sector before the AL took office in 2009.
About extortion on roads and highways, he said they were trying to stop it. "To my knowledge, no ministers are directly involved in extorting," he claimed.
"We requested the government to allocate some land to set up training facilities for drivers," he told a discussion titled "Problems in the transport sector and way out" organised by The Daily Star on July 22.
"There is no alternative but to create skilled drivers to curb road accidents. If skilled drivers are available, we'll be able to appoint good drivers and terminate the bad ones," he noted. 
UNREGISTERED VEHICLES RULE HIGHWAYS 
Apart from around 35 lakh registered vehicles, around 20 lakh unregistered vehicles, including locally made Nasiman and Kariman, are plying mainly inter-district, district and upazila roads, said Osman, who was also present at the discussion moderated by The Daily Star Executive Editor Syed Ashfaqul Haque.
"They are not involved with our union or owner's association. They are not our concern. Their operations are supervised by the local administration," he said.
The High Court has already banned those vehicles on highways, but local political leaders and upazila chairmen want waiver for such vehicles ahead of the election, he added.
"We could not stop them. Police could not stop Nasimon, Korimon and Bhotbhoti from plying highways because of local lawmakers and upazila chairman who let them operate for votes.
"We don't want to mention their names. There are good guys and bad guys everywhere," Enayet Ullah said.
'POLICE EXTORT MONEY' 
In a recent programme, Mashiur Rahman Ranga, state Minister for Rural Development and Co-operatives, accused police and transport federation workers of extorting money from drivers and owners.
"How would a transport owner survive if he has to pay Tk 7,000 to Tk 8,000 for a trip from Dhaka to Panchagarh," Ranga, also president of Bangladesh Road Transport Owners' Association, said.
Asked about the allegations, Osman said, "I don't know on what basis he [Ranga] has made the comment…. Money is collected based on understanding to bear the operational cost.
"I don't want to make any comment about Tk 8,000 [extortion] without proper counting. However, I can definitely say no worker collects a single taka without the consent of the management. Management means owner's association."
Enayet Ullah, however, said musclemen and police were involved in extortion in the transport sector. In some cases, transport owners and workers are also involved.
"However, we have reduced the practice and are trying to control it further," he said.
DISREGARD FOR ROAD SAFETY
There are four elements in transport sector -- roads, vehicles, road users and roadway environment -- each of them responsible for road crashes, said Sharier Parvez, a lecturer at the Accident Research Institute of Buet.
By the time the issue of road accidents first came to the fore in the late 90s, many roads were already built.
"So, the road safety issue may not have been considered while building those roads," he said.
About unfit vehicles, he said they provided a manual to the BRTA to check 61 matters before issuing fitness clearance.
But BRTA officials said it would take one hour to inspect a single vehicle if they did so. Currently, the BRTA has to provide fitness clearance to 2,000 vehicles daily, which would not be possible if they are to look into all the aspects, Sharier said.
Roadway environment is also responsible for accidents. In Dhaka, for example, pedestrians often cannot use footpaths for various obstacles, he added.