Group of student protesters visit AL president's office
Find no hostage or body as per claims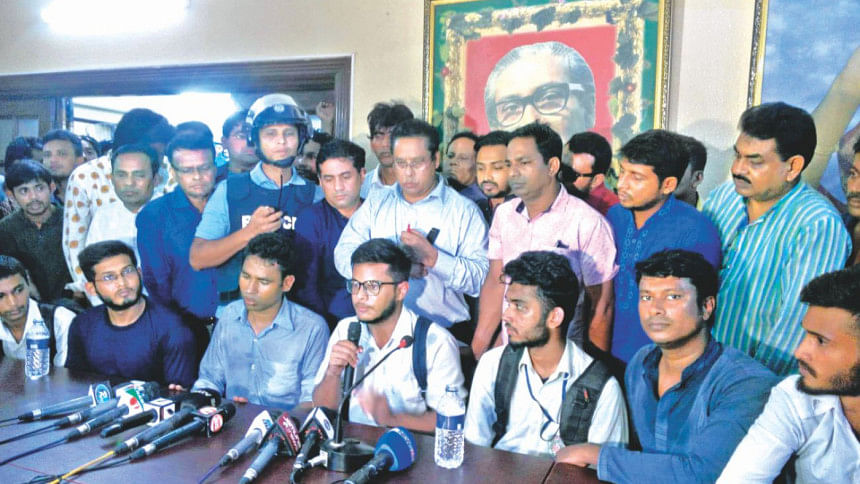 Amid rumours of death, detention and abuse of students at Awami League President Sheikh Hasina's Dhanmondi political office, a group of protesters visited the office yesterday and found no evidence of the claims.
"No one was held hostage at Awami League office and there were no victims inside it," Kazi Hasibur Rahman Turja, a student protester, said after visiting the office last evening.
They were misled by the rumours, he added. He was briefing reporters at the AL president's office.
Rumours were spread that four student protesters were killed and some female students were held hostage inside the AL office, allegedly by BCL men after they carried out attacks on the protesters, said Turja, a student of Dhaka Ideal College.
Before the rumours spread, BCL allegedly carried out attacks on the protesters at Dhanmondi 3 near Jigatola. But the rumour of death escalated the situation and the protesters had a face-off with BCL men, turning the area into a battlefield.
Turja said he was shouting slogans with his other protesters at Science Lab intersection around 11:00am.
After Zohr prayers, a group of people told them that BCL men launched an attack on protesters in Jigatola area, he said.
"On receiving the information, everyone was shocked, but we did not leave our position. Some might have carried out an attack on the AL office that led to a chase and counter-chase in the area," he added.
"We were initially misled… but found no validity of the claims as we visited the office," Turja said and urged the protesting students outside the office not to believe unfounded information.
At the briefing, BCL general secretary Golam Rabbani said the government has met all the demands of the students as those are logical.
He alleged BNP-Jamaat men instigated the students by circulating rumours of death and confinement of some female students. No one was kept confined or beaten up inside the party office, he claimed.
When a student asked him for taking steps against BCL men who attacked the protesters, Rabbani said they will initiate an impartial investigation into the incident. 
Before Turja's briefing, AL Office Secretary Abdus Sobhan Golap called upon the protesters and their guardians to leave the streets.
"Your demands are justified and the government has already accepted them. You're the future leaders of the nation. Why are you on the streets?" Golap said.
Golap also said the entire country has plunged into an acute crisis as drivers are not willing to operate vehicles on the streets due to fear of safety.
Turja later addressed another briefing near BGB Gate-4 and said, "Our movement is non-political and we are not against Chhatra League or the government. We are waging our movement for the nine-point demand."