Suspected militant killed in 'gunfight'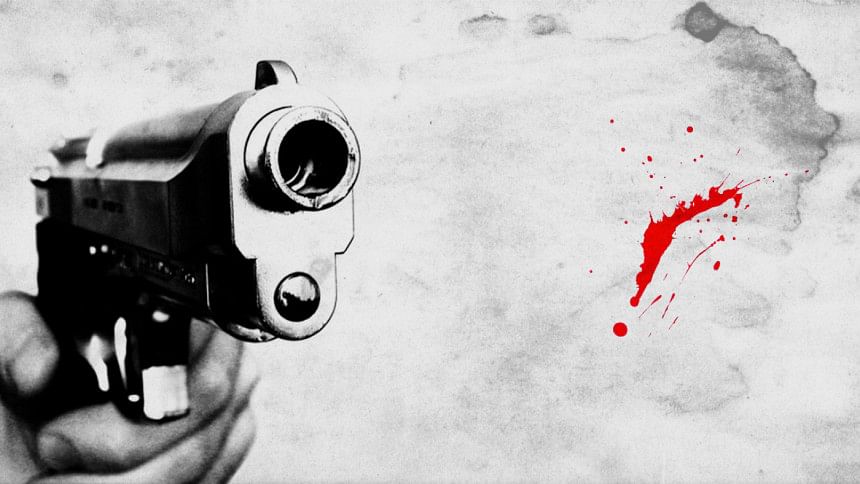 A suspected "Neo JMB" operative was killed in a "gunfight" with police in Boalia village of Kushtia's Daulatpur upazila early yesterday.
The deceased is Arman Ali, 42, of Thakurpur village under Bheramara upazila.
Shah Dara Khan, officer-in-charge of Daulatpur Police Station, said two police teams, led by him, raided Boalia around 3:30am, acting on information that a secret meeting of "Neo JMB", an offshoot of banned militant outfit Jama'atul Mujahideen Bangladesh, was going on near Boalia intersection.
"Sensing the presence of law enforcers, the militants opened fire and a gunfight ensued when we returned fire," the police official said.
At one stage, the "militants" fled the scene, and police found a bullet-riddled man lying on the spot.
He was taken to Daulatpur  Upazila Health Complex where  doctors declared him dead. Police later identified the man as Arman   Ali.
Law enforcers also claimed to have recovered a foreign pistol, two bullets and three sharp weapons from the  spot.
According to police, Arman and his wife Toly Khatun built a JMB hideout in Bheramara.
On July 1, police detained Toly, "Neo JMB" Ameer Ayub Bachchu's wife Tithi Khatun and its second-in-command Abzar's wife Sumaiya Aktar from the hideout. Arman, an accused in two cases, went into hiding after the incident.
According to police sources, Arman was an employee of a cable TV operator in Bheramara, while Toly used to identify her as a tailor although she was never involved in the occupation.
Seeking anonymity, a senior police official in Kushtia quoting Toly said Arman was a madrasa student. He joined "Neo JMB" through its chief bomb expert and his distance relative Sohel Mafuz in 2015.
Arman left Bheramara in 2015 and started living in the capital's Badda. He often visited his home in Thakurpur, the police official said. 
In February, Arman asked Toly to rent a house and Toly rented a one-storey tin-roofed building in Bheramara the next month. Arman along with some top "Neo JMB" operatives visited the house, which was   later used as a den, the police official added.
This correspondent yesterday visited Arman's village home and talked to his family members.
"We have nothing to say about Arman," said his elder brother Abdur Rashid.
They decided not to receive Arman's body, he said, adding that his brother tarnished the image of the family.