Case over 'plot to kidnap, kill Joy'
DB claims Shafik admits meeting suspects in US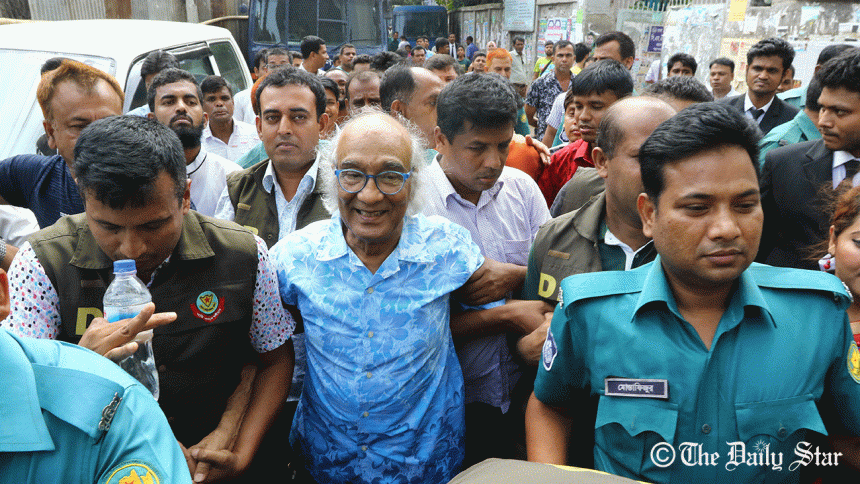 Police yesterday claimed journalist Shafik Rehman admitted having more than one meeting in the US with those allegedly involved in a "conspiracy" against prime minister's son Sajeeb Wazed Joy.
"He [Shafik Rehman] has admitted having meetings. This means he held more than one meeting there [in the US] with those who would kidnap [Joy] and provide information," Additional Commissioner Monirul Islam of Dhaka Metropolitan Police told reporters at the DMP media centre.
Shafik Rehman is currently on a five-day remand in a case filed over an alleged plot to kidnap and kill Joy.
Monirul said Shafik had admitted meeting four persons who include the three convicted by a US court over bribing an FBI special agent to collect confidential information. They are US-Bangladesh citizen Rizve Ahmed Caesar, former FBI special agent Robert Lustyik and his "contact" Johannes Thaler.
The police have in their possession records of the meetings including the dates of those, he further claimed.
The DMP official, however, did not confirm if in those meetings they had discussed anything concerning Joy.
Monirul, who also heads the DMP's Counter Terrorism and Transnational Crime unit, made the claims hours after a team of the Detective Branch raided Shafik's apartment and office at the capital's Eskaton and seized some documents from there.
On Saturday, plainclothes detectives detained the pro-BNP intellectual. Shaifik's wife Taleya Rehman said the cops entered the residence posing as journalists seeking to interview him. Police, however, denied impersonating newsmen.
At the briefing yesterday, Monirul claimed that Lustyik, in exchange for money,  agreed to provide Caesar information about Joy such as the holding number of his apartment, his car's licence plate number and his movements.
In the meantime, Shafik flew to the US in 2012 where the fourth person, a US-Bangladesh national, escorted him to a meeting, he claimed.
Caesar also had couriered some documents to daily Amar Desh Editor Mahmudur Rahman while Rehman received some documents through email, he claimed.
Asked why the names of Shafik and Mahmudur Rahman had not come up in the FBI probe, Monirul said the US investigators only probed the allegations of leaking of their information and identified only those involved in the process.
The DMP official further said Caesar's father Mohammad Ullah Mamun, vice-president of the BNP's cultural wing Jasas, had introduced his son to Shafik.
Asked about Mahmudur Rahman's alleged involvement, Monirul said detectives were looking into it.
A plea to show Mahmudur arrested and to put him on remand in the case is scheduled to be heard by a Dhaka court on April 25, he said.
Whether any BNP high-ups were involved in the alleged conspiracy could be confirmed only after the investigation, Monirul said in response to a query.
Shafik, who also holds British citizenship, worked in various media outlets, including the BBC, but came in the limelight after becoming editor of the weekly Jaijaidin in the 1980s.
According to the case statement, Caeser's father Mamun and some top leaders of the BNP and its allies met in the UK, the US and various places of Bangladesh before September 2012 and conspired to abduct and kill the PM's son.
In March last year, Caesar was convicted by a US court for bribing an FBI special agent to collect information regarding a Bangladeshi political figure.
The US Justice Department did not name the figure, but it is believed to be Joy.
In a Facebook post on March 9 last year, Joy, also ICT affairs adviser to the prime minister, accused BNP leaders of conspiring to abduct and kill him.
JOY'S POST
Meanwhile, Joy picked on the DMP official's claims and said this proves Shafik Rehman's involvement in the conspiracy against him.
"Confidential FBI files on my location in the US were hidden in a secret place in Shafik Rehman's home. He admits to receiving them from convicted former FBI agent Robert Lustyk," he said in a Facebook post.
"He also held several meetings with Rizve Ahmed Caesar and Johannes Thaler, the other two who were convicted by the US for plotting to kidnap and kill me ... Anyone want to try and lie about this anymore?"
RAID ON SHAFIK'S RESIDENCE
Around 12:30pm, detectives took Shafik to his Eskaton house and seized some files and documents, family sources told this newspaper.
A team of around 30 detectives came in three microbuses and 10 to 12 of them, including three top officials of the Detective Branch of police took part in the hour-long search. They scoured also the office of the Democracywatch, an NGO founded by Shafik and his wife Taleya Rehman, added the sources.
Detectives took away several documents and files containing information about Joy, according to the sources.
Taleya, however, claimed her husband had collected those documents only out of his journalistic and personal interest.
"As a journalist, he used to get information and documents on different issues and he would preserve those. But that does not mean that he believed in those information or would publish those without verification.
"When the detectives were looking for the papers, my husband himself handed those over to them," she said.
DB OFFICIALS MAY FLY TO US
A three-member DB team is likely to fly to the US in connection with the investigation of the case.
DB Deputy Commissioner (South) Mashrukure Rahman Khaled, who may head the team, has confirmed this.
The other members of the team are Additional Deputy Commissioner Rajib Al Masud and Senior Assistant Commissioner Hasan Arafat, who is the investigation officer of the case, he added.
Mashrukure, however, could not say the exact date and time of their departure.
BNP TO CONTACT FBI
The BNP will contact FBI to know what information the agency has provided to the government over the alleged plot against Joy. 
"Prime Minister Sheikh Hasina and DB police alleged that Shafik Rehman along with BNP leaders were involved in the plot. So it is necessary to know first what information they provided to the government regarding the matter," a senior BNP leader to The Daily Star. 
The party has taken the decision last night in a meeting chaired by Khaleda Zia at her Gulshan office. Senior leaders, including standing committee members, attended the meeting.