Minni gives statement before court
Another suspect on remand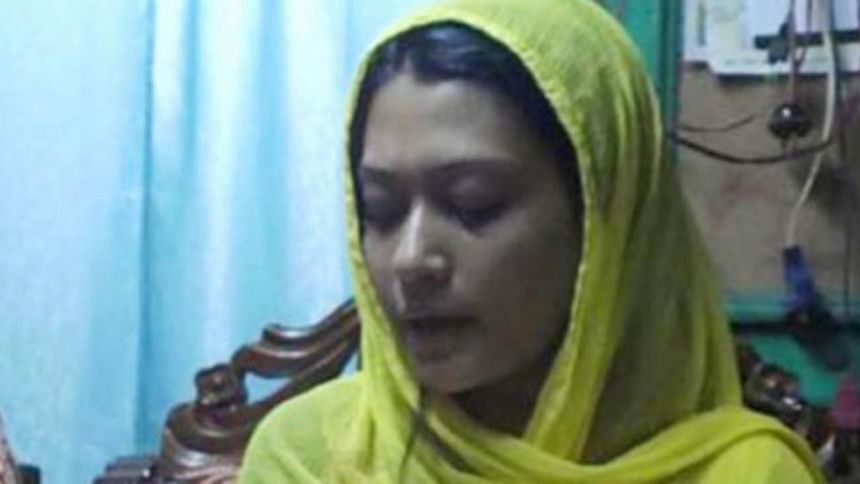 A Barguna court yesterday recorded the statement of Aysha Siddika Minni, wife of Rifat Sharif who was hacked to death in broad daylight, in connection with a case filed over the murder.
Senior Judicial Magistrate Mohammad Sirajul Islam Gazi recorded her statement under section 164 of the CrPC on the second day of her five-day remand, said Humayun Kabir, officer-in-charge of (inquiry) of Barguna Police Station.
The court started recording her statement at 4:00pm and finished at 7:00pm. She was then sent to jail, added Humayun, who is also the investigation officer in the case.
He declined to disclose the contents of the statement "for the sake of investigation".
Meanwhile, Aysha's father Moazzem Hossain Kishor alleged that his daughter was forced to give the statement as a group of people wanted to mislead the case.
He said, "They [police] mentally tortured my daughter to confess her involvement in the murder."
He also alleged that a group of locally influential people involved in the murder were influencing the case to save real culprits.
Humayun denied the allegations and said they placed Aysha before the court as she willingly agreed to give her statement before the court.
"There is no pressure on us to mislead the investigation," he added.
On Wednesday, the same court placed Aysha on a five-day remand in police custody.
RISHAN FARAZI REMANDED
Also yesterday the same court placed Rishan Farazi, another key accused in the case, on a five-day remand.
Police had appealed for a seven-day remand.
Rishan had been on the run since the murder on June 26. Police arrested him in Barguna town on Thursday, Humayun added.
Rishan Farazi and his brother Rifat Farazi, also in remand, were mentioned in the first information report of the murder case.
Including the two, police have now arrested 15 people over the murder.
RABBI AKAND'S STATEMENT RECORDED
Another FIR named suspect, Rabbi Akand, gave statement before the same court on Thursday night.
After recording his statement, the court sent him to jail, said Humayun.
Including Rabbi and Aysha, 13 accused gave their statements to the court, the IO added.
On June 26, Rifat Sharif, a 25-year-old internet service provider, was hacked by a group of young men in broad daylight.
In a footage of the incident that went viral on social media, the victim's wife Aysha was seen screaming and trying to save her husband from the assailants in vain.
The victim's father filed a case with Barguna Sadar Police Station accusing 12 people on the same day.
The prime accused in the case, Sabbir Hossain Nayan alias Nayan Bond, was killed in a "gunfight" with police on July 2.