Minni's family gripped by sense of insecurity
Court rejects her two petitions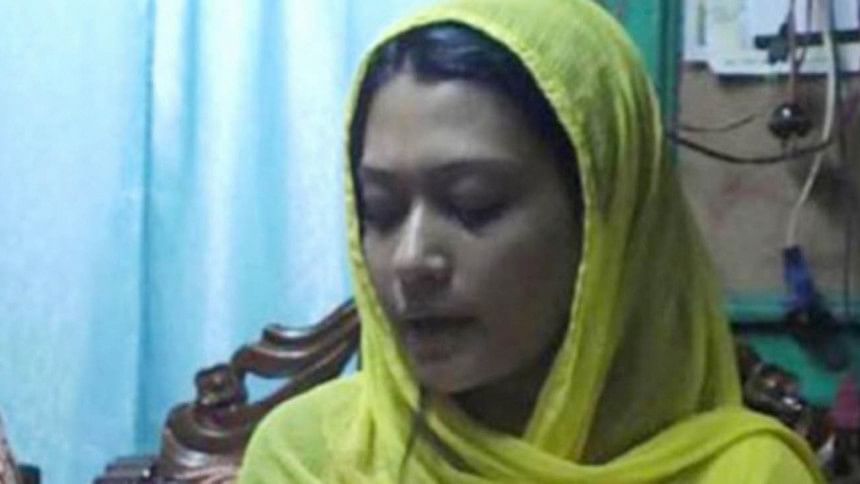 Even a month ago, their household was like that of any other family's. They would spend time together, have meals together, and sometimes children would play on their yard.
"We were a happy family, but everything has changed now. We go to bed in tears and wake up in tears," Jinat Jahan Moni, mother of Aysha Siddika Minni, said as her voice cracked.
"We're going through a nightmare," she said.
Minni's husband Rifat Sharif was hacked to death in broad daylight in Barguna on June 26. While talking to The Daily Star at her home in the town's Maitha area yesterday, Jinat said Minni's arrest over the murder came as a second blow for the family.
"At a time when we were seeking some relief after my son-in-law's death, my daughter has been falsely implicated in the murder case," she said.
In their tin-shed house, the rooms were found untidy.
Besides, Minni's younger sister Samira Meghla, a class-VII student of Barguna Girls' School, and brother Md Kafi, a class-II student of Calyx Kindergarten, stopped leaving home out of fear.
The two did not utter a single word to these correspondents yesterday.
"Many of our relatives and neighbours have stopped visiting us as they fear they will also be in trouble. They have even stopped calling us," Jinat said.
Since Rifat and Minni got married, the couple used to spend most of their time in the house with Minni's siblings, she said.
"Their marriage took place with consent from both the families. The two [Rifat and Minni] used to love each other. But now law enforcers, all of a sudden, are pointing an accusing finger at Minni."
After 25-year-old Rifat, an internet services provider, was stabbed indiscriminately, a footage of the incident went viral, creating an outrage. The footage shows Minni trying in vain to save her husband from the attackers, some of whom were wielding sharp weapons.
Around a week after the murder, a prime accused, Sabbir Hossain Nayan, also known as Nayan Bond, was killed in a so-called gunfight with police in Barguna on July 2.
Police have so far arrested 16 suspects over the killing.
Initially, Minni was named as a witness in the case, but she was made an accused later. The law enforcers claimed their investigation has found her involvement in the murder.
Minni, a student of Barguna Government College, was arrested on July 16 following 13 hours long questioning at Barguna Police Lines.
Police claimed she admitted her links with the attack on her husband, whom she had married just months ago.
On July 19, a Barguna court recorded Minni's statement in the case. Senior Judicial Magistrate Mohammad Sirajul Islam Gazi recorded the statement under section 164 of the CrPC on the second day of her five-day remand, said Humayun Kabir, officer-in-charge of (inquiry) of Barguna Police Station.
But her father Mozammel Hossain claimed his daughter gave the statement under duress.
Police have rejected the allegation.
Talking to The Daily Star yesterday, he gave these correspondents copies of some medical documents claiming that his daughter had long been consulting two psychiatrists.
She visited the doctors on two dates in May 2018 and in March this year, according to the documents that show she was also prescribed some medicines.
"I've given these documents to our lawyer," he said.
Minni's father then alleged that they were receiving threats from unknown callers. "They asked me to meet at different places, but I did not."
Asked about the callers, he said, "You know them very well. I have already mentioned their names a number of times before."
He would not elaborate on the matter.
On July 16, Mozammel alleged that local MP Dhirendra Debnath Shambhu and his son were pulling strings behind the scene.
The Daily Star called the lawmaker and his son several times on their cell phones yesterday, but they did not receive.
Earlier, Shambhu had told The Daily Star that they were not involved in any kind of crimes and claimed that all the allegations against them were false. "These are propaganda against us."
Meanwhile, replying to a query, Jinat said her daughter sometimes seemed upset in the past. "Minni once told her uncle that Nayan used to disturb her. Later, she got married to Rifat."
Yesterday, Minni's lawyer, Barguna District Bar Association General Secretary Mahbubul Bari Aslam, submitted two appeals to the Senior Judicial Magistrate Court in Barguna. One of the appeals was to ensure her treatment and the other to cancel her confessional statement in the case.
Senior Judicial Magistrate Mohammad Shirajul Islam Gazi rejected both.
The court said the jail authorities would take necessary actions.
Minni's lawyer said they needed Minni's signature on the papers for her treatment.
"We would submit a bail petition today before the court. We hope that the petition will be heard today," he said.
Rishan Farazi, another accused named in the FIR, gave his confessional statement before the Barguna court yesterday, said inspector Humayun.
He said the court then sent him to jail.
"During interrogation, Rishan admitted his involvement in the murder. He wanted to give the confessional statement himself. He also said that Minni too had a hand in the murder."