Brutal Killing in Barguna: Cops identify 13 attackers
Red alert issued at international airports, land and river ports to prevent them from fleeing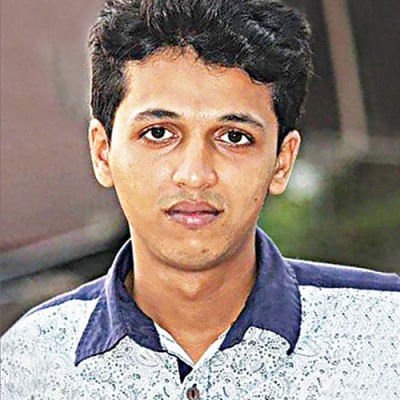 Police have identified 13 people involved in the killing of Rifat Sharif in broad daylight in Barguna on Wednesday and issued red alert at all international airports, and land and river ports across the country to prevent them from fleeing.
Though the law enforcers detained three suspects, the two prime accused -- Sabbir Hossain Nayan and Rifat Farajee -- are still at large.
Meanwhile, screenshots of a Facebook messenger conversation between several suspects surfaced on social media yesterday. The screenshots showed that the suspects, who are members of the Facebook messenger group named "007", hatched a murder plot.
They were asking each other to gather at the college around 9:00am. One of the group members asked another to bring along a machete.
Contacted, Maruf Hossain, superintendent of police in Barguna, said they heard about the screenshots and were verifying those.
Around 10:30am on Wednesday, Nayan and Farajee attacked 25-year-old Rifat, who used to provide internet service, with sharp weapons in front of Barguna Government College when Rifat and his wife Ayesha Siddika Minni were leaving the college premises.
Talking to reporters at a programme in Old Dhaka yesterday, Home Minister Asaduzzaman Khan Kamal reiterated that none of those involved in the brutal murder would be spared, irrespective of their political identities.
"We have identified 13 people who were involved in the killing. The rest of the accused will be arrested soon."
Referring to the murder of Feni madrasa student Nursat Jahan Rafi, Kamal said, "You saw that we did not let those involved in the killing escape though they belonged to the Awami League."
Sohel Rana, assistant inspector general (media) at the Police Headquarters, told The Daily Star, "Authorities of all airports, and land and river ports have been asked to take necessary measures so that Rifat's killers cannot leave the country."
Police Bureau of Investigation, Criminal Investigation Department, and Counter Terrorism and Transnational Crime Unit of Dhaka Metropolitan Police are working jointly to arrest the rest of the accused in Rifat murder case, Sohel said.
"We hope all the accused will be brought to book immediately," the AIG said, urging people to inform the police if they have any information about the killers.
At a press briefing around 12:30pm yesterday, the Barguna SP said they identified all the attackers by examining CCTV footage of the incident.
"We are trying our best to arrest all the culprits with the help of all law enforcement agencies," he told reporters at his office.
Speaking at a programme in the capital, Law Minister Anisul Huq said the government would do whatever necessary to ensure fair trial in Rifat murder case.
"There are reasons to be worried because no one came forward to save him [Rifat] from the attackers though many captured video footage of the attack…," he mentioned.
A video clip of the barbaric attack on Rifart, probably captured on a mobile phone, went viral on social media, touching off a firestorm of public outrage with many condemning the bystanders for not coming forward to save Rifat. Ayesha alone desperately tried to save her husband from the attackers in vain.
The clip showed that the duo were hacking Rifat indiscriminately as Ayesha was trying to hold back one of the attackers.
Fatally injured Rifat was taken to Barishal Sher-E-Bangla Medical College Hospital where doctors declared him dead at 3:30pm.
The doctors found at least eight stab marks in different parts of his body.
SECURITY FOR AYESHA
Four policemen were deployed at the house of Ayesha's father after her family sought security from police.
Her father Mozammel Hossain Kishor said they were getting threats from some unidentified people, and they informed police about it.
Ayesha said, "I'm living in fear… I could be their [the attackers] target as I am the main witness to the incident."
She demanded capital punishment for the killers.