Links with Rifat Killers: Local AL leaders accuse each other
Protests on in Barguna for arrest of killers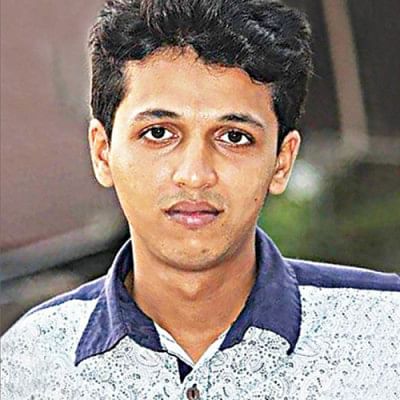 Senior Awami League leaders in Barguna are now accusing each other of having links with the killers of Rifat Sharif who died after being hacked in broad daylight in the district town on Wednesday.
Many of the accused were seen actively participating in different programmes of the AL and its associate organisation Jubo League, said locals.
One of the main accused, Sabbir Hossain Nayan alias Nayan Bond, is a close associate of advocate Sunam Devnath, son of local lawmaker Dhirendra Debnath Shambhu, alleged Barguna AL Vice-President Delwar Hossain, adding that Nayan managed to build a good relation with the local police because of that "identity".
Sunam, however, denied having any ties with Nayan. "Our political rivals are trying to gain political mileage out of the killing. Nayan did not belong to our group," he said.
Talking to The Daily Star, Shambhu said, "The accused is from my rival group which is spreading propaganda against me to damage my political career."
Two other suspects, Rifat Farajee, and Risan Farajee, are nephews of Delwar Hossain, also the chairman of Barguna district council. They are supporters of Delwar's group, according to locals and the rivals of the AL leader.
Asked, Delwar said, "It's true that the two are my relatives, but they are followers of local MP Dhirendra Debnath Shambhu. I have no connection with them …
"I demand capital punishment for the killers."
According to Delwar, Nayan also worked as a police informer.
Contacted, Md Maruf Hossain, superintendent of police in the district, rejected the allegation and said police arrested him on several occasions in the past.
Rifat Sharif, 25, came under attack in front of his wife Ayesha Siddika Minni near Barguna Government College on June 26.  Later that night, the victim's father filed a murder case against 12.
On Friday evening, a Barguna court granted a 7-day remand for each of two accused in the case, Chandon and Hasan, while a 2-day remand for another accused, Najmul Hasan.
Later that night, police arrested Saimun, 22, a close friend of one of the accused Rabbi Akon, in Patuakhali town. With him, a total of four accused have been arrested over the murder, said law enforcers.
But the main suspects, including Nayan and Rifat Farajee, are still at large.
Meanwhile, the authorities have directed Benapole border officials to remain on high alert so that Rifat's killers cannot cross the border and escape arrest.
Talking to this newspaper, Abul Bashar, OC of Benapole immigration check post, said passports and other documents of everyone crossing the border was being checked thoroughly.
'CULTURE OF IMPUNITY'
Meanwhile, National Human Rights Commission (NHRC) Chairman Kazi Reazul Hoque yesterday said the ongoing culture of impunity and lengthy judicial proceedings were the reasons behind some recent murders.
"Rule of law is yet to be completely established in the country. Because of this, Rifat was hacked to death in broad daylight and Nusrat [Feni madrasa student] was set on fire and killed," he said.
"…and because of the lengthy judicial process, the culprits are somehow getting away from justice. It allows them to carry out crimes," he said.
The NHRC chairman made the remarks while replying to reporters' queries after attending the fifth national conference of Sector Commanders' Forum at the capital's Officers' Club.
PROTESTS
People from all walks of life formed a human chain in front of Barguna Press Club around 10:00am yesterday demanding immediate arrest of Rifat's killers.
"I am scared as well as frustrated as the main two accused [Nayan and Rifat Farajee] are still on the run. I demand their immediate arrest and death penalty," victim's father Abdul Halim Dulal Sharif said at the human chain.
Those who attended the protest programme included district AL Joint Secretary Kamrul Ahsan Maharaj, BCL district unit President Jubayer Adnan Anik, and Barguna Nagorik Odhikar Sanrankhhon Committee General Secretary Monir Hossain Kamal.
At a press briefing around 2:30pm, Barguna SP Maruf Hossain said they hope to arrest the rest of the accused within a day or two.
SECURITY FOR VICTIM'S FAMILY
Authorities deployed police personnel in front the house of Minni, Rifat's wife, on Thursday night as the family members were in fear of further attack.
"Some people are threatening us even after the killing. We informed the matter to the police after which they are here," Minni's father Mozammel Hossain Kishor told The Daily Star.
'IT'S PROPAGANDA'
Meanwhile, Minni once again brushed aside an allegation that she had married Nayan in the past.
"Some people are spreading propaganda against me about my marriage. Once Nayan had taken me [to a place] and forcibly took my signature on a paper. I did not understand it was a 'Kabin' [marriage document]," she said while talking to reporters at her home yesterday.
[Our Patuakhali, Barishal and Benapole correspondents contributed to this report]