She confessed under duress
Minni's father alleges after meeting her at jail gate; police deny allegation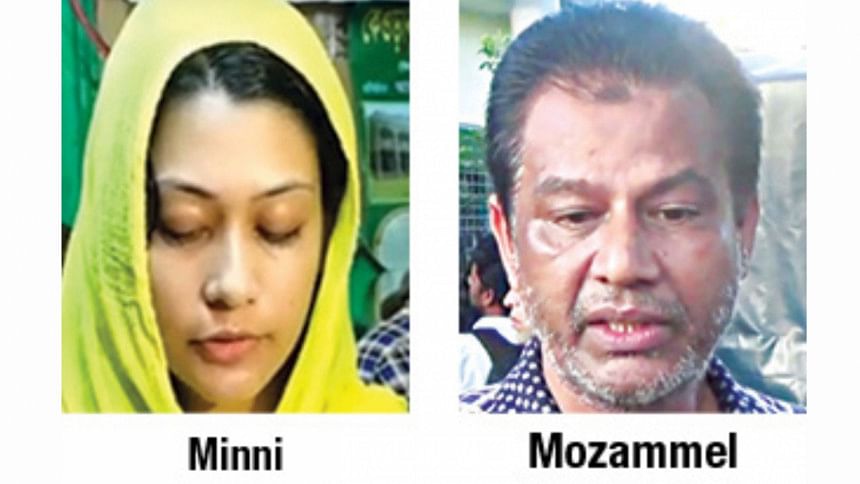 Aysha Siddika Minni has been forced to confess her involvement in the murder of her husband Rifat Sharif, her father alleged yesterday.
"If you don't tell the court what we [police] ask you to, you will be remanded again," Mozammel Hossain quoted his daughter as saying.
He made the claim after meeting Minni at the Barguna jail gate around 11:30am yesterday, a day after she was sent to jail after her confessional statement.
Police claimed Minni, the number one witness in the murder case, admitted her link with the attack on her husband, whom she had married just months ago.
While police declined to disclose the contents of her statement, Mozammel claimed his daughter told everything under duress.
Along with his wife, two daughters and two brothers, Mozammel talked with Minni for about 10 minutes in presence of law enforcers.
Asked about Mozammel's allegation of torture, Barguna Police Superintendent Maruf Hossain said, "If Minni had anything to say, she could have said it to the magistrate. You can easily understand the worth of her comment. Why did she tell her father about the police torture instead of the magistrate?"
The SP also faulted Mozammel for "creating a scene" before the court on Friday.
Rifat, 25, was hacked to death by a group of men on June 26 in Barguna. A video footage of the daylight murder shows Minni trying in vain to save her husband with her bare hands.
Police have so far arrested 15 suspects including Minni, who was made an accused during the course of the investigation.
Prime accused Sabbir Hossain Nayan, also known as Nayan Bond, was killed in a so-called gunfight with police on July 2 in Barguna.
The case took a different turn after Minni's arrest on July 16 following a 13-hour questioning at Barguna Police Lines.
A Barguna court placed her on a five-day remand the next day.
No lawyer represented her at the time, and her father claimed local lawyers did not take their case because of "influence and threat" by some influential politicians.
Asked, eminent jurist Shahdeen Malik said, "It is a violation of the fundamental rights guaranteed under article 33 of the constitution and also contrary to the Appellate Division verdict in Bangladesh VS BLAST case."
On her way to the jail after her confessional statement on Friday, Minni tried to say something, but two female cops were seen gagging her.
Mozammel claimed his daughter came to meet him at the jail gate yesterday with support of others. He said Minni was so sick that she could not speak clearly.
Asked if Minni was tortured during remand, he said, "Remand means torture. She cried when we asked whether she was tortured."
Barguna Jail Superintendent Anwar Hossain said a diploma nurse examined her on her arrival at the jail.
"Minni is not ill and she can walk smoothly," he told The Daily Star.
Meanwhile, a four-member team from Ain o Salish Kendra have reached Barguna to give legal assistance to Minni, said Abu Ahmed Faijul Kabir, senior coordinator of the rights body. The team includes two lawyers.
Besides, Mahmudul Bari Aslam, secretary of the Barguna Bar Association, agreed to represent her in court where he is expected to move a bail petition today, said Mozammel.
"We went to the chamber of Mahmudul Bari and requested him to represent my daughter. He agreed," he said.
Mahmudul could not be reached for comments over the phone. 
Also yesterday, Rifat Farajee, a key suspect, gave confessional statement before Senior Judicial Magistrate Mohammad Sirajul Islam, police said, but did not disclose its content.
[M Jahirul Islam Jewel contributed to this report.]