Brutal Murder at Barguna: Key accused used to stalk Rifat's wife
2 attackers were drug case accused; case filed against 12; three suspects held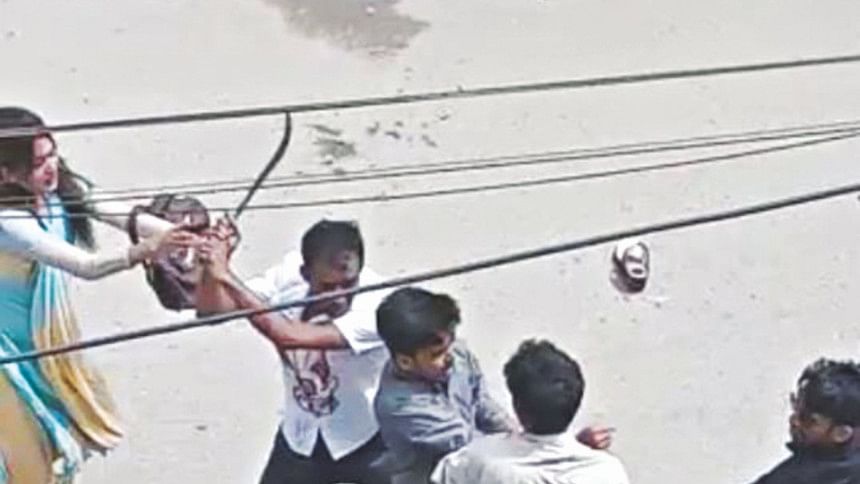 The two attackers, who hacked Barguna youth Rifat Sharif to death in front of his wife in broad daylight, are listed drug peddlers and accused in multiple narcotics and mugging cases.
Sabbir Rahman Nayan, the main accused in Rifat murder case filed on Wednesday night, had been arrested by local police several times before.
Locally known as "Nayan Bond", he faces seven drug and mugging cases, said Abir Mahmud Hossain, officer-in-charge of Barguna Police Station.
Nayan was arrested last year in a yaba-related case but got released later on bail.
The victim's wife Ayesha Siddika Minni, a student of Barguna Government College in the district town, alleged that Nayan had been stalking her since before her marriage to Rifat.
Rifat Farajee, another suspect who took part in the hacking, has been accused in at least four drug and mugging cases, said the OC.
Locals said Farajee, nephew of Barguna Zila Parishad Chairman Md Delwar Hossain, is a close accomplice of Nayan. He leads a gang involved in narcotics trade, mugging and other crimes in the town.
Both Nayan and Farajee are on the run.
Maruf Hossain, superintendent of police in Barguna, told this newspaper that they arrested three in connection with the Rifat murder case. The three are Chandan, Hasan and Najmul Ahasan.
OC Abir said Najmul was not on the list of the 12 accused in the case filed by Rifat's father Dulal Sharif. Police detained him after examining a video clip of the incident.
Around 10:30am on Wednesday, Nayan and Farajee attacked 25-year-old Rifat, an internet service provider, with sharp weapons in front of Barguna Government College when Rifat and his wife Ayesha were leaving the college premises.
A video clip of the barbaric attack, probably captured on a mobile phone, went viral on social media, touching off a firestorm of public outrage with many condemning the bystanders for not coming forward to save Rifat. Ayesha alone desperately tried to save her husband from the attackers in vain.
The clip showed that the duo were hacking Rifat indiscriminately as Ayesha was trying to hold back one of the attackers.
Fatally injured Rifat was taken to Barishal Sher-E-Bangla Medical College Hospital (BSMCH) where doctors declared him dead at 3:30pm.
The doctors found at least eight stab marks in different parts of his body.
"The patient died from profuse bleeding," said Dr Jamil Hossain, one of the three members of the team that carried out autopsy on the victim.
Rifat was buried at his family graveyard at Boro Lobongola village in Burirchar union yesterday.
Talking to The Daily Star at her home in Barguna, Ayesha said, "He [Nayan] used to threaten me with dire consequences if I refused to go on outing with him or take photographs with him. Sometimes, he would jump onto my rickshaw..."
As the frequency of his stalking increased, she informed the matter to her family members. They then married her off to Rifat two months ago.
"I was very happy. Rifat loved me a lot and so did I. We could not even think of living without each other," she mentioned.
But Nayan did not stop stalking her even after she married Rifat. She told her husband about it. "But I don't know whether something happened between the two [Nayan and Rifat] after that," she said.
When Ayesha and Rifat were leaving the college premises on Wednesday morning, Nayan and his men suddenly attacked Rifat. "I tried my best to save Rifat but all to no avail."
The attackers first grabbed Rifat as soon as she and her husband came out of the college. They started beating him. After a while, some of them left the scene and returned with sharp weapons. At one stage, one of the attackers named Nishan grabbed Rifat. Then Nayan and Farajee started hacking him, Ayesha said.
"I screamed for help, but no one came forward."
Seeking the prime minister's intervention in ensuring justice, she said, "I want justice. I want capital punishment for Nayan."
Jasim, a cousin of the victim, said Nayan and Rifat were classmates and passed SSC examinations from Barguna Government Zila School in 2011. But their friendship was strained after Ayesha married Rifat.
"The murder was pre-planned," he alleged.
Monjurul Islam, a close friend of Rifat, said Nayan got furious at Ayesha's marriage to Rifat.
Nayan often stalked Ayesha on her way to college. He even posted some photos on his Facebook page recently. As Rifat protested the matter, Nayan got angry, said Monjurul.
Rifat's mother Daisy Begum sought justice, demanding capital punishment for all the attackers.
"My son was innocent and they killed him brutally. I want justice," she said after Rifat's body reached their Barguna house around 3:30pm from the BSMCH.
Rifat's namaj-e-janeza was held at a local mosque after Asr prayers.
SP Maruf said they were trying to arrest the other accused.
"We have set up several check posts at different points in the district so that they cannot escape," he said.
Deputy Inspector General of Police Shafiqul Islam said the spot was under CCTV coverage, and that they identified the attackers. "We hope all the accused will be arrested soon."
Meanwhile, students of Barguna Government College formed a human chain in front of the college yesterday, protesting the killing.
Locals blocked Barguna Sadar road for an hour from 1:00pm, demanding arrest of the killers.