Man killed in front of wife
The brutal incident captured on phone camera; police have identified culprits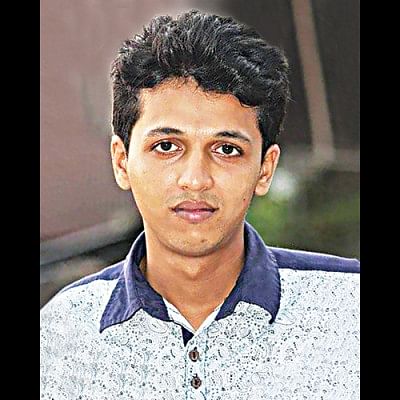 A woman's screams, as she desperately tries to stave off two men attacking her husband with sharp weapons, punctuates the air. She tries to hold back one of the attackers, while the other continues to hack her husband, Rifat Sharif, 25.
At one point, Rifat breaks free of his attackers. While his wife Ayesha Siddika clings onto an attacker, her husband fights the other one off with what appears to be a red shopping bag. It is too little and too late. By then his white shirt has turned into a bloody rag.
In the ensuing struggle, Ayesha drops her purse and forcefully pushes back one of the attackers. The two attackers then throw one last chop at Rifat, before running away.
Bystanders can be seen at a distance the whole time. They do not intervene, save one man in a striped polo, whose gestures cannot be interpreted.
The entire incident, which was captured possibly on a mobile phone, shows the attack on the youth in Barguna town in front of Barguna Government College around 10:30am yesterday, where Rifat went to drop-off his wife.
Footage of the incident went viral on social media yesterday.
Although the last image of Rifat shows him bloodied, but standing, he was later pronounced dead at Barishal Sher-E-Bangla Medical College Hospital (BSMCH) at 3:30pm.
Rifat was the only son of Abdul Halim of Boro Lobongola village in Burirchar union under Barguna sadar upazila.
Immediately after the attack, locals had taken Rifat to Barguna Government College from where he was transferred to BSMCH.
Afterwards, locals and eyewitnesses identified the assailants as Nayan and Rifat Farajee. Both were engaged in various crimes such as drug dealing and mugging.
Contacted, Abir Hossain Mahmud, officer-in-charge of Barguna Police Station, said they had seen the mobile phone footage and had identified at least three  attackers.
Mahmud said efforts were underway to arrest the killers, adding they had previously been arrested for other crimes.
Meanwhile, police sources said Rifat had previous enmity with Nayan.