Rifat's wife Minni arrested
Barguna SP says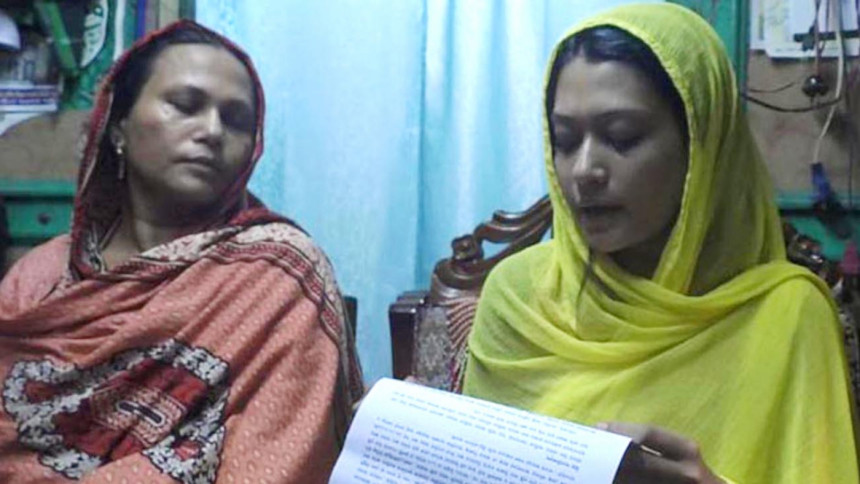 Police today arrested Ayesha Siddika Minni for her alleged involvement with the murder of her husband Rifat Sharif.
Maruf Hossain, superintendent of police in Barguna, confirmed the arrest of Minni at a press conference at his office tonight.
"We interrogated Minni and recorded her statement as a witness of the murder. We found that she had a link with the murder," the SP told media.
Earlier, Minni was taken to Barguna police lines from her father's house at Nowakata village in Barguna Sarad upazila around 10:00am, barely three days after her father-in-law brought allegation that she had a hand in the murder.
Besides, Minni's father Moazzem Hossain Kishor told the newsmen that his daughter was brought to the police lines to identify a suspect in connection with the murder.
On July 13, Abdul Halim Dulal Sharif, father of Rifat Sharif, demanded immediate arrest of his daughter-in-law Minni.
Rifat Sharif, 25, an internet service provider, was attacked and killed by two youths and some others with sharp weapons near Barguna Government College in front of his wife on June 26.
A video clip of the barbaric attack, probably captured on a mobile phone, went viral on social media triggering public outrage, with many condemning the bystanders for not coming forward to save Rifat. His wife Ayesha alone desperately tried to save her husband from the attackers but in vain.
Later at night, the victim's father filed the murder case with Barguna Sadar Police Station, accusing 12 people including prime suspects Nayan and Rifat Farazi. Of them, Nayan was killed in a "gunfight" and Rifat Farazi was arrested later.