Rifat Murder: Minni's bail plea turned down again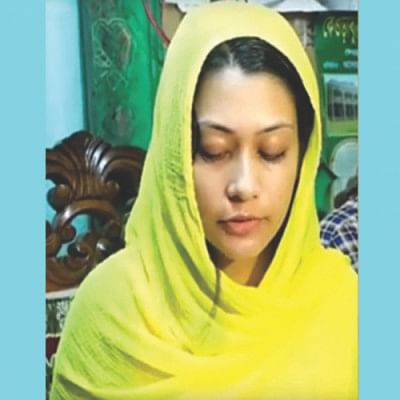 A Barguna court yesterday rejected the bail petition of Aysha Siddika Minni, who was arrested in connection with the murder of her husband Rifat Sharif.
On July 22, a court had rejected another bail petition for Minni. 
"In the petition, we mentioned that Minni tried to save her husband during the time of the attack and it was recorded [in video footage]," said lawyer Abdur Rashid of Ain O Salish Kendra (ASK) yesterday.   
Rashid, along with 20 other lawyers from ASK, Bangladesh Legal Aid and Services Trust, Barishal, Dhaka, and Minni's lawyer Mahmudul Bari Aslam, also general secretary of Barguna District Lawyers' Association, moved the petition around 11:00am.  
"We said that Minni's name was not in the first information report although it was filed 25 hours after the incident. But police arrested her 18 days after the incident, following a demand from the victim's father," said Rashid.   
The lawyers also told the court that Minni was not well and that she had been under treatment since 2017. They pointed out that her remand period had ended, he said.   
Judge Md Asaduzzaman then asked the investigation officer (IO) to appeare instantly and submit the documents and evidence found during police investigation, said public prosecutor Bhuban Chandra Howlader. 
IO Humayun Kabir, also inspector (investigation) of Barguna Sadar Police Station, showed a video footage in the court where Minni was seen refusing to leave the area on Rifat's motorbike. He said, "Minni kept Rifat in the area longer."   
Humayun presented call records allegedly of Minni's phone and told the court that police had evidence that she went to prime accused Nayan Bond's home the day before the murder.   
The prosecution then opposed the bail petition and presented different evidence for around an hour.   
After hearing the arguments, the court rejected the bail petition around 3:15pm.   
"I am not happy with the order and would go to the High Court for my daughter's bail," said Minni's father Mozammel Hossain.   
Rifat's father Abdul Halim Dulal Sharif expressed satisfaction over the bail rejection. 
Defense lawyer Mahmudul Bari Aslam refused to make any comments in this regard. He had filed the bail petition on July 23.  
On July 16, police arrested Minni after a daylong interrogation. A court placed her on a five-days remand the following day. Three days later, a Barguna court on July 19 recorded her statement. 
On June 26, Rifat, 25, an internet service provider, was indiscriminately hacked to death by a group of men. 
A video footage of the incident that went viral in social media, shows Minni screaming and trying in vain to save her husband.  
Rifat's father filed a murder case with Barguna Sadar Police Station against 12 people on the day of the murder. 
Prime accused in the case, Nayan Bond, was killed in a "gunfight" with police on July 2.