Rifat Murder: Police arrest the wife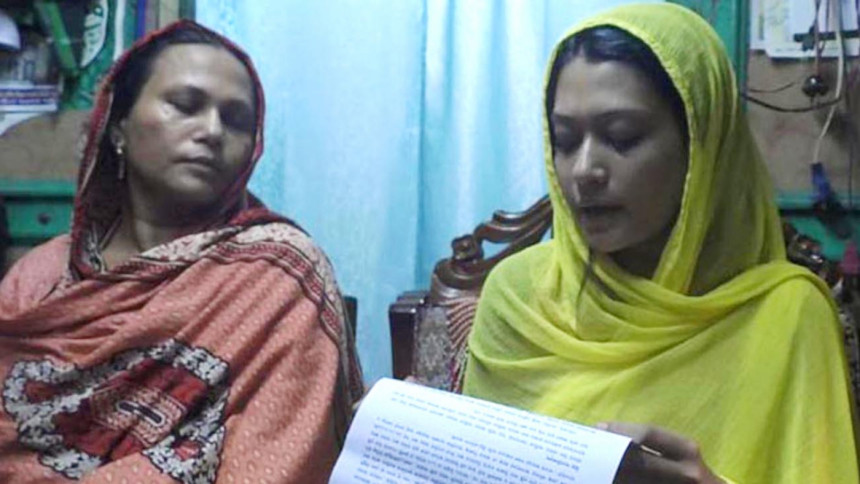 Police yesterday arrested Aysha Siddika Minni for her alleged involvement in the murder of her husband Rifat Sharif.
Maruf Hossain, superintendent of Barguna police, said they found Aysha's involvement in the murder while quizzing her.
The SP made the claim at a press briefing in his office yesterday night.
Earlier on the day, police summoned Aysha to record her statement for the case filed over the murder of Rifat Sharif as she was one of the witnesses.
Police took Aysha and her father to Barguna police lines around 9:45am.
Abdul Halim Dulal Sharif, father of Rifat Sharif and the plaintiff of the case, demanded immediate arrest of his daughter-in-law three days ago, alleging her involvement in the murder.
Meanwhile, a Barguna court recorded the confessional statement of Simon, one of the accused in the case, on Monday when police placed him before the court after his fourth remand.
Humayun Kabir, investigation officer of Rifat murder case, said Senior Judicial Magistrate Sirajul Islam Gazi recorded Simon's statement at his court and sent him to jail.
With Simon, a total of 10 accused in the case gave their confessional statements before the court, the IO added.
Besides, the same court placed Rifat Farazi, another accused in the case, on a fresh seven-day remand after police produced him before the court with a 10-day remand plea on Monday. This was his 3rd remand.
Rifat Sharif, 25, an internet service provider, was hacked to death in broad daylight in front of his wife Aysha Siddika Minni near Barguna Government College on June 26.
A footage of the murder went viral on social media triggering public outrage.
The victim's father filed a murder case with Barguna Sadar Police Station against 12 people on the same day.
The prime accused in the case, Nayon Bond, was killed in a "gunfight" with police on July 2.