Rifat Murder: Organised crime at the core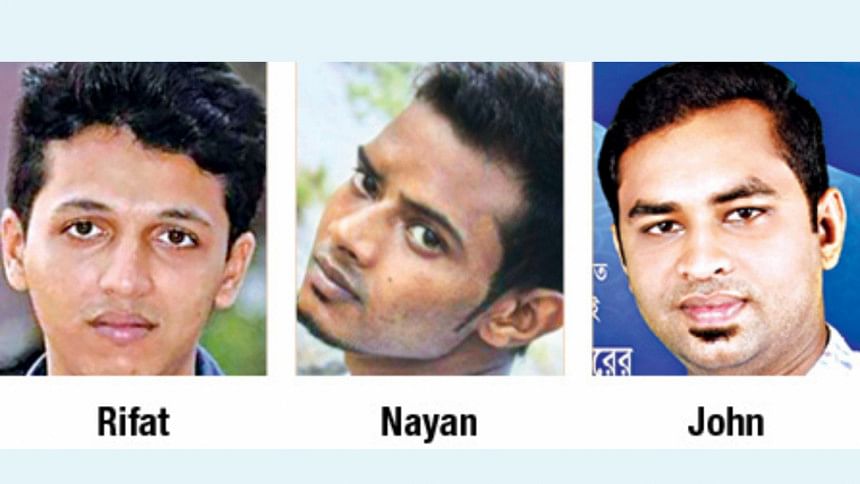 It all stemmed from organised crimes like narcotics trade and motorbike smuggling in Barguna town.
Sabbir Hossain Nayan alias Nayan Bond used to run the illicit business with a network of over a hundred members of Facebook messenger group "007".
Rifat Sharif, a close friend of Nayan, was hacked to death by the Bond gang on June 26, months after he left the network and sided with another gangster, Manzurul Alam John. 
John took over the network within a day after 25-year-old Nayan was killed in a "gunfight" with police on July 2.
The Daily Star got this picture from locals, families and friends of the victim and attackers and investigators.
But what gave rise to the gang culture in a small town like Barguna and who are the patronisers?
POWER AND POLITICS
Barguna Awami League is divided into two factions -- one led by its president, Barguna-1 lawmaker Dhirendra Debnath Shambhu, and the other by General Secretary Jahangir Kabir.
Jahangir's younger son Jubayer Adnan is the president of district Chhatra League. For this, AL President Shambhu has no control over the district's student politics, said party insiders and locals.
To build up a counterforce to Chhatra League, Shambhu's son Sunam Debnath, also science and technology affairs secretary of district AL, started backing a bunch of druggies.
On behalf of Sunam, Nayan used to take care of drug trade and bike smuggling while John oversaw the cable TV network and extortion from bus, truck and cargo terminals, locals added.
"Sunam formed the gang to gain more power and run the trade of narcotics and smuggling," Jubayer Adnan, district Chhatra League president, told The Daily Star on Thursday.
This is not the first time Jubayer raised voice against Sunam.
On April 28, 2018, in a press briefing at Barguna Press Club, he alleged that Sunam was leading a gang involved in mugging, robbery, abduction and extortion.
Nayan was one of Sunam's close associates, he added.
Asked about his alleged involvement in illegal business, John said he was trying to enter politics taking blessings from Dhirendra Debnath Shambhu.
"As I have good relations with Sunam Debnath and the top party leaders, the rival groups are trying to tarnish my image with misleading information," he added.
The Daily Star called Suman on his cell phone around 30 times but he did not pick it up. These correspondents also visited his party office but he was not available there. 
Contacted, Dhirendra told this newspaper that his son is a very gentle and well-educated person who has been working as a lawyer at Barguna court for the last 10 years.
"None of my family members is involved in any kind of criminal activities and my son Sunam has no link with narcotics," he said, adding that a vested group is spreading propaganda against them.
Regarding the June 26 murder, the lawmaker said Rifat was not involved in any kind of criminal activities and his son had good relations with him.
The killing might be linked to some issue related to a girl, he said, adding that police are investigating the case to unearth the mystery.  
RISE OF 007
Nayan started to lead the narcotics trade in late 2015. He was first arrested by police over a clash with local councillor, according to his family members.
Nayan started to change and became addicted to drugs after the death of his father Siddiqur Rahman in 2008.
He eventually got involved in mugging and theft. Along with some other junkies, he began to steal laptops, cell phones and motorbikes from locals, especially college going students.
However, they used to return the belongings to the owners after getting paid. They claimed Tk 5,000 for a laptop, Tk 500 to Tk 1,000 for cell phone and Tk 10,000 or more for motorbike.
Nayan was arrested a number of times and got released from jail within hours on every occasion.
Faruk Shikder, a councillor of Barguna municipality, said he handed Nayan to police over extortion one and a half years back. "But surprisingly, I found him moving around my residence a day after his arrest," he said.
"I also got a phone call from an influential leader who asked me the reason behind handing Nayan over to police."
Faruk, however, refused to disclose the political leader's name.
Between 2015 and 2017, Nayan started dominating the illegal business with support from Rifat Sharif, and two brothers Rifat Farazi and Rishan Farazi.
During this period, seven cases over narcotics, arms and criminal offences were filed against him, said locals and investigators.
Rifat Sharif, 25, killed in the gruesome attack by Nayan and his gang members, was also an accused in five cases, while Rifat Farazi was wanted in four separate cases, according to police record.
A fan of James Bond movies, Nayan along with Rifat Farazi opened a Facebook messenger group named "007", code of the fictional secret service agent.
Formed on March 27, 2017, the group had 366 members until the killing of Rifat Sharif but not all of them were regularly active, investigators said. 
They added that majority of the members of the group were teenagers and they include students from class six to HSC.
Police have identified 120 youths, who were active in the group and took part in discussions, said an official, requesting anonymity.
Some members told this newspaper that they received instructions from Nayan and Farazi in this group to attack someone or help fellow members whenever necessary.
FREE NARCOTICS
Nayan and his gang members used to target the students who came to the district from different parts of the country and stayed in hostels.
They would first try to lure smokers into the group providing them different types of drugs for free, according to several students of Barguna Government College. 
Another strategy was staging fake attacks. A group of his aides would attack college or school students and he would appear on the scene as the saviour.
Later, he would ask the students to join him saying none will dare touch them ever.
Once the students joined the group, they were offered free yaba, marijuana and Phensedyl.
Nayan never took any money from the gang members for the drugs on condition that the students will have to sell narcotics to others.
According to locals, yaba became a popular narcotic in the town now but there is also a huge demand for Phensedyl. These narcotics enter the district from Jashore and Satkhira.
A local drug addict, requesting anonymity, said a yaba tablet is priced between Tk 320 to 380 while a bottle of Phensedyl is Tk 1,000.
The students also said Chhatra League had its committee in the college but it was Nayan and his group who dominated there.
Nayon, according to his mother Shahida Akter, was a student of the college but teachers and other staff say he was an outsider. His house was adjacent to the college.  
For bike smuggling, the Bond gang used to bring unregistered motorbikes from Satkhira border. Their favourite was sports bike which sold between Tk two lakh and Tk four lakh, according to sources.
The gang members used to bring those bikes by driving it directly from Satkhira.
A local youth, who was aware of the gang's activity, said sometimes Nayan brought the motorbike parts separately from the border and assemble those at his residence.
Nayan always rode sports bikes worth at least Tk 3 to 5 lakh and frequently changed models, said some of his close associates.  
THE MURDER PLOT
Locals and investigators said both Nayan and Rifat were close friends.
"Last year, after the chairman election [in Barguna Sadar upazila], Nayan stopped communicating with dada," said Nayan's mother Shahida.
She, however, did not explain who is this "dada".
But sources said a feud began after Nayan decided to leave Sunam Debnath and wanted to go his own way.
Rifat Sharif, however, was not happy with this decision and chose to side with John, backed by Sunam. It all turned the two friends into foes.
Nayan even handed Rifat to police in May in a narcotics case, said the gang insiders. Coming out of jail, Rifat started working with John, sources said.
A high official of police, involved in the Rifat murder investigation, told The Daily Star that some members of Bond gang during interrogation said they had plan only to break Rifat's legs.
"But the gang members took local arms with them as they had information that if they attack Rifat, John's men may intervene." 
The gang members killed Rifat taking an on-the-spot decision, the official added.
Rifat came under the attack when he and his wife Ayesha Siddika Minni were leaving the Barguna college premises on June 26 morning.
Asked about the murder, John said he had a casual relation with Nayan and they did not support him in the narcotics trade. "I work closely with Sunam Dada but had no relation with Nayan."
Nayan might have attacked Rifat over an issue centring a woman, he said, adding that he doesn't have the details.
But this newspaper got some still pictures showing John and Nayan visiting different places, attending picnics together.
Besides, John studied in the school from where Nayan passed SSC.
Md Maruf Hossain, Barguna superintendent of police, however, said the murder was an outcome of social degradation. Some drug addicts and children of broken families were behind it, he said. 
"We have already arrested a number of youths involved in the murder and the rest will be caught soon."
About the gang culture, the SP said they already have taken initiatives in this regard. Police are not allowing any teenagers to ride motorbikes without proper documents or in an "uncivilised manner". 
[M Jahirul Islam Jewel, our Jhalakathi correspondent, contributed to the report]