Potato freed of deadly disease
Genetically-modified potato resistant to late blight tested successfully; scientists now to seek regulators' approval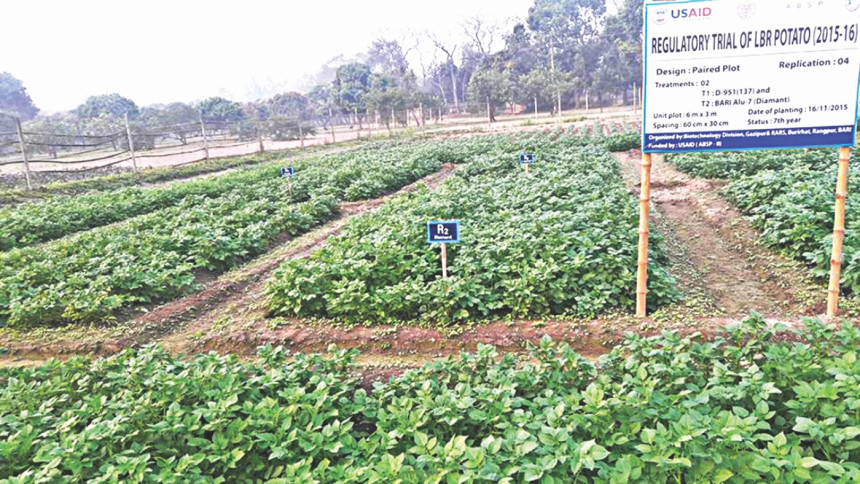 Bangladeshi scientists have successfully field-tested a genetically modified (GM) potato resistant to late blight, one of the most devastating plant diseases caused by fungal attack.
After the last trial is over in February, Bangladesh Agricultural Research Institute (BARI) will approach regulators for approval of the RB (blight resistant) gene-infused potato.
Once released, GM potato will be farmers' answer to late blight, BARI officials have said.
Farmers in Bangladesh spend Tk 80 -100 crore a year in spraying 500 tonnes of fungicide to protect this major tuber crop.
With an annual output of nine million tonnes, Bangladesh is the 7th top potato-producing nation in the world.   
Bangladesh apart, India, Indonesia and Uganda are also working for developing and releasing blight resistant GM potato.
Late blight, responsible for the 19th century Irish potato famine that had led to one million deaths from starvation, still affects more than 3 million hectares of potato crops globally and causes economic losses estimated at $ 2.75 billion a year, according to the International Potato Center (CIP), which is helping Uganda develop GM potato.
In Bangladesh, BARI is developing late blight resistant potato in cooperation with the Agricultural Biotechnology Support Project II (ABSPII), a USAID-funded consortium of public and private sector institutions supporting scientists, regulators, extension workers, farmers and the general public in developing countries to make informed decisions about agricultural biotechnology.
ABSPII Country Coordinator G P Das told The Daily Star on Wednesday that trial of blight resistant potato was at an advanced stage now and it was up to the Bangladeshi regulators to decide when they would release the variety.  
BARI Director General Dr Md Rafiqul Islam Mondal told this correspondent on Wednesday that after getting successive positive results from the fields over the last few years, his institute initiated in the current season a 'regulatory trial' - the last requisite prior to seeking varietal approval.
"We'll seek approval from the regulators after necessary paperwork and data analysis once potato is harvested in February-March," he added.   
When released, blight resistant potato will be the second commercially released GM food crop in South Asia after Bt Brinjal, which was also released by Bangladesh in 2013.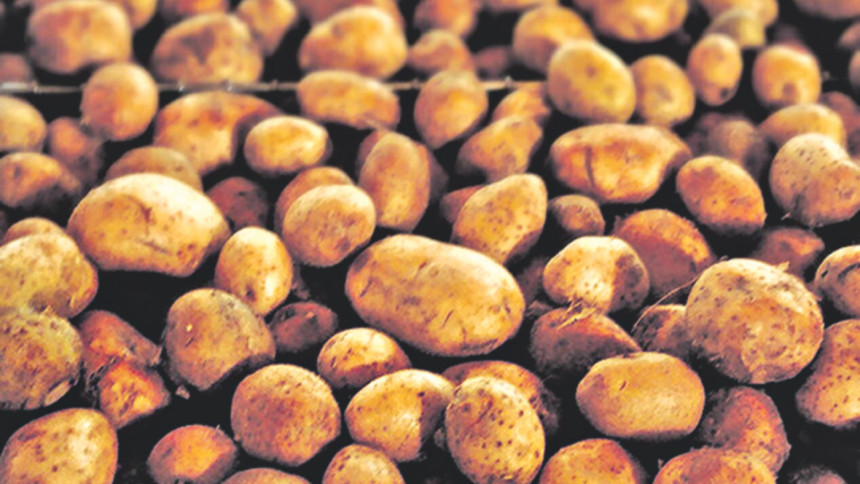 Breeders involved in developing the GM potato since 2006 at BARI said the RB gene was taken from wild potato varieties and was infused into a potato variety called Katahdin in the United States. They said it was crossed with Diamant and Cardinal -- two popular potato varieties in Bangladesh.   
Md Abu Kawochar, scientific officer of BARI's Tuber Crops Research Centre (TCRC), said, "Since 2006 we've exhausted all trials from laboratory to greenhouse to field tests to multi-location tests. Now the regulatory trial is going on in six sites in the country and all these have shown positive results."
Dr Zeba I Seraj, who teaches biochemistry and molecular biology at the University of Dhaka and sits on various biosafety regulatory bodies, welcomed the scientific advancement in developing blight resistant potato. She, however, emphasised the completion of all necessary tests including toxigenicity.
Abu Kawochar said nutrient composition test, toxicology test, and efficacy test -- all were complete. "We'll be able to apply for variety release after the current regulatory trial is over."    
TCRC Director Dr Md Jahangir Hossain told The Daily Star that at this stage of potato production, reports of late blight attacks were coming from different potato-growing zones but none of the blight-resistant varieties (GM potato), now under trial, has come under attack.
Dr Hossain said that farmers sprayed pricey fungicides multiple times in a cropping season to save potato from late blight.  
Bangladesh Crop Protection Association (BCPA) Chairman Musfiqur Rahman estimates the annual volume of fungicide applications in potato fields at 400 to 500 tonnes. BCPA is the association of companies marketing pesticides, fungicides and other crop protection items. 
Officials of a market leader in crop protection business said some of the most effective fungicides to fight late blight cost Tk 2,000 per kilogram. For a single spray covering each acre of land, a farmer needs to apply one kilogram of anti-blight fungicide.
He said, "We recommend farmers to apply fungicide for preventive purpose when the crop is 45-day old and once again for curative purpose when the real attacks begin as the crop gets 60/65-day old."
It takes roughly 90 days to reap potato.
Joynal Abedin is a farmer in Bangladesh's traditional potato hub Munshiganj. Reached over the phone, Joynal said he cultivated potato in more than 80 acres of land this season and he had to invest more than Tk 1 lakh on fungicide to protect the crop from late blight. He said potato growers in Munshiganj would be looking forward to get the GM potato that could withstand late blight.  
Green activist Farida Akhtar of UBINIG, an NGO that has set up one of the biggest community seed banks in the world, however, observed she would have appreciated the efforts had scientists pursued conventional breeding process, instead of genetic engineering, in developing such traits in potato.   
Through her Nayakrishi Andolan (New Farming Movement), Farida promotes ecological agriculture. She said as there were concerns and controversies over GM technologies, the scientists and regulators in Bangladesh should be more transparent in sharing the details of their research and development (R&D) work.