Govt aims at ensuring food security
Says PM, calls for extensive agricultural research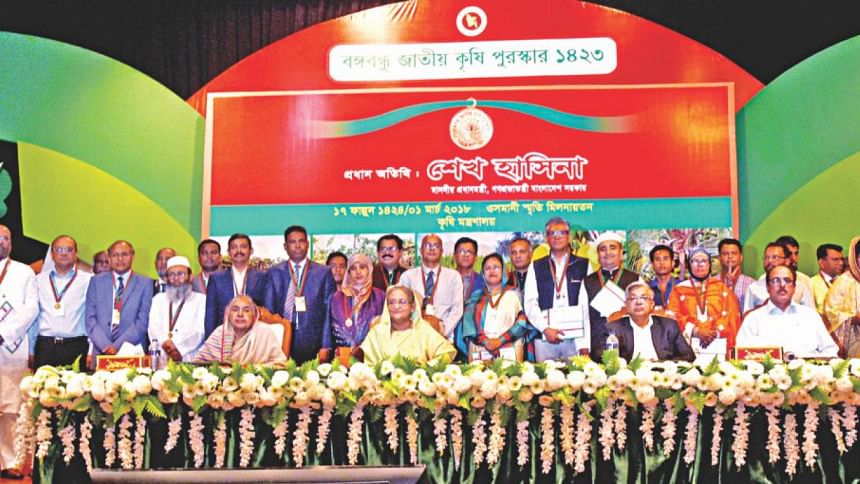 Prime Minister Sheikh Hasina yesterday said her government has been striving to ensure food security through boosting production.
Silos are being built to preserve food grain for a couple of years to meet the local demand as well as use it as backup to tackle any unwanted situation caused by natural calamities, she said.
Hasina was addressing a programme in the city's Osmani Memorial Auditorium marking the distribution of Bangabandhu Jatiya Krishi Purashkar (Bangabandhu National Agriculture Award) for Bengali year 1423.
Stressing the need for carrying out extensive research on agriculture, the PM said success in this sector would not be possible without research.
She mentioned that Bangladeshi researchers have invented flood-, drought- and salinity-tolerant rice.
The premier asked the authorities concerned to include agriculture and its practical aspects in curricula to encourage students to know about the cultivation system properly.
"After completing education, many people do not want to go to the farmland for agricultural works. The agriculture minister is here. I think special measures should be taken to make our students curious and sincere about agricultural works.... They should have a subject on agriculture alongside a practical one." she said.
She described agriculture as the lifeline of Bangladesh's economy.
"We will gradually shift our dependence on industry, but not at the expense of agriculture as it will provide raw materials for industries apart from ensuring food security.
"Students should learn this [agricultural work]; there is nothing to be ashamed of if anyone plants a sapling with his own hands."
She said the government wants children to acquire knowledge about agricultural works from their childhood.
The government has been helping all concerned adopt modern technology in agriculture and also has been providing equipment to farmers, she told the programme.
Stressing on setting up food-processing industries across the country, Hasina said Bangladesh has huge potentials in this sector as it can help earn foreign currency through export.
She asked the authorities for protecting agricultural land from the onslaught of unplanned urbanisation and industrialisation.
The PM said the government gives "Bangabandhu Jatiya Krishi Purashkar" during every Bengali New Year.
The award is the highest state recognition for contributions to the development of the country's agriculture sector.
Five gold, nine silver and 18 bronze medals in 10 categories are given to different organisations and individuals each year.
The awardees received medals, cash and certificates from the prime minister.
On behalf of the winners, Farhana Yasmin spoke at the programme.
Chaired by Agriculture Minister Matia Chowdhury, the function was addressed, among others, by Fisheries and Livestock Minister Narayan Chandra Chanda.