First national vegetables fair begins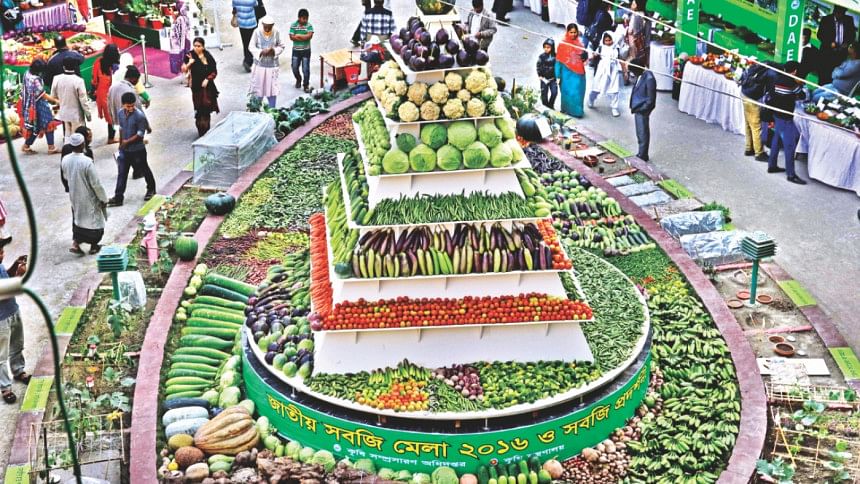 The day is not far when farmers would not need soil to grow vegetables, fruits and flowers in Bangladesh.
Instead, they would use only water, solution of nutrients, sponge blocks and cork sheets to yield produce two to three times higher than the usual farming, said AKM Salim Reza Mollik, of Bangladesh Agricultural Research Institute (BARI), while explaining Hydroponics yesterday at National Vegetables Fair and Exhibition 2016, first of its kind in the country.
Hydroponics is a method of growing plants in a water-based, nutrient rich solution.
Agriculturists at BARI have produced 16 types of vegetables, fruits and flowers, including tomato, capsicum, lettuce, bottle guard, strawberry and marigold, using this method.
The produce and the method have been put on display for three days at the fair inaugurated by Agriculture Minister Matia Chowdhury yesterday. The Ministry of Agriculture and the Department of Agricultural Extension (DAE) organised the programme at AKM Giasuddin Milky Auditorium in the capital's Khamarbari. 
Hydroponics is important for Bangladesh because arable land here is shrinking. "In that case, you can grow vegetables even in the cities," said Salim Reza, principal scientific officer at Horticulture Research Centre of BARI.
Moreover, the method has no toxic effects and is less prone to pest attacks. 
The technology is not new. It is rather being used to grow vegetables, flowers and fruits in many parts of the world, including Japan, USA, Malaysia, Singapore and India.
Its trial in Bangladesh began in 2006. Having been successful, BARI is transferring the technology to different institutions like BRAC, Sher-e-Bangla Agriculture University and Bangladesh Agricultural University.
Saiful Islam Rigan Khan, managing director of Bengal Hydroponics, said the commercial venture was running a trial at Mohakhali in the city since early last year, training farmers. It is expecting to start export in a few months of vegetables grown using the technology.
Dozens of other methods being exhibited at the fair include integrated pest management that ensures crop production without the use of pesticides, floating cultivation on water and cooperative agri-marketing approach.
Hamidur Rahman, director general of DAE, said food production was now at a crossroads in Bangladesh, and the fair gave that message.
Nutrition wise, vegetable is a crucial component in a balanced diet.
Bangladesh has 156 types of vegetables. "We have developed many varieties, but people don't know about those nutritious vegetables. Through the fair, we are trying to introduce and popularize them," Hamidur said.
As people, especially those living in urban areas, learn more about those, they are likely to shift their diets, incorporating more vegetables in their meals, he added.
Annually Bangladesh produces 1.42 crore tonnes of vegetables, the third largest in the world.
Through the new method, farmers can produce and benefit more, the DG said, adding that the authorities were planning to organise such fair at district and upazila levels.