One 'crossfire' death, too many questions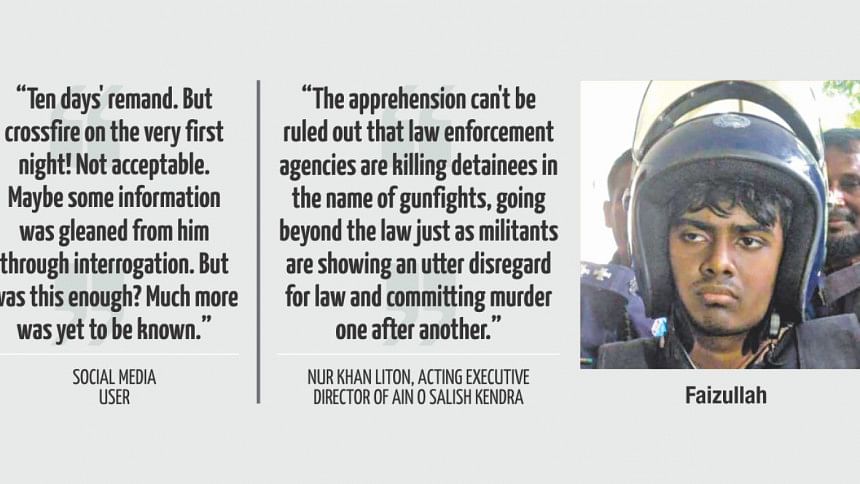 He might have had a vital clue to the mystery over secret killings that have been roiling the country for the last couple of years.   
Fleeing after hacking a Hindu college teacher in Madaripur, he was caught by locals and handed over to police. It was the second time that such an assailant was captured.
The only other instance was when hijras caught two youths making their getaway after killing online activist Oyasiqur Rahman Babu.
Yet, Golam Faizullah Fahim, 18, was killed in a "shootout" yesterday, sparking widespread questions, condemnation and criticism, four days into his capture.  
Faizullah was on a 10-day remand when police took him to Miarchar area under Madaripur Sadar upazila to arrest his cohorts around 7:00am.
Like after any other "shootout", police claimed miscreants sensing their presence opened fire. Police fired back, triggering a gunfight.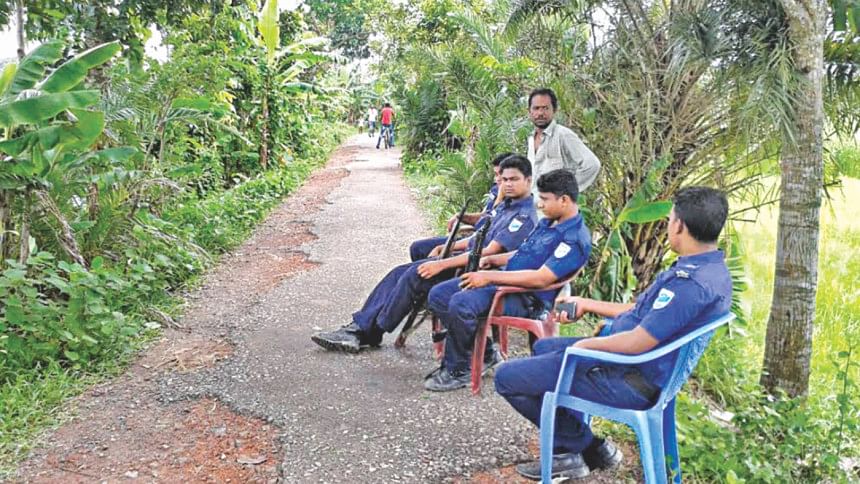 "Around 7:00am, a team of police went to Miarchar area where his accomplices used to have meetings. They suddenly shot at our van. Our men got injured and they [cops] fired back," Madaripur Superintendent of Police Md Sarwar Hossain told The Daily Star over the phone yesterday.
"After a while, we found Faizullah lying on the ground with bullet wounds. Taken to Madaripur Sadar Hospital, he was pronounced dead."
The SP also said Miarchar is a quiet place where Faizullah's accomplices used to gather from different areas after Fazr prayers.
After the exchange of fire, he added, police recovered firearms and ammunition from the spot.
The "miscreants managed to flee" as is said in all such incidents.     
A Madaripur correspondent reports that Faizullah lying dead on the spot was still in handcuffs, according to locals and journalists who saw the body.
Visiting the spot later, the correspondent also reported that it is about 15km from the sadar upazila headquarters, beside a link road with paddy and jute fields around. There is no house within half a km.
The body of Faizullah was handed over to his father Golam Faruk in Mostafapur area around 7:00pm yesterday.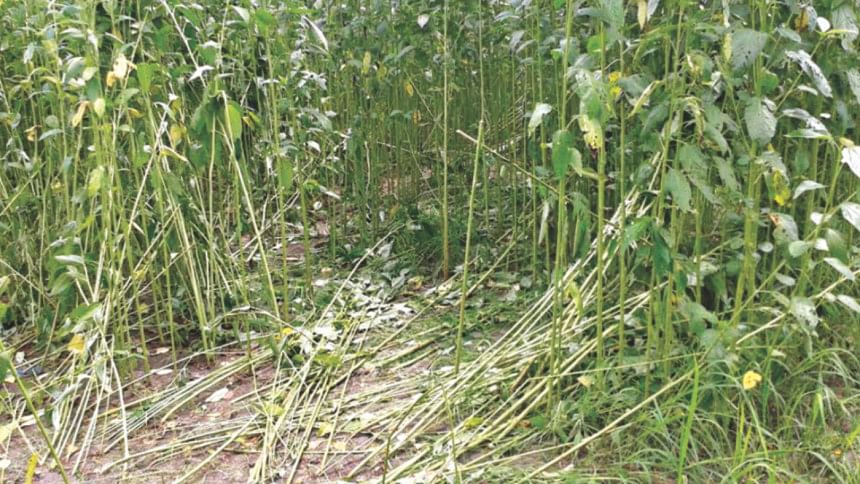 Police said they filed three cases over Faizullah's death, a cop being injured in shooting and the arms recovery.    
After the news broke, many in social media termed the death a cold-blooded murder and the police statement one of those "fairytales" law enforcers have been telling people for years.
Social media users suspect that Faizullah was killed either to hide some truths or destroy proofs regarding the ongoing attacks and killings by suspected Islamist militants.
"Ten days' remand. But crossfire on the very first night! Not acceptable. Maybe some information was gleaned from him through interrogation. But was this enough? Much more was yet to be known. There is no public sympathy for criminals. But if anything happens before time, it creates suspicion," said a Facebook post.
Readers' comments in the websites of leading media outlets also came down heavily on police and the government. Many questioned why Faizullah was not in bullet-proof jacket and helmet during the drive unlike when he was taken to court.
"I wonder if this cold-blooded murder has been committed to hide some truths which could embarrass those who are ruling Bangladesh," a reader wrote.
Another comment read, "He died in a shootout. Now his godfathers will create a new Fahim, but will people catch militants again?"
Locals captured the youth while he along with two others was trying to flee after hacking Ripon Chakraborty, a lecturer at Government Nazimuddin University College, on June 14.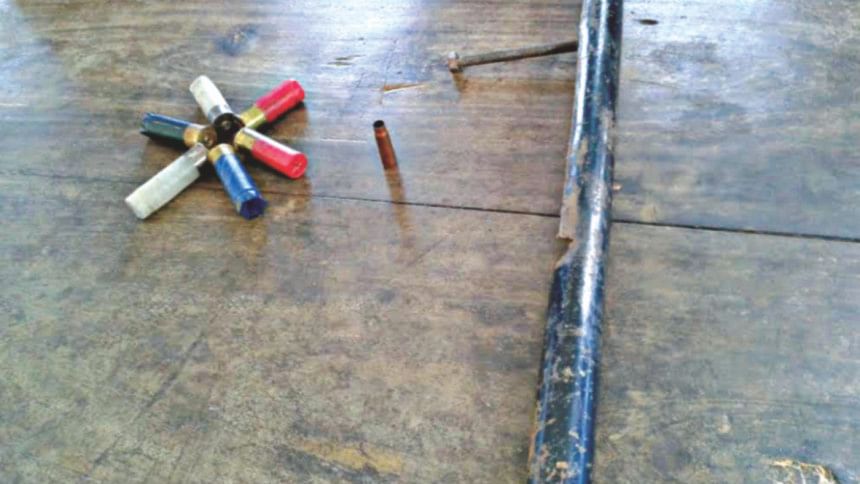 He was placed on a 10-day remand in an attempted murder case filed by police on Friday.
Sub-Inspector of Madaripur Sadar Police Ayub Ali filed the case against Faizullah and five named and several unnamed persons.
The five are Taksin Salman alias Samil, 20, Shahrier Hossain Palash, 20, Mejbah, 19, Raihan, 20, and Jahin, 20. Their identities could not be known. 
Earlier on Thursday, the Madaripur police chief said that during interrogation Faizullah claimed to be a member of Hizb-ut Tahrir, an outfit banned in October 2009 for public security. 
A Madaripur court placed Faizullah on a 10-day remand after he was produced before it on Friday afternoon. 
Over the last three years, suspected militants have attacked and killed university professors, writers, publishers, secular bloggers, gay rights activists, foreigners, policemen and members of religious minorities, including Shia and Sufi Muslims, Christians and Hindus.
About 50 people have become victims of such targeted killings since February 2013.
Responsibility for most of the murders was reportedly claimed by either Islamic State or Ansar al Islam (Bangladesh Chapter of al-Qaeda in Indian Sub-continent).
This was the first time the name of Hizb-ut Tahrir came up following such an attack. The government banned all activities of this radical Islamist outfit, saying it had been carrying out anti-state, anti-government, anti-people and anti-democratic activities for long.
With Faizullah, at least 19, including six suspected militants, were killed in "crossfire" since police launched a special crackdown against militants on June 10, days after the murder of a top police officer's wife in Chittagong.
According to police, five out of the six suspected militants were involved in the killing of Rajshahi University teacher Prof Rezaul Karim Siddiquee and attacks on Bogra Shia Mosque, Ahmadiyya mosque at Bagmara in Rajshahi and Kantaji Temple in Dinajpur.
About Faizullah's death, Home Minister Asaduzzaman Khan said the youth was killed by his accomplices so that he could not disclose their names, reports UNB.
Claiming that the weeklong combing operation was successful, the minister said they might launch another such drive, if necessary.
"Special drive is a continuous process of law enforcers. We conduct it whenever it is necessary. So, it can't be said the drive is on or off. We'll again carry out the drive, if needed," he told reporters after attending an iftar party arranged by Bangladesh Ain Samity in the capital.
A student of Uttara High School and College, Faizullah went missing in the middle of his exams on June 11. His father Golam Faruk, desperately looking for him, filed a general diary with Dakkhinkhan Police Station the same day.
Quoting Golam Faruk, police said Fahim sent him a text message one hour after leaving home. "I am going abroad. See you again if I am alive," Sub-Inspector Abul Kalam Azad, who is investigating the GD, told this newspaper.
His teachers and friends said Faizullah was a quiet type of person and nobody knew about his joining militancy.
'EVERYBODY KNOWS'
Addressing an iftar programme yesterday evening, BNP Chairperson Khaleda Zia said, "Though a very few are being arrested in connection with the secret killings, they too are being killed in the name of crossfire as the government fears if they remain alive, it will be exposed that the government is behind those attacks."
A police official, who retired recently, said yesterday's "crossfire" was simply a murder.
"He [Faizullah] could have provided police with a lead to track down militant dens and the persons behind the series of killings," he said.
He, however, added it is also possible that police had nothing more to glean from Faizullah. 
Nur Khan Liton, acting executive director of Ain o Salish Kendra, said, "We hoped that investigators, through interrogating him following due procedures, would reveal information [about recent killings]. But the hope was shattered with his death in crossfire."
He added, "His death gave rise to a question in the public mind whether he was killed to cover up something or to avoid something."
The rights activist believes that the recent Supreme Court guidelines regarding police remand were not followed in case of Faizullah.
"The apprehension can't be ruled out that law enforcement agencies are killing detainees in the name of gunfights, going beyond the law just as militants are showing utter disregard for law and committing murder one after another."
One of Fahim's uncles, on condition of anonymity, said, "Everybody knows how he has been killed."