Listed drug dealer killed in 'shootout'
3 more killed in face-offs with cops, Rab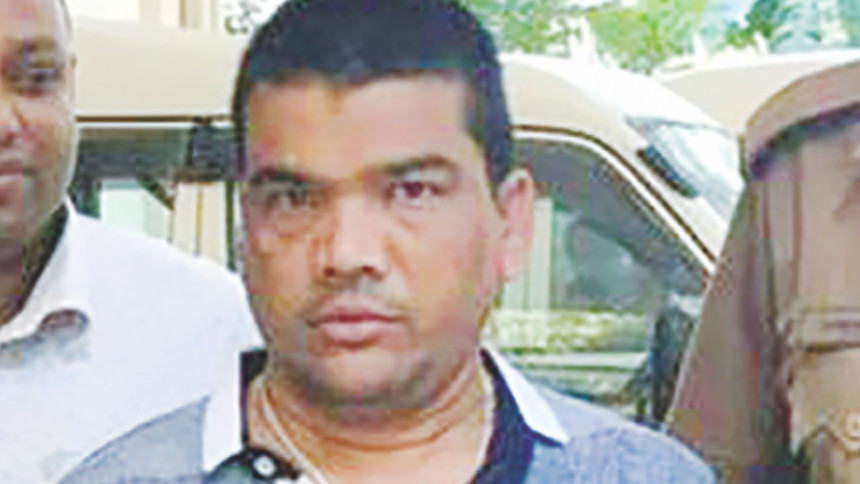 From a waiter in a restaurant Nadim Hossain became a millionaire in just a few years. And behind his meteoric rise was drug dealing in Mohammadpur's Geneva Camp, said police and officials of the narcotics department.
Born and brought up in a poverty-stricken family in the camp, Nadim, 33, lost his parents at a young age. He worked for a restaurant with a daily wage of just Tk 25. But he had his cannabis dealing on the side. He sold small packs of it for Tk 25 each. He sold so many a day that he soon became known as "Pachish" (25) in his locality.
In 2009, he moved to heroin and yaba dealing and became one of the city's most wanted drug dealers, police, locals, and narcotics officials said.
The second-in-command of the camp's drug lord Ishtiaq Ahmed, Nadim was killed in a "shootout" between Rab and suspected drug dealers in Narayanganj yesterday.
Maj Mohammad Ali, deputy director of Rab-2, said a Rab team carried out a raid in Rupganj area around 2:45am when suspects sensing the presence of law enforcers opened fire. The team retaliated resulting in a "gun battle", he said. 
Nadim was found wounded on the spot. He was declared dead when taken to Rupganj Health Complex, the Rab official said.
Nadim is among 173 suspected drug dealers killed in the ongoing nationwide anti-narcotics drive that began on May 4. Most of them were killed in "shootouts" involving police or Rab.
To bluff law enforcers, Nadim used to promise that he would correct himself. He even took part in anti-narcotics campaigns, an official of Mohammadpur Police Station said.
Arresting him was difficult. Police faced protests by locals when they went to the camp to arrest him. He gave away money to locals and kept a team of youths to inform him if law enforcers were getting ready to raid the camp, police officials said.
A joint taskforce, led by the Department of Narcotics Control (DNC), arrested him on November 3 the last time. But he was out on bail in 11 days, said Khurshid Alam, an assistant director of the DNC.
Ishtiaq, for whom Nadim worked at the Geneva Camp, was one of Nadim's suppliers of yaba. Like Nadim, many others used to work for Ishtiaq.
Ishtiaq has been on the run since the law enforcers' drive began in May, DNC officials said. 
Yesterday, three more people were killed in "shootouts" involving law enforcers. A suspected drug dealer was killed in the capital's Mirpur area while two alleged robbers were killed in Rangpur and Bagerhat.
Rab claimed that drug dealer Ibrahim Hossain alias Pilot Babu, 35, was accused in 15 cases. 
"Two men on a motorbike were signalled to stop at a check point on Mirpur Beribadh. They hurled a crude bomb at the Rab men. The law enforcers opened fire in retaliation," said Chowdhury Monzurul Kabir, commanding officer of Rab-4.
One of them was hit while the other managed to flee, he said. The injured was rushed to Dhaka Medical College Hospital where he was declared dead.
Rab recovered 6,000 yaba pills, splinters of the bomb, and the motorbike from the scene, he claimed.
2 SUSPECTED ROBBERS KILLED
Our Dinajpur correspondent reports: Alleged robber Belal Hossain, 40, was killed in a "shootout between police and a gang" in Rangpur.
Saifur Rahman, an additional superintendent of Rangpur Police, said when a police team went to Uttam Betarpara around 4:00am, they were attacked by robbers forcing police to retaliate.
Belal, accused in 20 cases filed with police stations, was hit.
In Bagerhat, a suspected robber was killed in a "gunfight" with Rab near Ambariya canal close to the Saila river, said Rab-8 Deputy Commander Maj Shajibul Islam Khan, reports our Bagerhat correspondent. The identity of the deceased could not be known immediately.