Six killed in 'shootouts'
2 of them 'drug traders', says Rab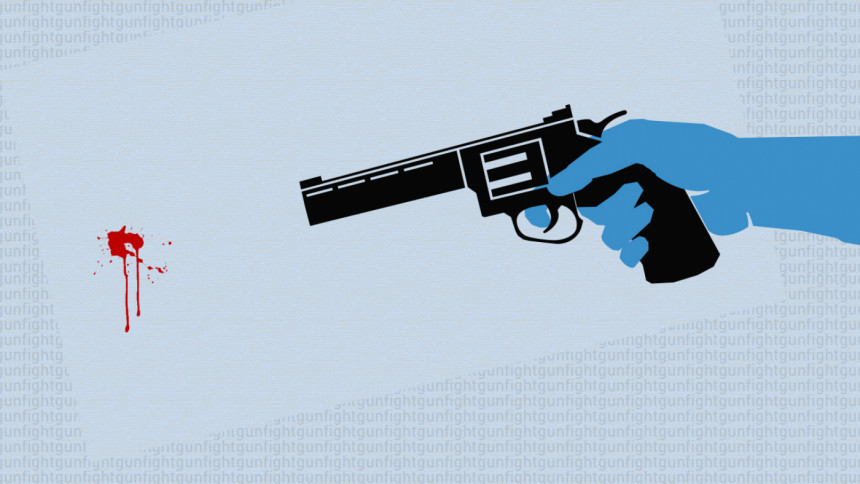 Two suspected drug traders and four alleged robbers were killed in separate incidents of "shootouts" in five districts early yesterday.
Of them, the two "drug traders" were killed in "shootouts" with Rab in Narayanganj and Natore each, while law enforcers claimed that two alleged robbers were killed in a "gunfight" between two robbery gangs in Jessore. One other was killed in Chapainawabganj in a "shootout" with Rab, and another in Narail with police.
The man killed in Narayanganj's Sonargaon upazila was identified as Alamgir Hossain alias Beer Alamgir, a local in the area.
Maj Ashik Billah, acting commanding officer of Rab-11, said Alamgir was a top drug peddler in the district and was accused in 19 cases, including 10 for drugs.
Alamgir's family, however, claimed that he was killed because he was a BNP activist.
The Rab official said the gunfight took place when a Rab team raided Pirojpur area at around 4:30am, upon information that drug traders were gathered there.
Upon their arrival, five to six drug traders opened fire at them. After they retaliated, Alamgir was left injured and the rest managed to flee.
He was rushed to Sonargaon Upazila Health Complex where doctors declared him dead, he said. 
One foreign pistol, two bullets and 2,000 pieces of yaba were recovered from the spot. Two Rab men were also injured, Rab claimed.
Alamgir's wife Suraiya Akter, however, told our Narayanganj correspondent that on Monday three to four persons forced her husband into a microbus and took off after he left for work.
His family could not trace him the whole day and came to know about his death yesterday morning, she said.
She claimed that Alamgir was never involved in the drug business and supported his family with the rent of some of their shops and house in Kanchpur area.
Alamgir's elder brother Amir Hamza said, "My brother's involvement with BNP politics was his only fault. To whom will we seek justice?"
Locals, however, alleged that Alamgir used to sell beer in the locality, which is why he was called "Beer Alamgir".
Mamun Mahmud, general secretary of Narayanganj district unit BNP, said Alamgir was an active BNP activist and was a president of Kanchpur union Tarun Dal.
"It is tantamount to murder. We never support such extra-judicial killings. We think it is a part of harassing party leaders and activists," he said. 
In Natore, Ahadul Islam, 38, a suspected drug peddler was killed in Lalpur upazila at around 2:30am after a gang of criminals opened fire at Rab men, forcing them to retaliate, said Maj Shibi Mostafa, a company commander of Rab-5 in Natore.
A pistol, two bullets and 57 bottles of phensedyl were recovered from the spot, reports our Natore correspondent quoting Rab.
With these, at least 197 suspected drug traders were killed since the nationwide anti-narcotics drive began on May 4. Most of them were killed in so-called shootouts involving police or Rab.
Jessore police claimed that two alleged robbers were killed in a "gunfight" between two robbery gangs on Pulerhat-Rajganj road of Monirampur upazila.
The identities of the dead could not yet be known.
Hearing gunshots, sub-inspector Ainuddin, in-charge of Khedapara police camp, went to the spot and found two bodies, said Mokarram Hossain, officer-in-charge of Monirampur Police Station.
In Chapainawabganj, a suspected robber killed in "gun battle" with Rab in Shibganj upazila was identified as Faruk Hossain, 35, a resident of the upazila.
Abul Khayer, deputy commander of Chapainawabganj camp of Rab-5, said a patrol team was passing Mohammadpur area around 1:30am when a gang of robbers barricaded Paikortala-Mobarokpur road.
Noticing the arrival of Rab, the robbers opened fire, forcing the Rab officials to fire back, leaving Faruk injured.
He was rushed to Shibganj Upazila Health Complex where doctors declared him dead, the Rab official said. 
A pistol, four bullets and two sharp weapons were recovered from the spot.
Rab claimed that Faruk was accused in nine cases.
In Narail, a suspected robber was killed in a "gunfight" at Kachubaria village in Lohagara upazila, reports our Jhenidah correspondent, quoting Prabir Kumar Biswas, officer-in-charge of Lohagara Police Station.
The dead could not yet be identified.