All hail the local heroes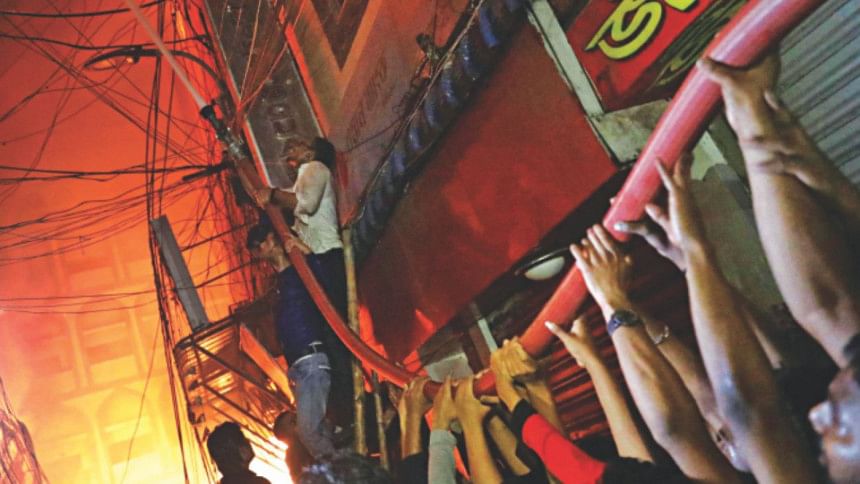 Amidst a hail of flaming cans and other flammable objects, courageous locals emerged as first responders to Wednesday's devastating fire which engulfed the four-storey Haji Wahed Mansion in Chawkbazar's Churihatta.
Elderly people, along with youths, engaged in voluntary activities and tried to control the flames until fire officials appeared.
Afterwards, they assisted the officials to quickly locate nearby water sources. They also helped water down nearby buildings to control the spread of the fire.
Locals also helped others evacuate buildings near the source of fire before firemen had reached the spot, saving numerous lives in the process.
Moreover, they helped some 40 injured get primary medical treatments at different hospitals.
Irfan Hossain Imon, 20, an HSC student at Dr Shahidullah College, said he, along with a friend, was returning to his home in Churihatta from Jurain on a motorbike when he heard about the fire over phone.
Upon reaching the spot, Imon saw there was a power-cut in the entire area, with only the devastating blaze lightening nearby alleys.
"I helped fire service men till 4:00am. I even fractured my hand when a brick fell from a two-storey building. I had to take treatment at hospital," he said.
Imon lost his cousin in the fire.
Elsewhere, Bakul Gazi, 60, caretaker of an adjacent apartment, defied his age and engaged in voluntary work during the disastrous incident.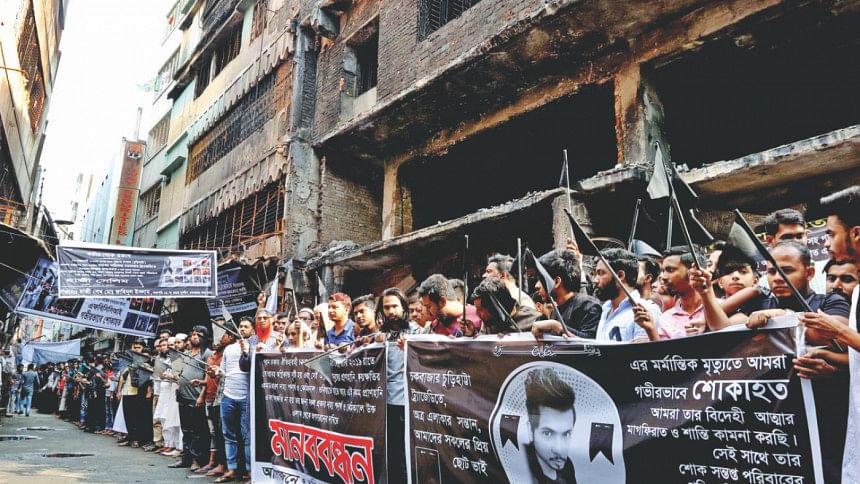 "First, I was afraid because the fire was massive," Bakul said.
Later, he gathered the courage to try to douse the spreading flames by getting on a two-storey building and spraying water from there using a hose pipe.
The scene was repeated as many people carried long pipes from water source to the fire, climbing up poles to fight the spreading fire.
Also among the first responders was Abdul Gani, owner of a stationery shop located near the mosque.
Gani said he and 10 to 12 other people poured water at a warehouse that stored flammable objects.
The building was just beside Haji Wahed Mansion and it would have been engulfed in the flames as well if water was not poured there, he said.
Russell, 21, a butcher, said they had three drums of water for their meat shop which people used to douse the flame.
Rana, 18, a worker at a plastic shop, said over 100 locals rushed to the spot and tried to control the fire at the initial stage.
The first fire officials to reach the spot were from Lalbagh and Palashi fire stations.
Palashi Senior Station Officer Saiful Islam said, "When we arrived there, we initially had trouble finding water sources.
"As the locals had gathered, we also faced some difficulty negotiating the crowded streets."
When this correspondent visited the spot soon after the fire, he saw locals clearing the streets for the fire service vehicles.
This helped fire-trucks reach the spot sooner.